Du där! Nu ska du få höra om min weekend i Göteborg förra veckan. Varsågoda:

Let's talk about our three days in Gothenburg last week:
Äh, kommer faktiskt bespara er vår första dag i Götet. Landade och checkade in på hotell Pigalle på torsdag eftermiddag eftersom jag bokat fel flyg, och var därför tvungna att spendera all tid åt att packa ur min lägenhet och ge bort allt som inte rymdes i de tre DHL (så kallade) XXL-kartonger jag skulle skicka till Berlin. Detta var tredje, och förhoppningsvis sista, gången Sean varit en riktig hjälte och hjälpt mig flyttstäda ur en lägenhet sedan vi träffades.

Ah, okay, I won't be too detailed when telling you about our first day- we landed and checked in at hotel Pigalle on Thursday afternoon because I booked the wrong flight (as you know) and therefore we had to spend all night packing together my belongings in my apartment and giving away everything that couldn't fit in the three DHL (so-called) XXL cartons I sent to Berlin. This was the third, and hopefully last, time since we met that Sean has been a real hero and helped me move from an apartment.
Trots den intensiva pack-dagen vaknade vi pigga och utvilade i världens skönaste hotellsäng på Pigalle. De var snälla och lät oss bo i ett av deras fantastiska rum eftersom jag inte längre har någon lägenhet i Götet.

Despite the intense pack day, we woke up filled with energy after sleeping in the amazingly soft bed at Pigalle. They were kind enough to let us stay in one of their amazing rooms since I no longer have any apartment in Gothenburg.
Om vi blivit blown away av den fina inredningen a la "1900tals-Paris" och personalens trevliga bemötande så kändes frukostbuffén nästan FÖR bra. Alltså tänk er färskt bröd, massor av goda ostar (bara lyxen att få hyvla egen ost när man lever i det tyska färdigskivad ost-samhället), frukt, bär och nygräddade våfflor (allt ekologiskt!) på en takterass, mitt i stan, som på ett magiskt vis ändå är helt lugn och tyst (wow jag är verkligen medveten om att jag börjar låta farligt lik någon slags reklambroschyr, men vill poängtera att jag verkligen ärligt var så impad hela vistelsen- kan liksom inte hålla igen på berömmet).
After being blown away by the nice decor a la "1900's Paris" and the nice staff, the heavenly breakfast buffet was almost too much. Fresh bread, lots of good cheeses, organic veggies, fruit, berries and freshly made waffles on a roof terrace in the city centre which in a magical way was completely calm and quiet.
Classic "woman smiling with yoghurt".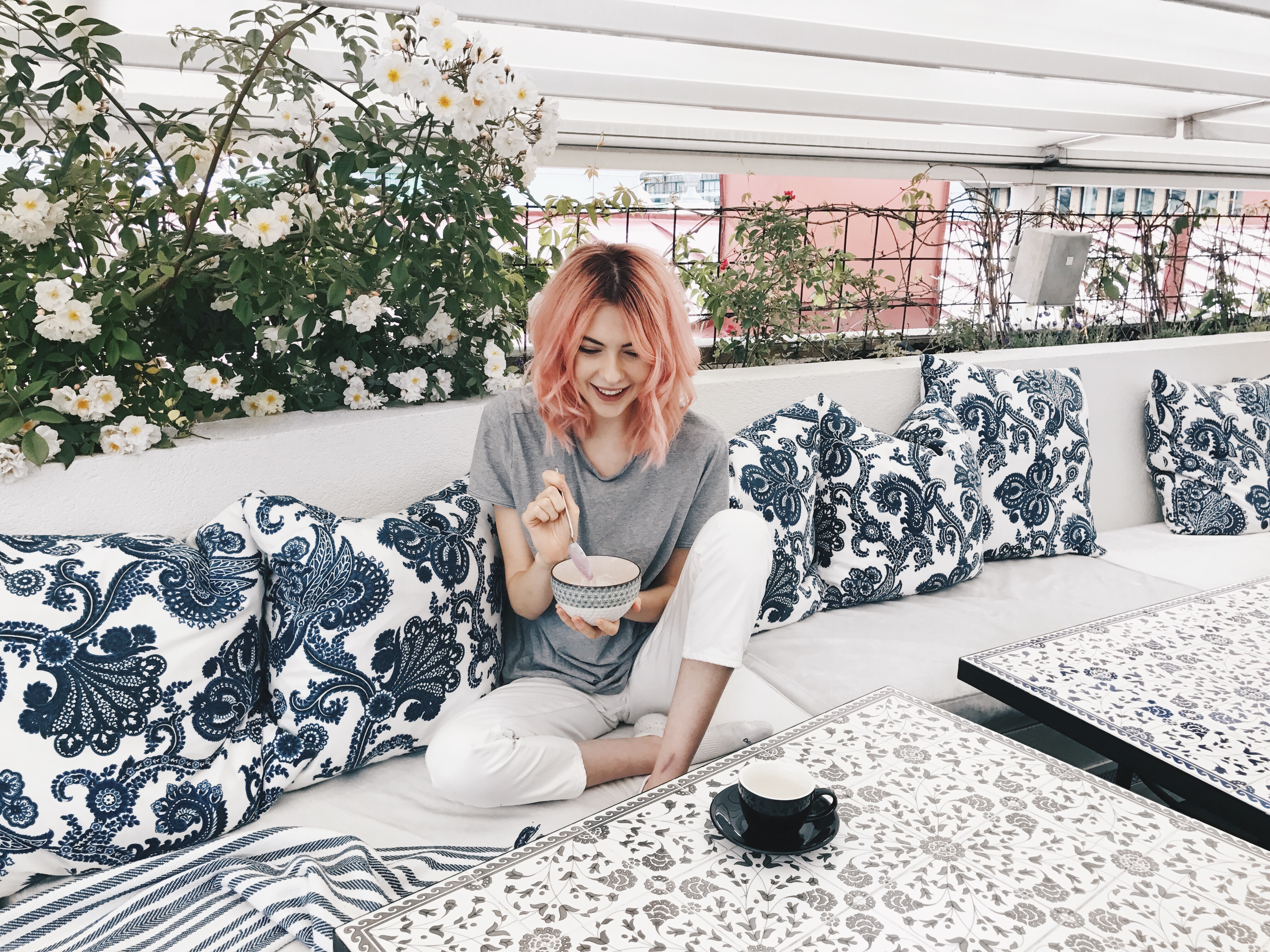 Satt där länge länge innan det blev dags för oss att checka ut och bege oss mot färjan!
We sat there enjoying ourselves for ages before it was time to check out and go to the ferry.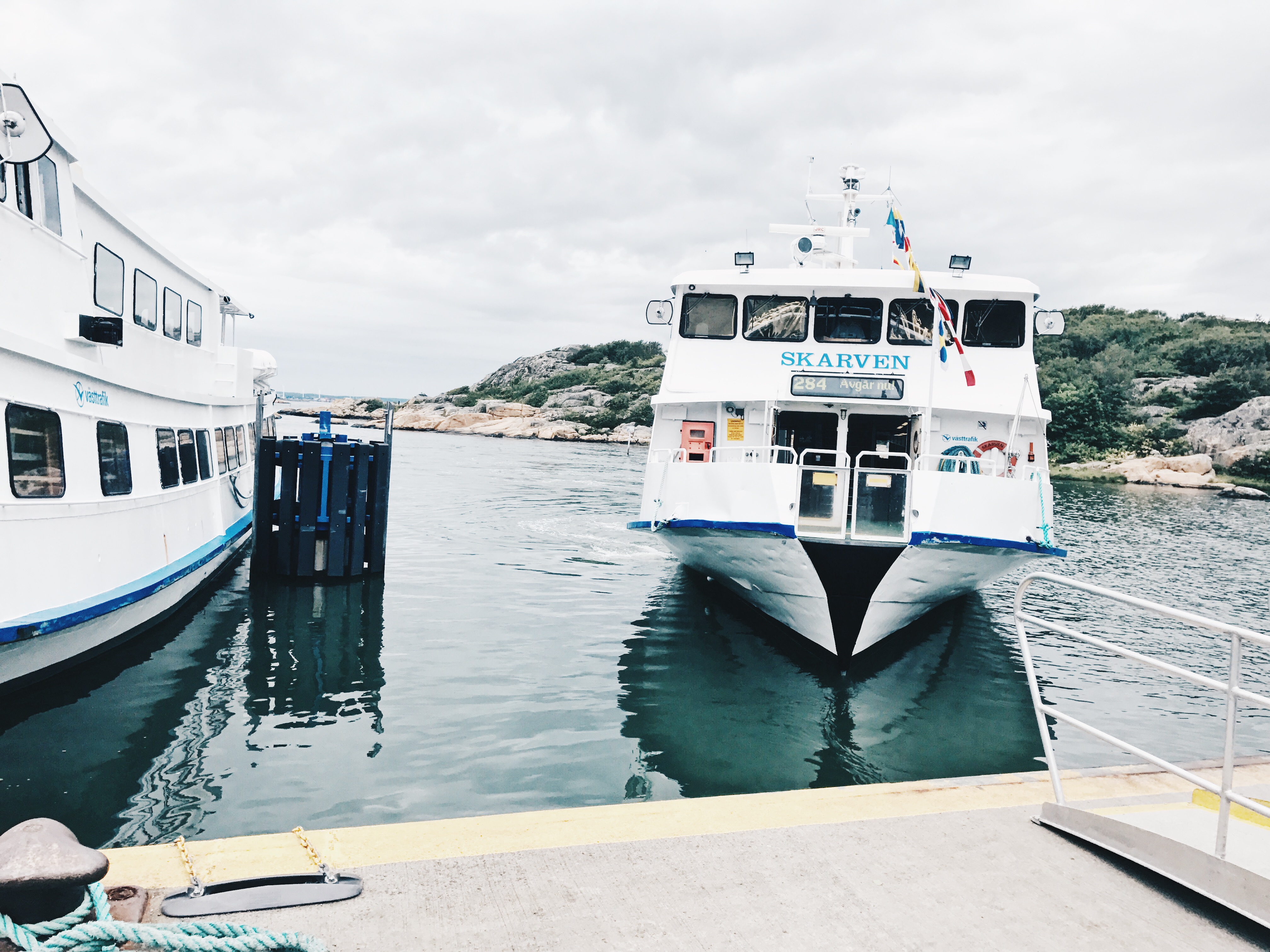 Såhär i efterhand förstår jag verkligen inte hur jag kunnat bo i götet nästan ett år utan att besöka skärgården en enda gång!
In retrospect, I really don't understand how I could live in Gothenburg for almost a year without visiting the archipelago once!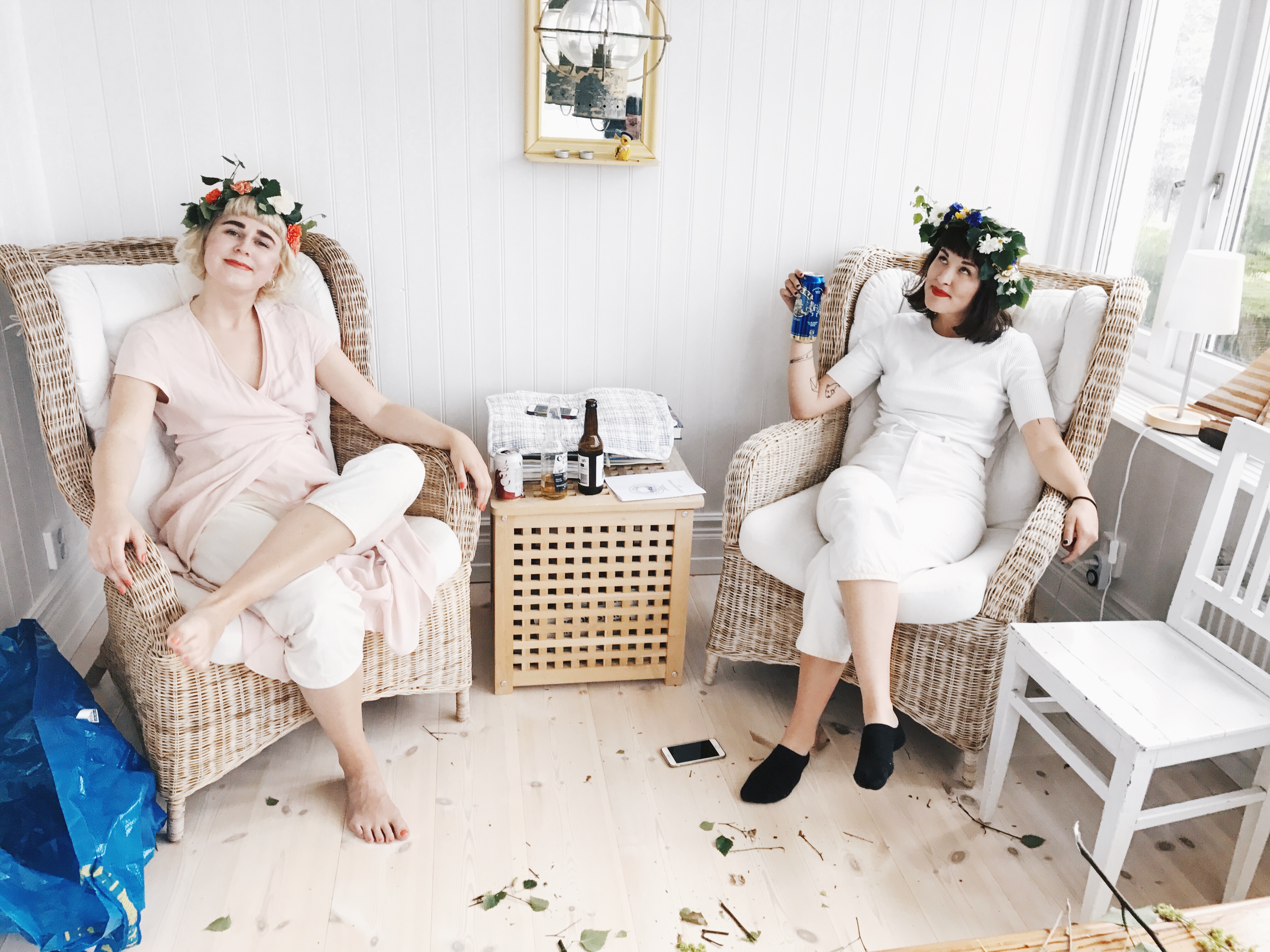 Plötsligt var vi framme i Annas familjs villa och möttes av dessa två sommardrottningar, bland annat.

When we arrived to Anna's family's summer house, we were met by these two queens, among others!
Från och med denna punkt var det fullt upp; kransar skulle bindas, pajer gräddas och drinkar blandas.
From this point everyone was busy binding flower crowns, baking pies and mixing drinks.
Vi drack pimms-drinkar på Seans initiativ. En fjärdedel Pimms och tre fjärdedelar lemonad, varsågoda!

We had Pimms drinks on Sean's initiative. One quarter of Pimm's and three quarters lemonade, done!
Krille var där förstås. Här diskuterades designsoffor, om jag inte minns fel. Är det någon av mina nära vänner som har öga för inredningsdesign så är det Krille. Att se dessa två umgås är alltid en fröjd för lill-hjärtat.

Krille was there of course. Here they discussed design sofas, if my memory is right. If any of my friends has an eye for interior design, it's Krille.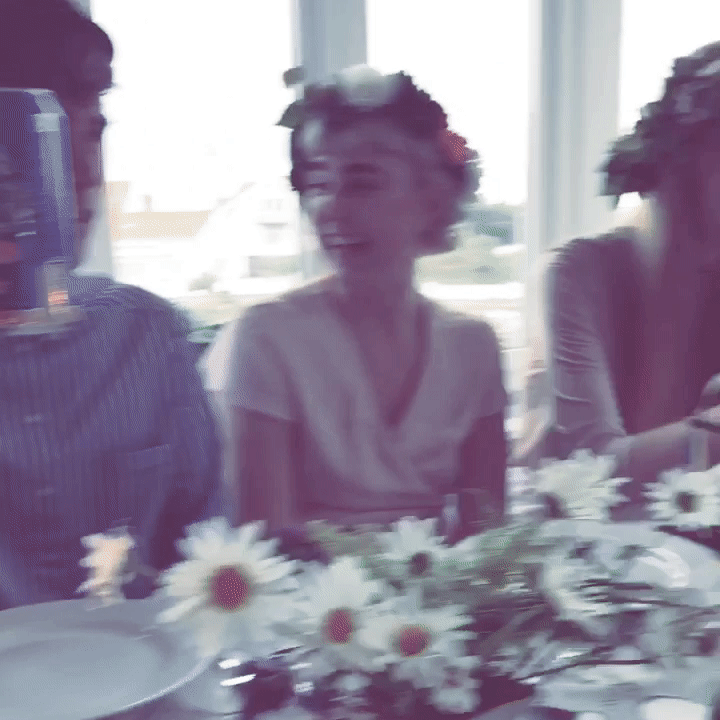 Sedan var det dags för livets midsommarbuffé såklart- med västerbottenspaj, jordgubbar, snapsvisor och spontana tal. Därefter fortsatte kvällen och natten med lekar, dans, sång och natt-bad fram till gryningen. Det var verkligen en midsommar som firades efter konstens alla regler, hade detta varit ett prov i traditionsenlighet hade vi fått alla rätt.
Att jag lämnar ett så otroligt fint kompisgäng bakom mig i Götet är verkligen helt ofattbart.

Then it was time for THE midsummer buffet. "Västerbotten"-cheese pie, strawberries and silly songs. Then the evening and night continued with games, dance and night-bathing until dawn. It was indeed a midsummer celebrated according to all the traditions. The fact that I'm leaving such an incredible group of friends behind me in Gothenburg is madness.
Till och med dagen efter var lika skakig som traditionen säger, hehe. Med oroliga magar och dunkande huvuden satte vi oss på färjan mot stan.

Even the day after was spent according to the tradition- with hurting heads and ill stomaches, haha. (Nah, not too much, just enough to make the boat ride back a bit uncomfortable)
Efter att ha kramats hejdå med alla checkade Sean och jag in på Bellora, ett systerhotell till Pigalle som också var snälla nog att husera oss en natt. Jag läste att man på söndagar kan hyra ett dubbelrum med choklad, blommor, bubbel och middag för 700 klirr, ursäkta men hur gulligt är inte det?

After saying goodbye to everyone, Sean and I checked into hotel Bellora, a sister hotel to Pigalle who also was kind enough to accommodate us for one night. I red that on sundays you can rent a double room with chocolate, flowers, sparkling wine and dinner for 70 EUR, excuse me how but how cute isn't that?
Istället för att ta oss ut på kalas som planerat hade vi det lite för bra i den mjuka sängen i vårt blommiga rum på Bellora. Vi bytte dans och kompisar mot korsord och naturgodis, gick och la oss tidigt och checkade ut utvilade morgonen därpå istället. Det kändes faktiskt otroligt märkligt att sätta sig på planet mot Berlin igen utan att veta hur lång tid det kommer ta innan jag åker dit igen. Som ett slags avslut.

Instead of going out as planned, we enjoyed the soft bed in our floral room at Bellora a little too much. We switched dance and friends to crosswords and snacks, went to bed early and checked out filled with energy the next morning instead. It actually felt incredibly strange to get on the plane to Berlin again without knowing how long it will take until next time I go to Gothenburg again. It's some kind of end of an era.