I skrivande stund var det prick en vecka sedan jag befann mig på ett flygplan på väg mot Köpenhamn med Sean vid min sida. Det är sjukt vad vi efter att ha levt tillsammans i ett år har blivit bra på att resa tillsammans: Jag tar alla vätskor i min plastpåse. Sean håller koll på mina boadingpass och bagagelappar eftersom jag alltid tappar bort dem. Han får alltid fönsterplatsen för jag kommer ändå somna på hans axel så fort vi lämnat marken.
When I'm writing this, exactly one week has passed since I found myself on an airplane heading to Copenhagen with Sean by my side. After living together for one year, we have become so good at traveling together: I take all the liquids in my plastic bag. Sean keeps track of my boading pass and luggage because I always lose them. He always gets the window seat since I'll fall asleep on his shoulder as soon as we're in the air anyway.
Hur som haver: Vid lunchtid landade vi i ett regnigt Köpenhamn. De färgglada husen vägde upp för den betong-grå himlen.
However: we landed in a rainy Copenhagen around lunchtime. The colorful buildings made up for the gray skies.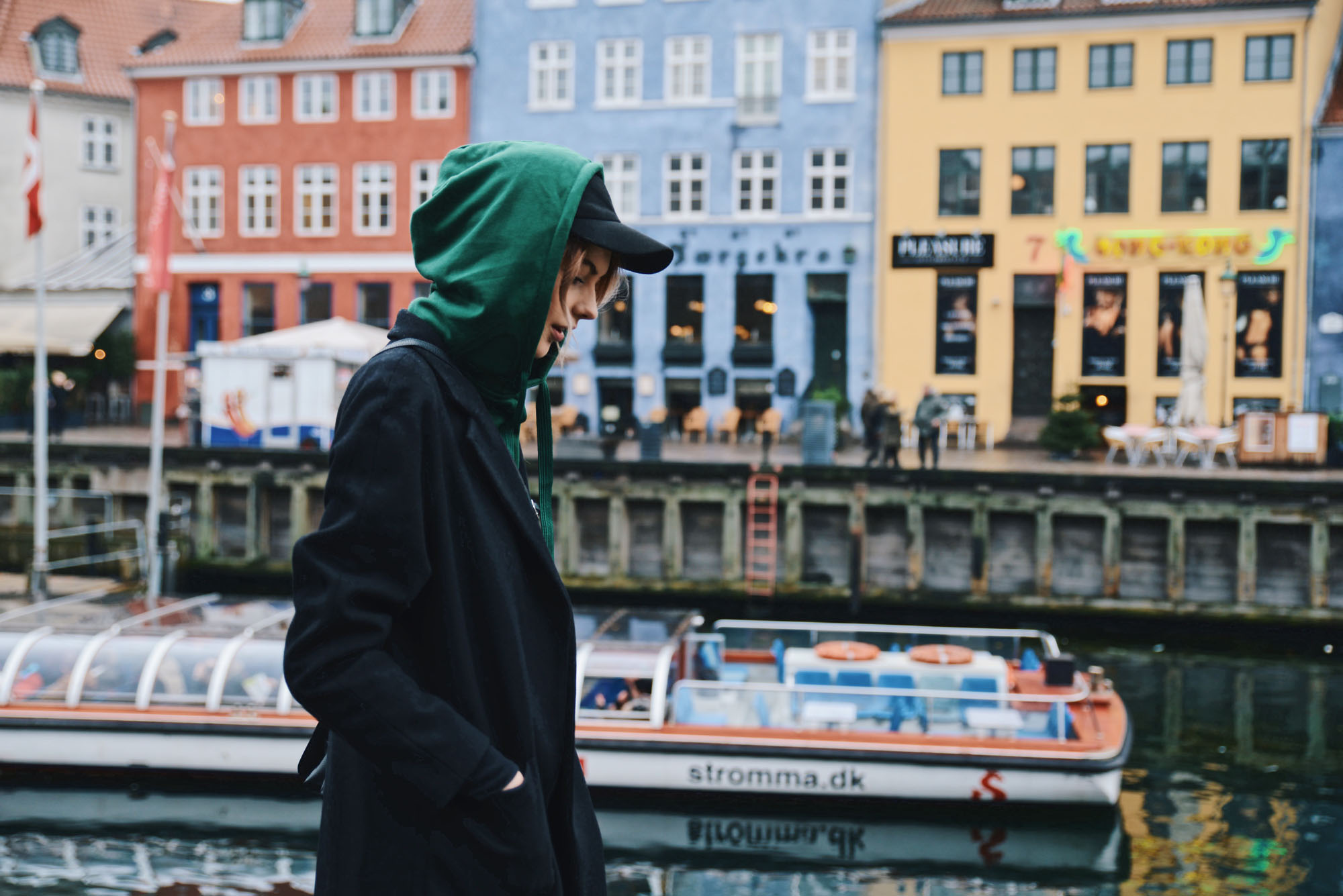 Efter att ha velat fram och tillbaka vid garderoben hade jag till slut valt komfort och värme framför fashion, och vid det här laget var jag ganska tacksam för den varma hoodien och kepsen som skyddade mot regnet.
When I decided what to wear before we left home, I went for comfort and warmth before fashion. At this point I was really happy for my cap and hoodie protecting me from the rain.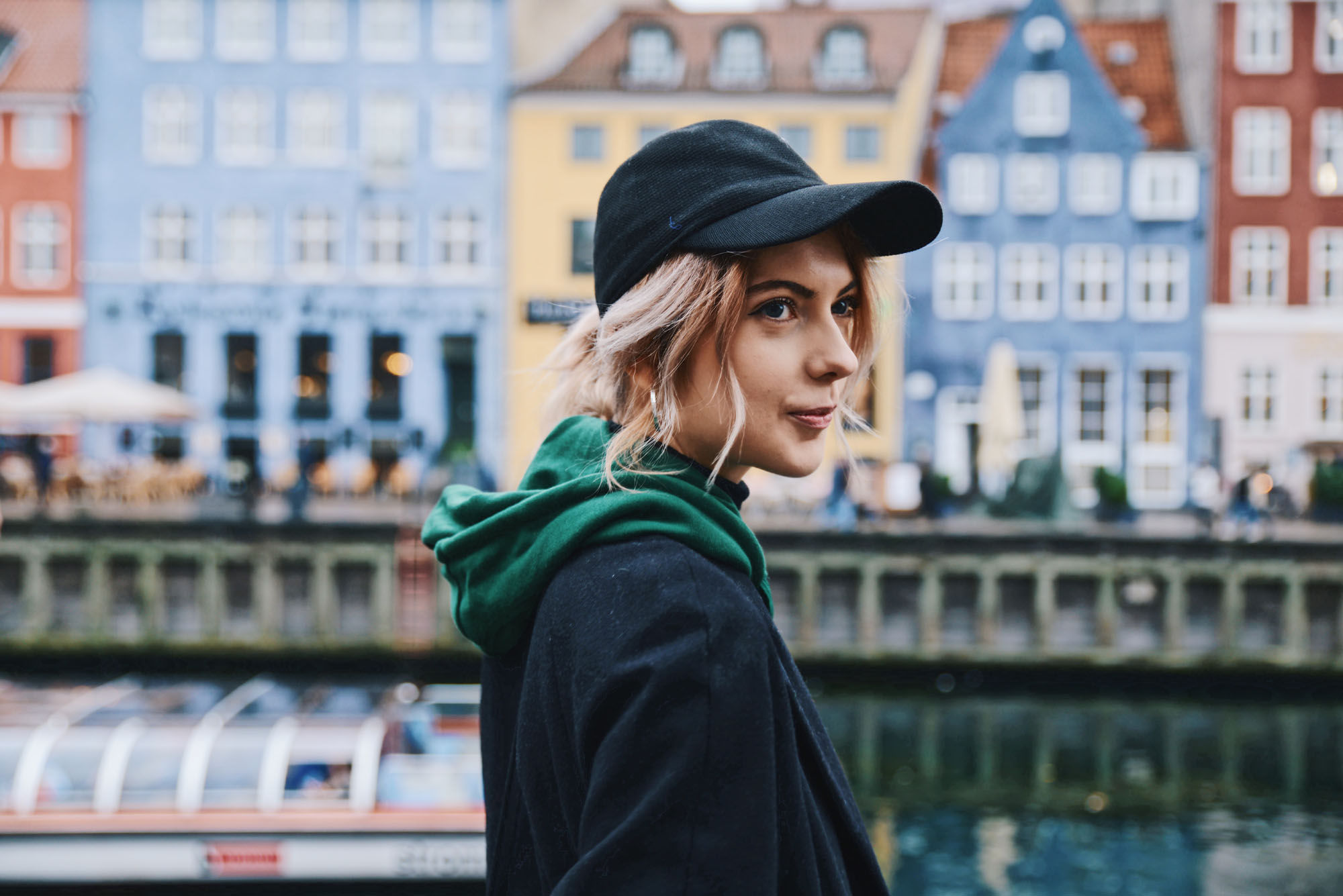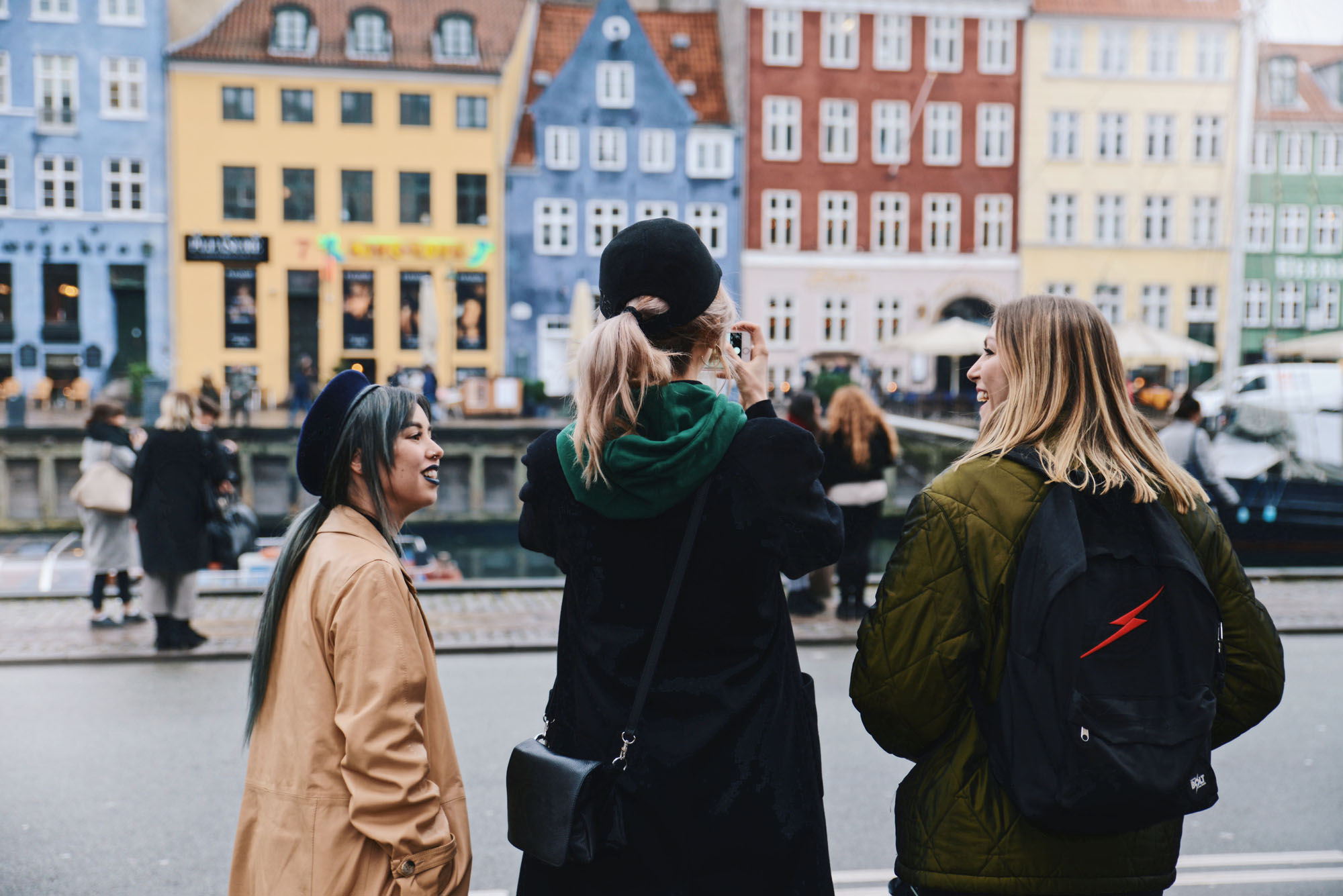 Jag, Sophie och Sandra på väg till lunchdestinationen.
Sandra, Sophie and me on our way to the lunch destination.
Nämligen Apollo Bar! Det är en asfin restaurang som ligger i anslutning till Chalottenborgs konsthall vid Kongens Nytorv. Blev totalt blown away av burratan, kombutchan och surdegsbrödet. Rekommenderas.
 Apollo Bar! Highly. Recommended. I was totally blown away by the burrata, kombutchan and sourdough bread.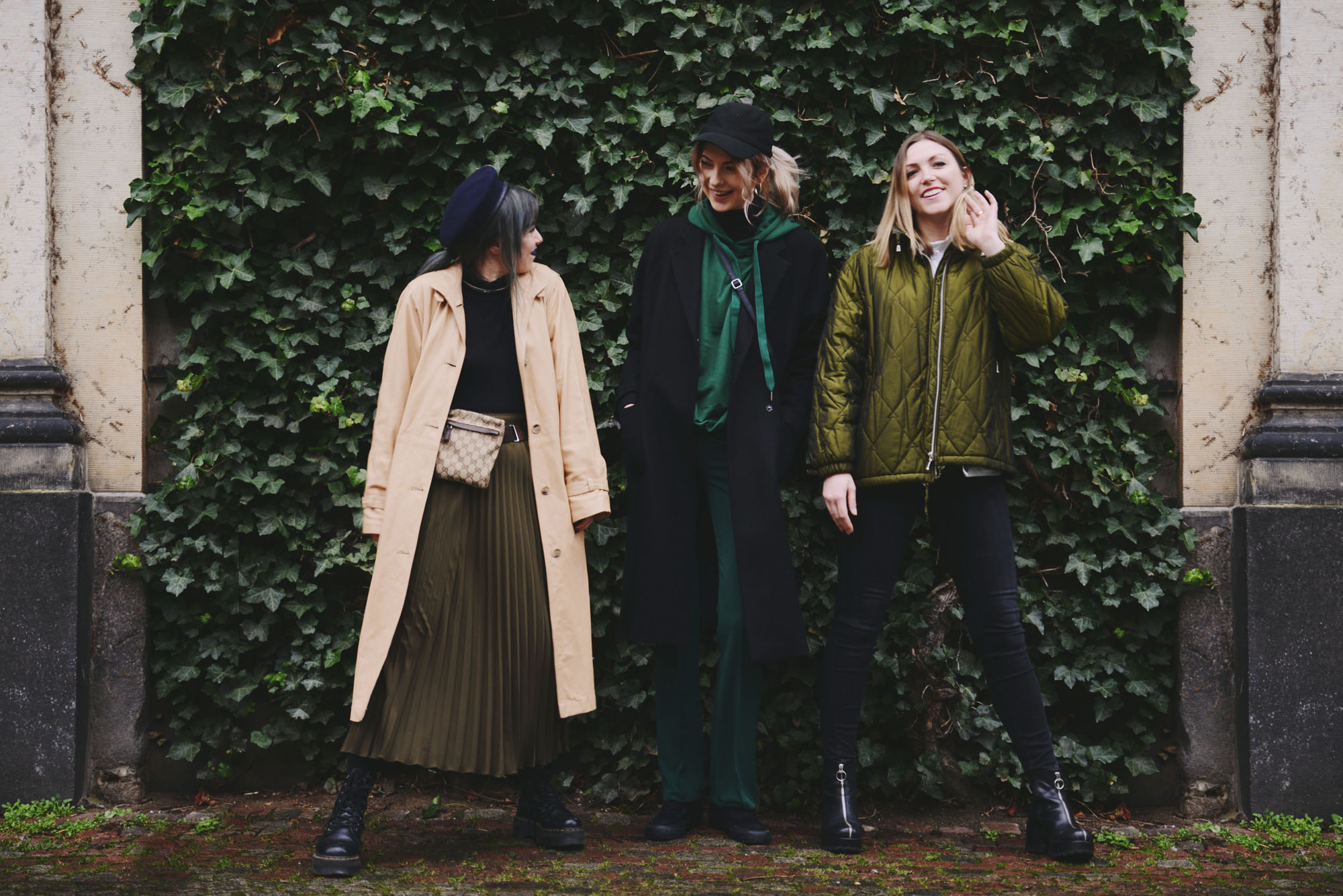 Som av en händelse hade vi lyckats matcha varandra (och omgivningarna) med olika nyanser av grönt.
Green team! Haha.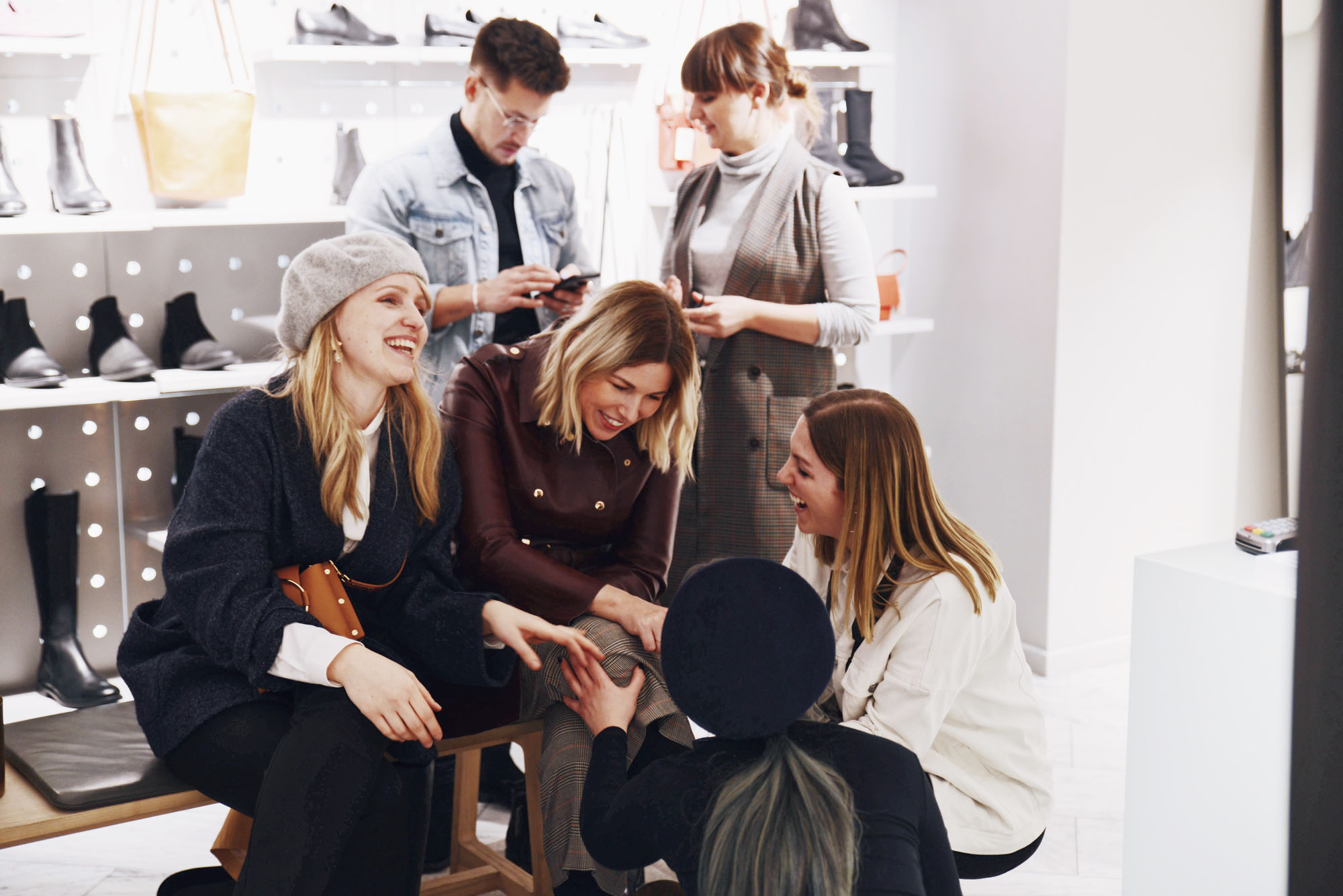 Resten av dagen spenderade vi med att mingla runt på modeveckan och spana på Vagabonds och Pilgrims senaste kollektioner. När resten av gänget reste hem till Berlin på kvällen stannade Sean och jag kvar i stan.
We spent the rest of the day mingling on fashion week, looking at Vagabonds and Pilgrim's latest collections. When the rest of the group traveled home to Berlin in the evening, Sean and I stayed in town.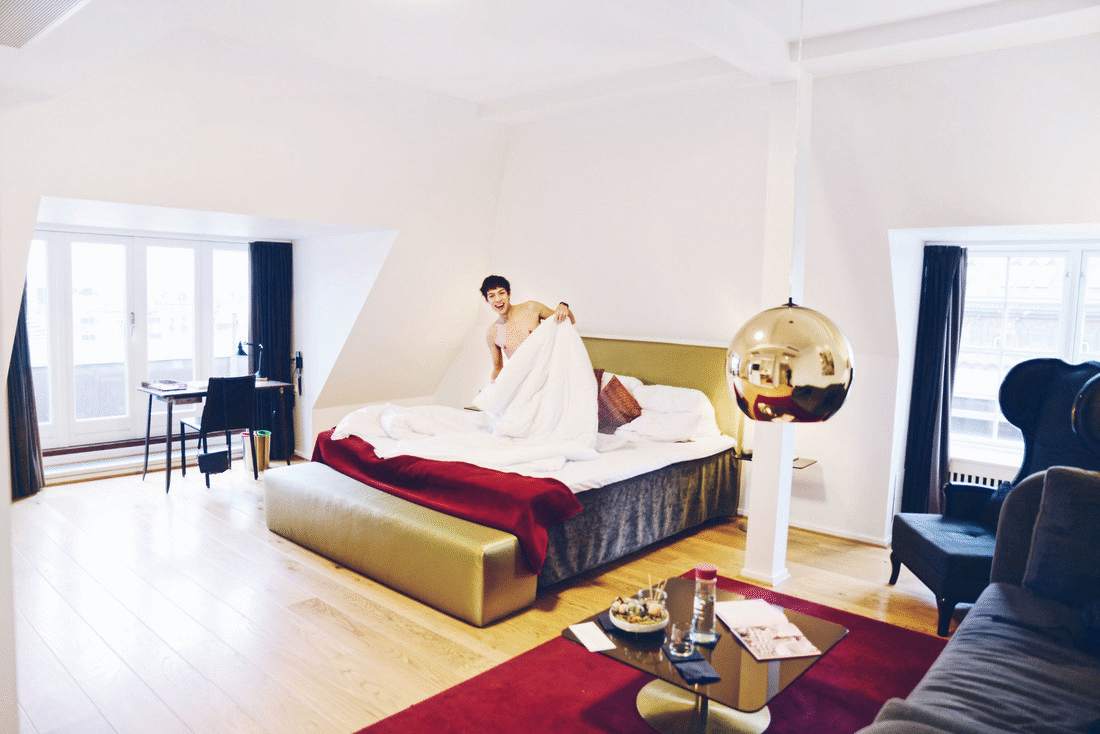 Morgonen därpå vaknade vi utvilade och PEPPADE på vårt sviiiinfina hotellrum på Scandic Palace. Älskar hotellrum med bra ljusinsläpp, blir galen på ställen med minimala fönster och heltäckningsmattor som för tankarna till isoleringsceller. Ya feel me?
The following morning we woke up refreshed and excited at our suuuper nice hotel room at Scandic Palace. I really love hotel rooms with lots of daylight, I find it hard to feel comfortable in rooms with minimal windows and carpet covered floors that makes you think of isolation cells. Ya feel me?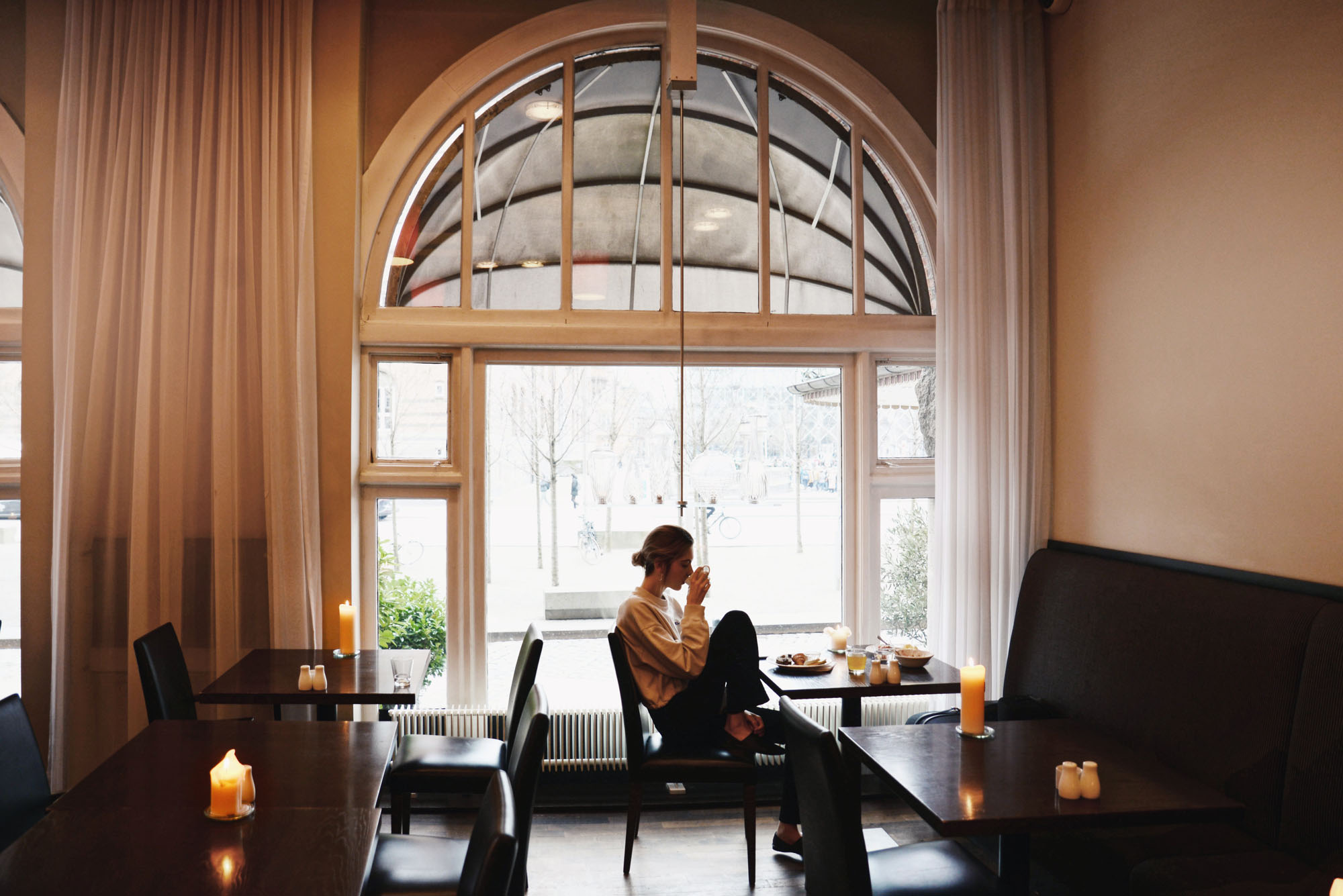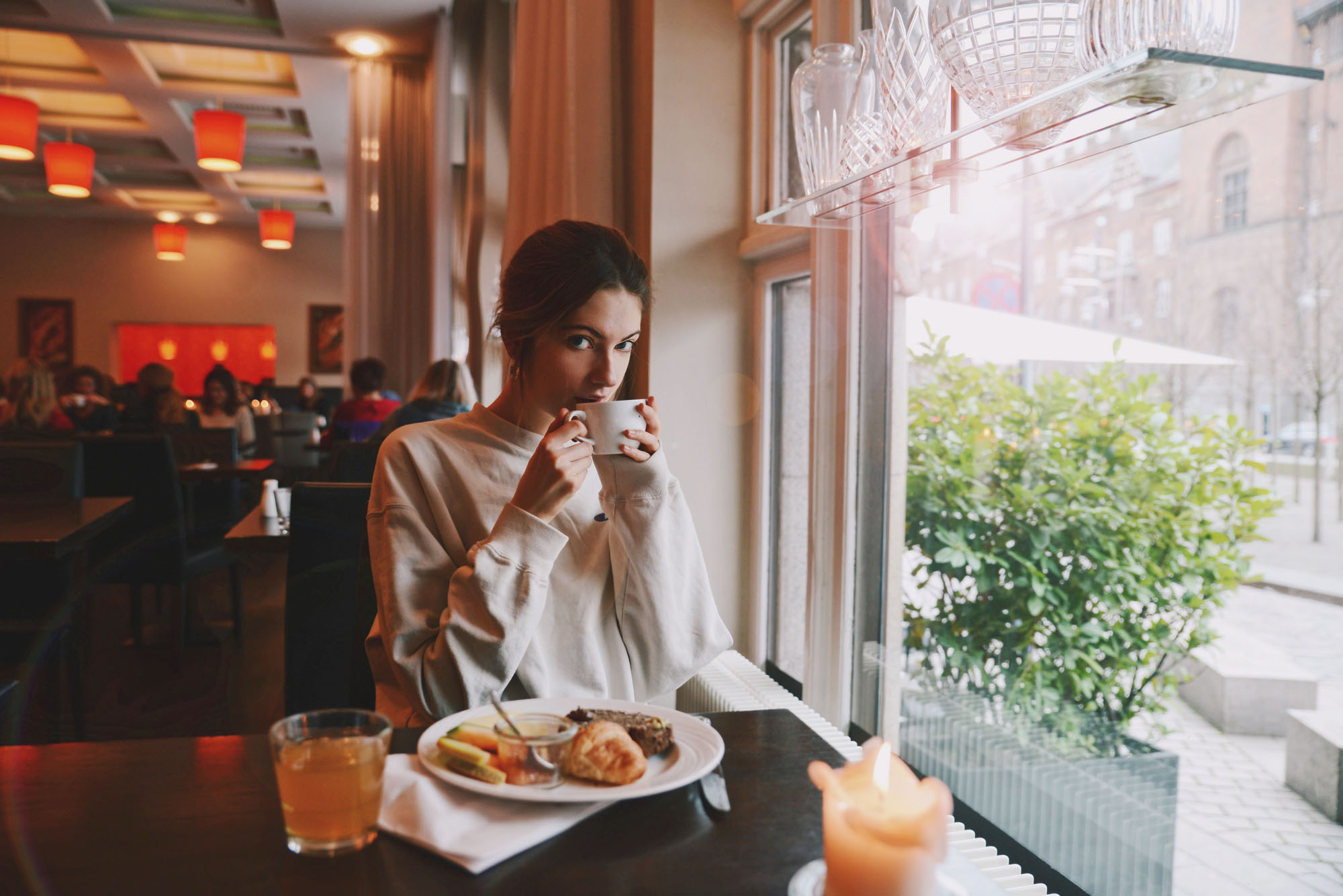 Mjukstartade dagen i hotellets matsal med yoghurt, kaffe och bröd. Efter gårdagens möten var vi riktigt redo för en ledig dag på stan.
We got a nice start to the day in the hotel's breakfast restaurant with yogurt, coffee and bread. After yesterday's meetings we were ready for a free day in Copenhagen.
Vi promenerade från city till Norrebro där vi bland annat gick på Acne Archives och Wood Wood Museum. Vi fyndade SÅ fina saker! Det var länge sedan jag fick ett sådant tillfredställande rus av shopping, haha.
We walked from the city centre to Norrebro where went to the Acne Archives and Wood Wood Museum. We found SO nice clothes! It was a long time since I got such a satisfying rush from shopping, haha.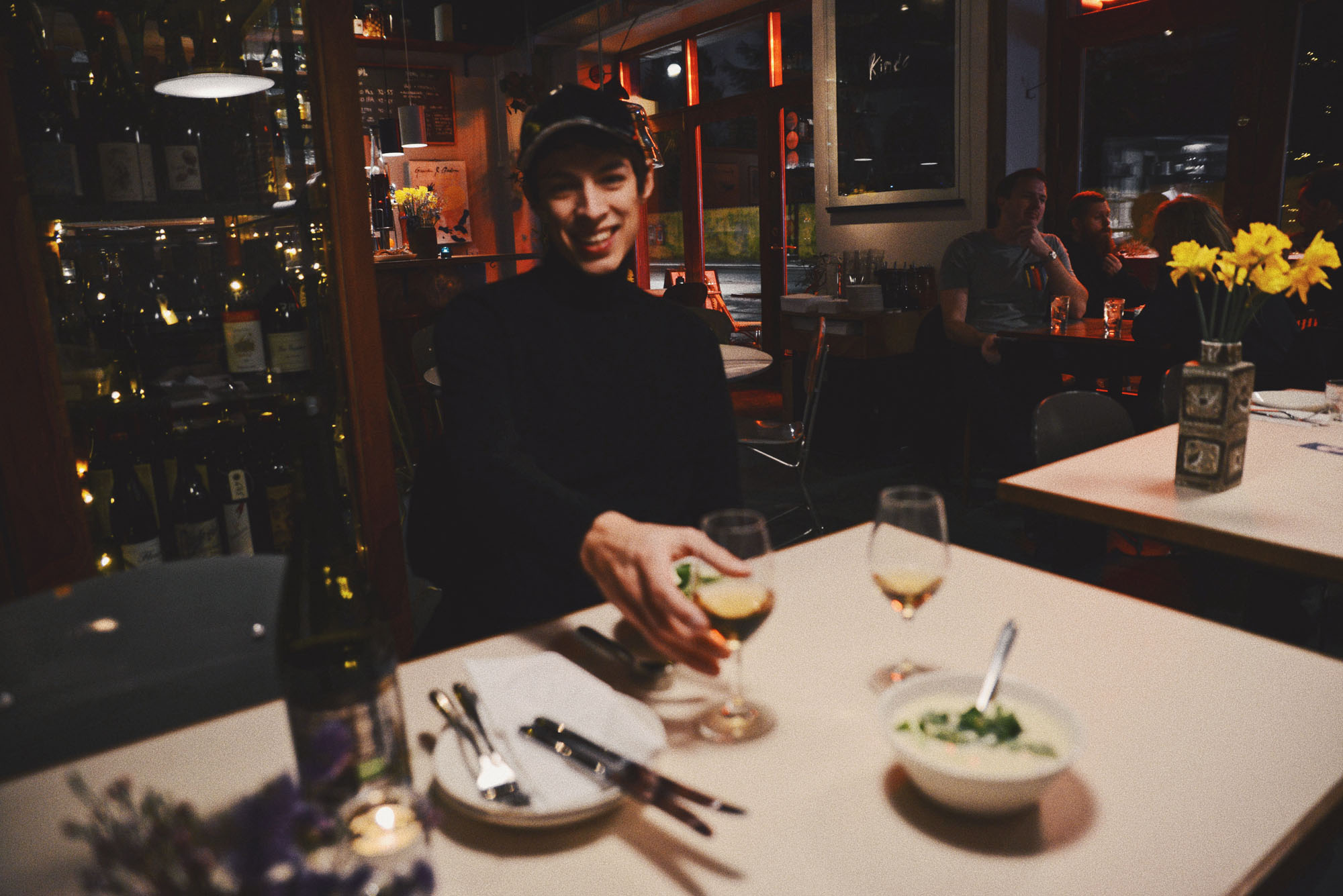 Bejb <3 Vi firade med att äta middag på Gaden & Garden, en naturvinsbar och restaurang en vän rekommenderat. Kan varmt passa vidare rekommendationen till er- nästa gång ni vill äta en nice middag i Köpenhamn vet ni vart ni ska gå.
Boo <3 We celebrated with having dinner at Gaden & Garden, a nature wine bar and restaurang a friend had recommended. I can whole-heartedly pass that recommendation on to you guys- the next time you're in Copenhagen and want a nice dinner, you have to go here.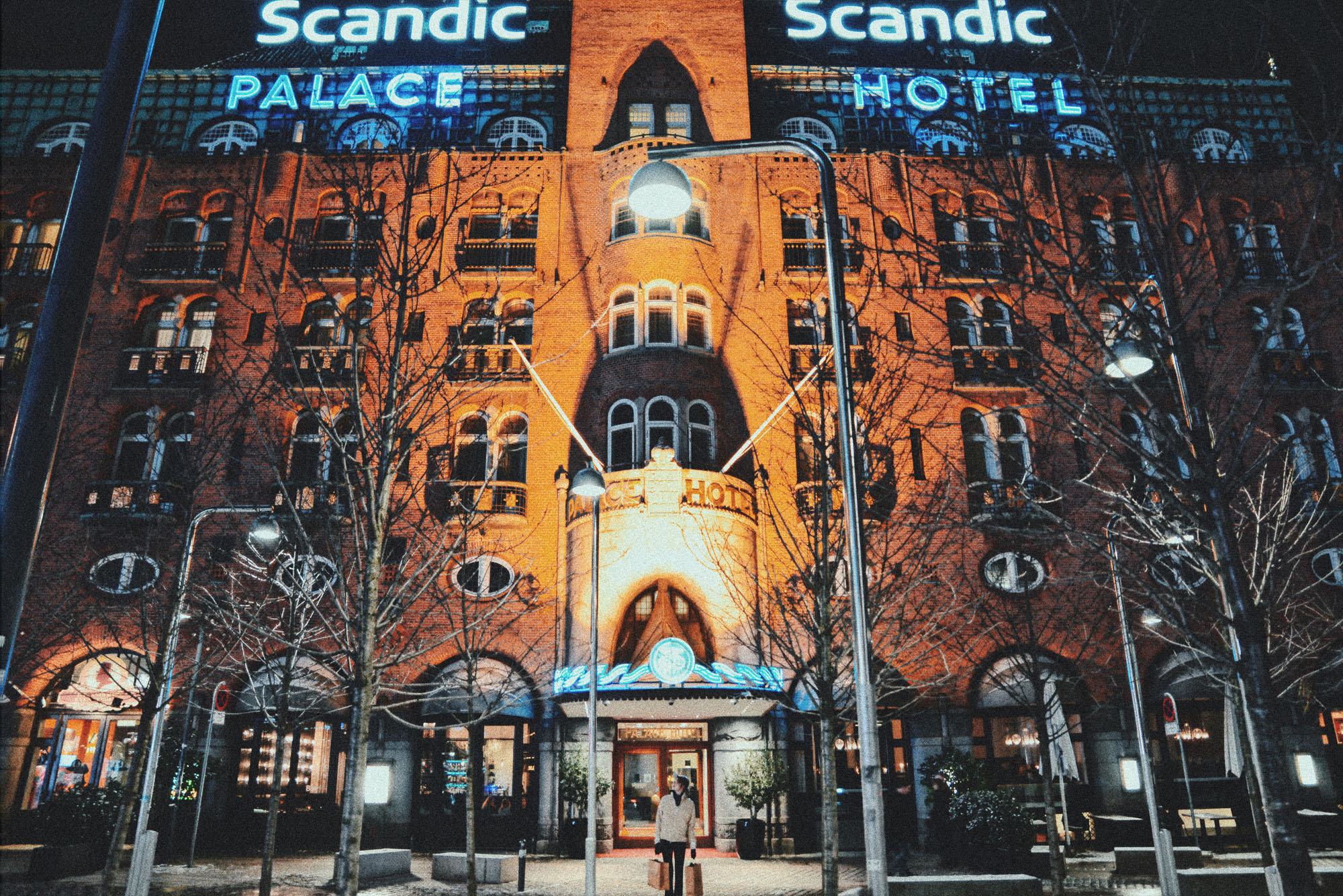 Efter middagen mötte vi upp Ebba, Linnea, Axel och Oscar som jag lockat över från Malmö. Dagen avslutades med bärs, snack och daaans daaans daaans. På söndagen reste vi hem trötta och glada. Det är verkligen sällan man känner att man hinner bocka av så många bra saker på samma helg.
After dinner we met up with Ebba, Linnea, Axel and Oscar, which I had persuaded to come over from Malmö. The day ended with beers, talking and daaance daaance daance. We were super tired and happy when we left Copenhagen and Scandic Palace the day after. It's rare to get to do so many good things on such a short amount of time.
LÄS OCKSÅ: MORE ON COPENHAGEN:
Copenhagen according to Ebba and Sara
DO Copenhagen
TRAVEL TIPS COPENHAGEN