Eftersom januarivädret inte tillåter några outfitbilder utomhus höll vi oss under tak idag. Vi har precis gjort om lite i kontoret så nu känns det plötsligt hundra gånger mer inspirerande och kul att slå sig ned vid skrivbordet i vår lilla content och musik-verkstad. Låt oss kika:
Since the January weather doesn't allow outdoor outfit photos today, we shot some pics indoors instead. We've actually just done some changes in the office interior so suddenly it's feels much more inspiring to work here. Let's have a look:
Detta är vyn jag brukar mötas av när jag kommer hem: Sean och syntarna. I eftermiddags när jag anlände efter ett agentur-möte var inget undantag, som ni ser. Älskar att komma hem till detta.

This is the view I usually meet when I get home: Sean and his synthesizers. This afternoon when I arrived after an agency meeting was no exception, as you see. I love coming home to this.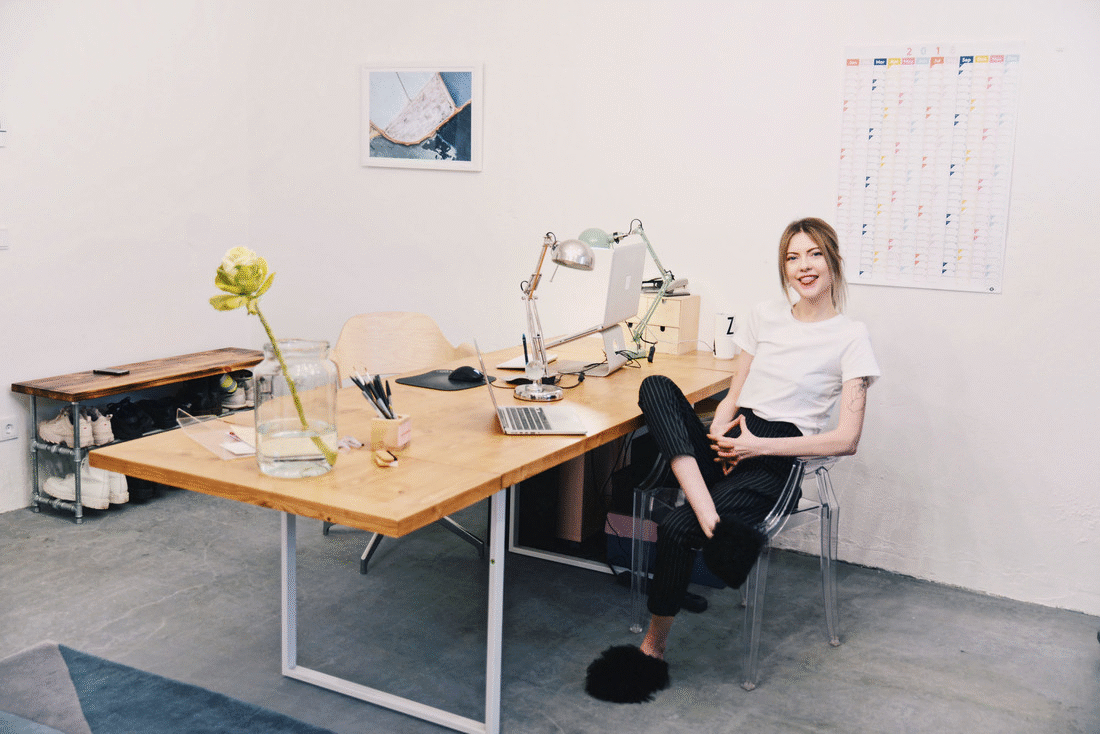 Vårt massiva skrivbord från Johanenlies är så stort att vi ryms båda två- Sean med sin musik och bokföring och jag med alla mina tusen influencer- och foto-projekt. Bänken i bakgrunden kommer från Ziito.
Our massive desk from Johanenlies is so big that there's space for both Sean's music and bookkeeping stuff and all my thousands of influences and photo projects. The bench in the background comes from Ziito.
Tavlan kommer från Evermade, pappershållaren i plexiglas från Connox och de små tangentbords-borstarna (geni-pryl) var en present från Siri.
The picture is from Evermade, the paper holder from Connox and the small keyboard-brushes (genius gadget) was a gift from Siri.

Pants- Loavies, slippers- Uggs.
Äntligen har vi borrat upp armeringsjärnet på väggen. Det kostar någon hundring på bauhaus och fungerar utmärkt som ersättare för fula whiteboards att hänga upp inspiration, planer och påminnelser på.
Hyllan har Berlin-baserade möbelmakarna på VANPEY gett oss, och är en utmärkt sko-förvaring. Ovanpå står förresten två av de kreationer som min lilla keramik-kurs resulterade i, kan visa dem mer ordentligt senare om ni vill. Nu ska jag slå ihop min dator och glida in i köket för att trolla ihop något att äta till middag. Puss hörni.
At last we've drilled up the rebar net on the wall. It's a cheap and nice substitute for ugly whiteboards to hang inspiration, plans and reminders on.
The shelf was a gift from the Berlin-based furniture makers at VANPEY, it's an excellent shoe storage. The black pots on top of it are two of the creations from my ceramics course (which I can show you more properly later if you wish). Now it's time for me to put my computer aside and head into the kitchen to come up with something to have for dinner. Kisses.