Dags att blicka tillbaka till Transsibiriska-resan en sista gång.
Time to look back at our trans-siberian adventure one last time.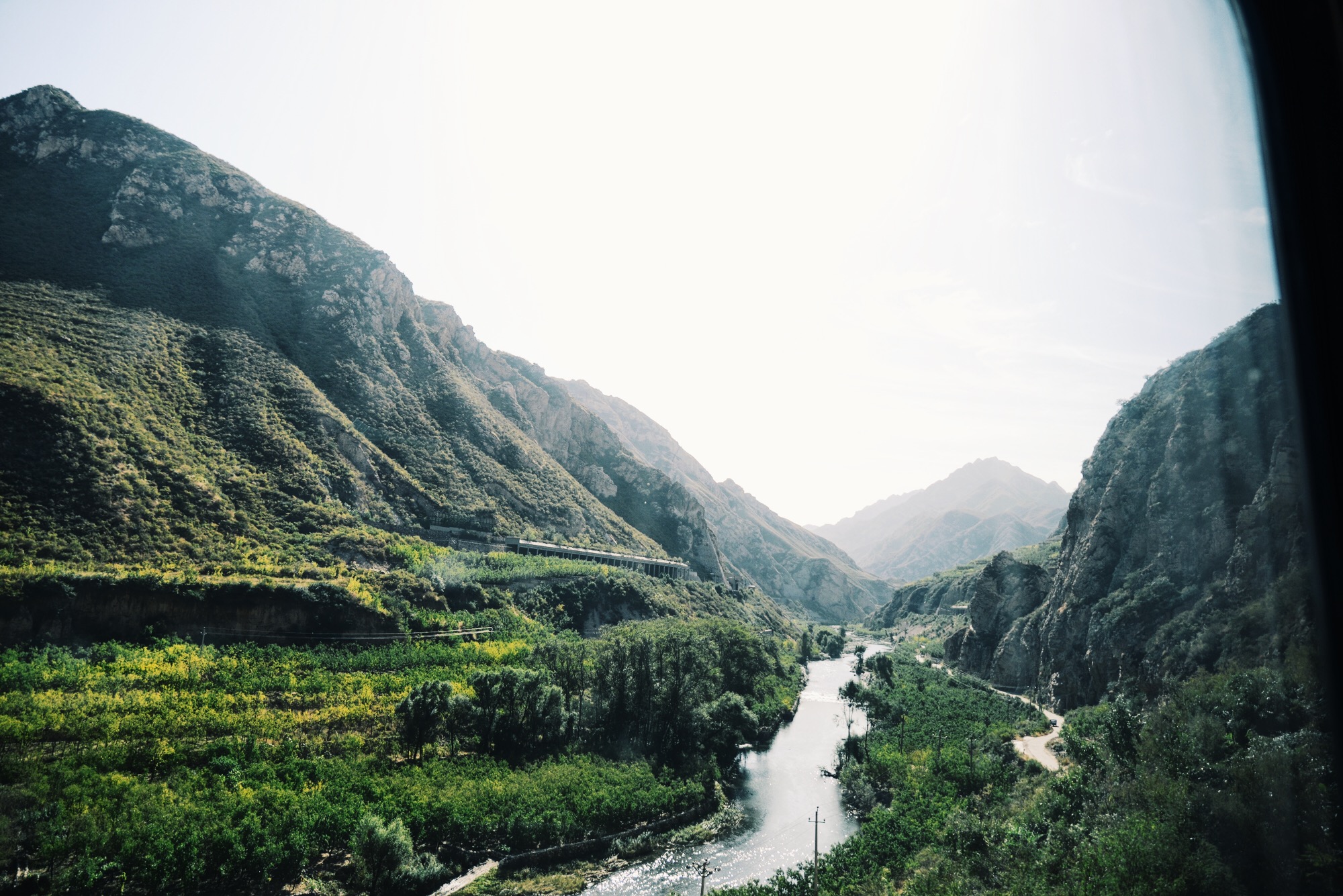 Första morgonen i Kina väcktes jag av att Sean försiktigt skakade om mig, och pekade ut genom fönstret. Utanför swischade höga berg, dalar och små kinesiska landsbygdssamhällen förbi. Då och då kunde man se boskap som helt oberörda av den dundrande slingan av tågvagnar betade i dalarna mellan bergen.
The first morning in China, I was awakened by Sean gently shaking my shoulders, pointing out the window. High mountains, valleys and small Chinese villages passed by outside. From time to time one could see sheep and cows calmly ignoring the thundering train passing through.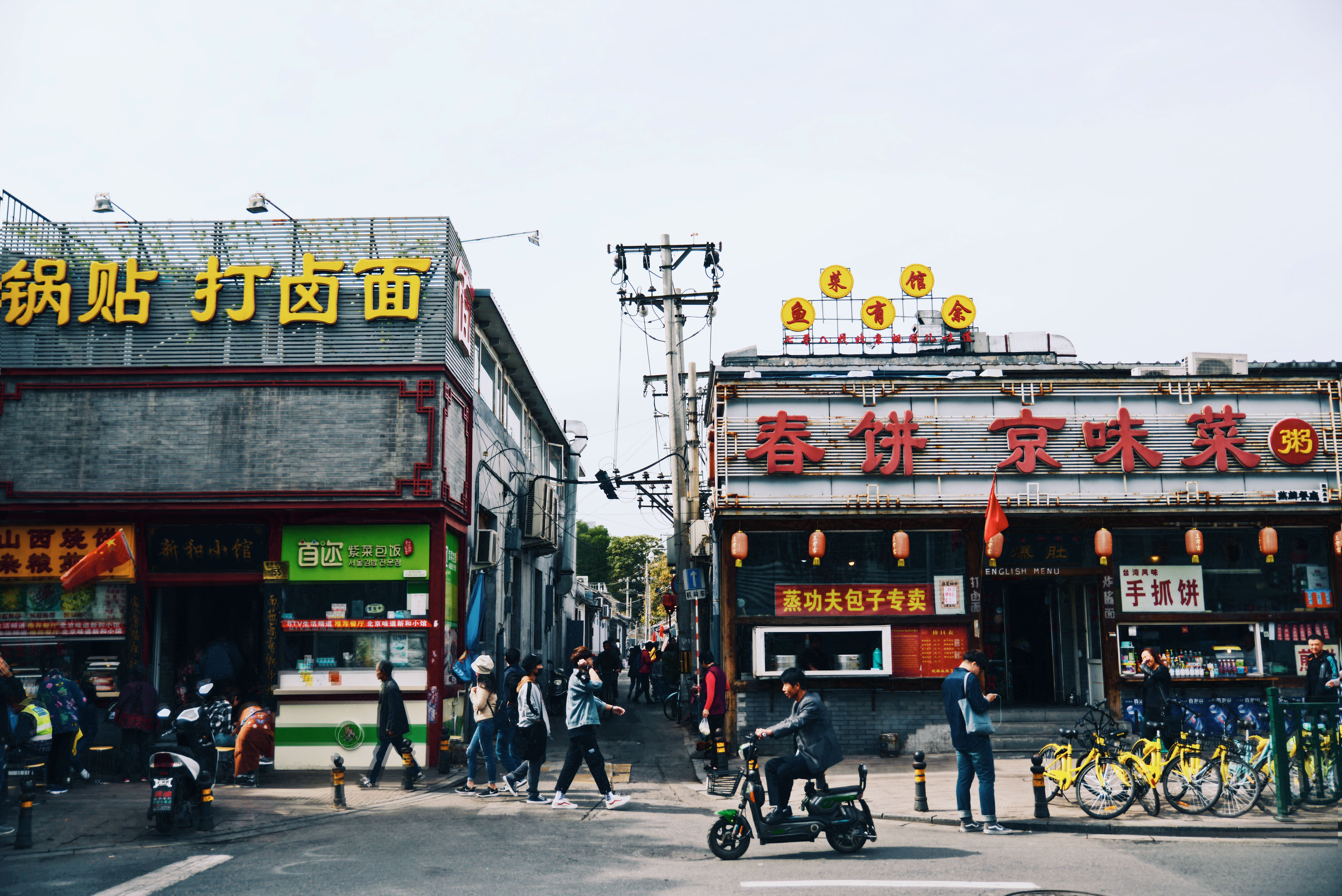 När vi några timmar senare anlände till Pekings tågstation möttes vi av den diametralt motsatta atmosfären: totalt kaos. Vi banade väg genom havet av människor för att nå ut till gatan. Efter några svettiga diskussioner genom olika taxifönster fick vi acceptera faktumet att inte en enda chaufför skulle gå med på att skjutsa turister som oss till hotellet på taxameter.
When we arrived at Beijing's train station a few hours later we met the opposite atmosphere: complete chaos. We paved the way through the sea of people to reach the street. After some sweaty discussions through different taxi windows, we accepted the fact that not a single driver would agree to give tourists like us a ride to the hotel on taxameter.
På hotellet bröt jag ihop totalt. Efter att ha rest genom 6 tidszoner, bott i kalla tält och sovit på skakiga tåg-britsar sade min kropp ifrån. Första dagen spenderades således i sängen med feberfrossa, bortsett från en avstickare till apoteket och till restaurangen vi åt middag på, där inte ens soppan baserad på 80% chilifrukter från sichuan kunde väcka liv i mina förkylda smaklökar.
I broke down totally as soon as we arrived to out hotel room. After traveling through 6 time zones, living in ice cold tents in Mongolia and sleeping on shaky train-beds, my body finally gave in. The first day was spent in bed with high fever, apart from a short visit to the pharmacy and to the restaurant we had dinner at, where not even the soup based on 80% chili fruit from sichuan could bring life into my sick taste buds.
Det första vi fick se av peking var alltså insidan av hotellrummet. Vi roade oss med att titta på Kinesisk TV som (trots att vi inte förstod ett skvatt) visade sig extremt underhållande med sina sjuka specialeffekter, kostymer och minspel.
In the beginning, we spent most of our time in the hotel room. We enjoyed watching Chinese TV, which (although we did not understand a thing) proved extremely entertaining with it's crazy special effects, costumes and facial expressions.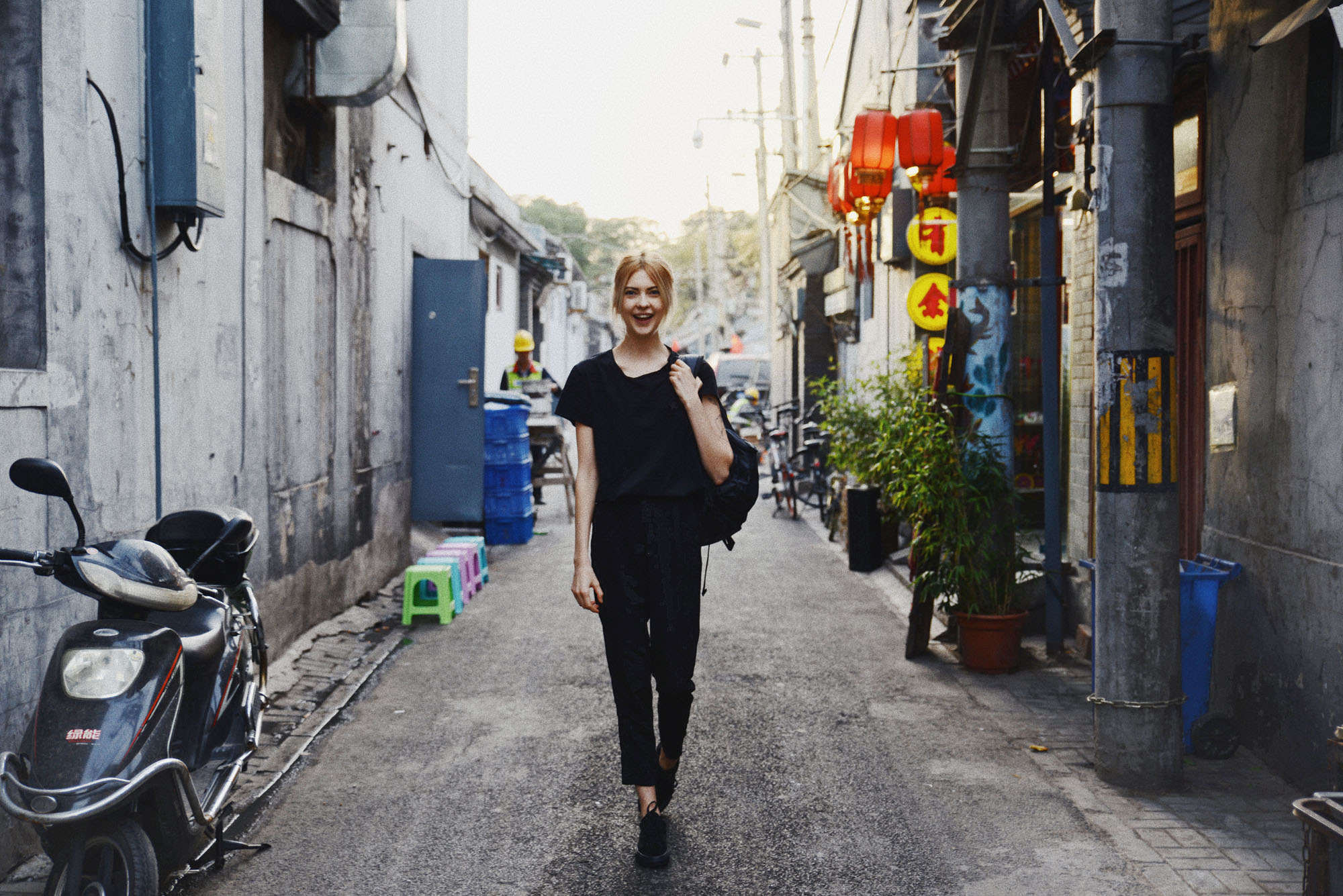 När jag till slut klarade av att lämna hotellet, eftermiddagen dag två, var jag såhär glad. Hotellet låg i ett gammalt hutong-område i centrala Peking. Dessa områden är som ett parallellt universum där bruset från de större gatorna inte når in och solens strålar plötsligt får konturer där de silar in i dammet mellan husen. Det är lätt att gå vilse i de trånga gränderna där man får ducka under tvättlinor som ibland hänger tvärs över gatan och akta sig för knäpptysta el-mopeder som viner förbi.

When I finally managed to leave the hotel, afternoon day two, I was this happy.
The hotel was located in an old hutong area in central Beijing. These areas are like a parallel universes, where noise from the larger streets can't reach you and the sun's rays suddenly get contours in the dust-filled air between the houses. It's easy to get lost in the extremely narrow streets where you get to duck under the clothesline hanging across the street and watch out for the tiny, completely quiet electric mopeds passing by.
Vi firade mitt tillfrisknande med att äta något jag saknat ända sedan jag jobbade i Peking 2011: "jianbing" – pannkakor man kan köpa för någon krona på var och varannan gata, fyllda med koriander, lök, sallad och ägg. Tydligen ska detta vara en av kinas populäraste frukostar, och det är inte svårt att förstå varför. Något som är svårare att förstå är varför de inte finns i Europa ännu.
We celebrated my recovery with eating something I had missed ever since I worked in Beijing 2011: "Jianbing" – Pancakes you can buy for some cents on each and every street, filled with coriander, onion, salad and eggs. Apparently, this is one of China's most popular breakfasts, and it's not hard to understand why. Something that is harder to understand though is why it's not common in Europe yet.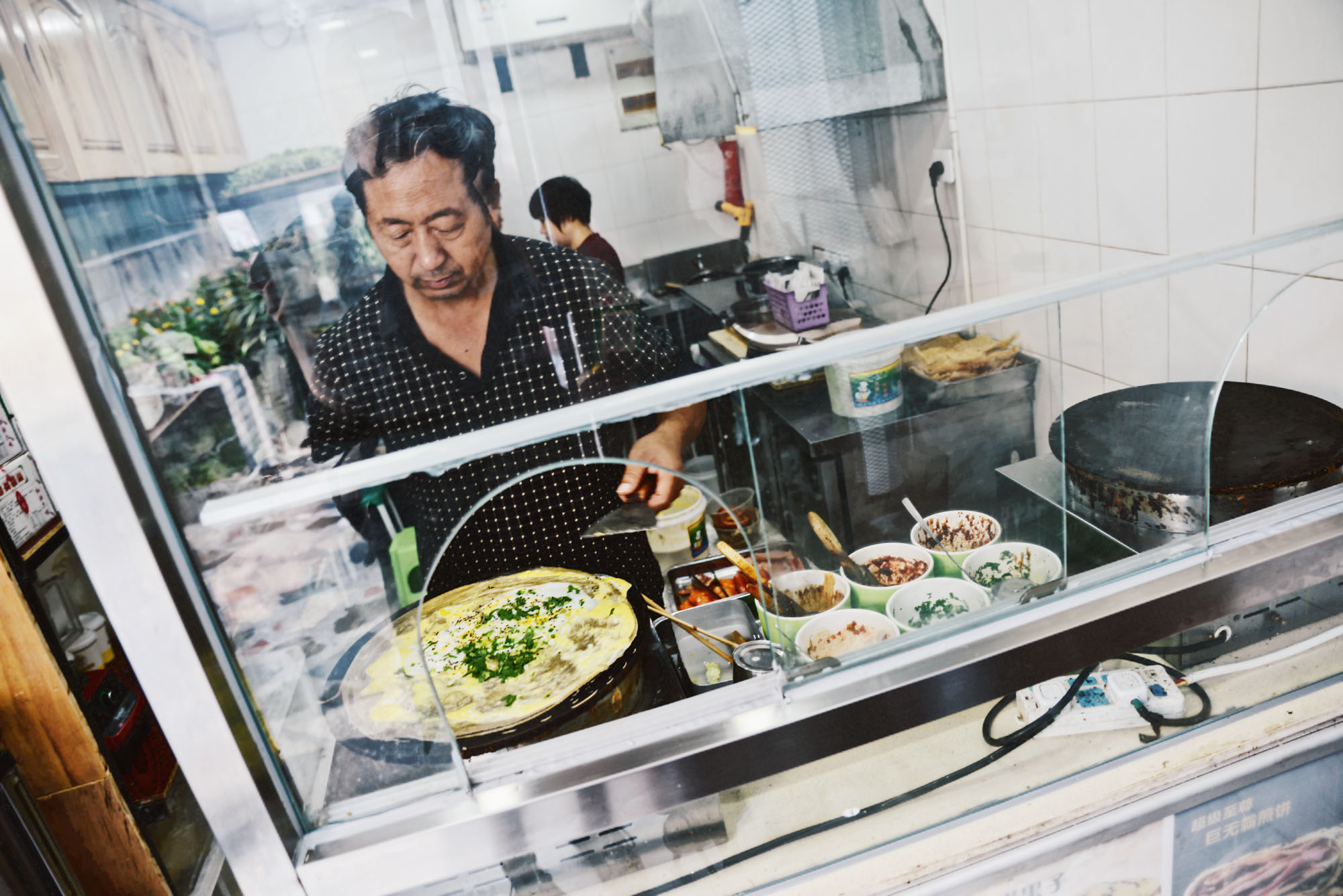 Att röra sig på gatorna utanför hutong-gränderna kändes som att stå i en ström flod. Det enda sättet att inte tappa balansen eller tappa bort varandra var att glida med.
Moving on the streets outside the hutongs felt like standing in a strong streaming river. The only way to avoid losing your balance or each other was to follow the stream.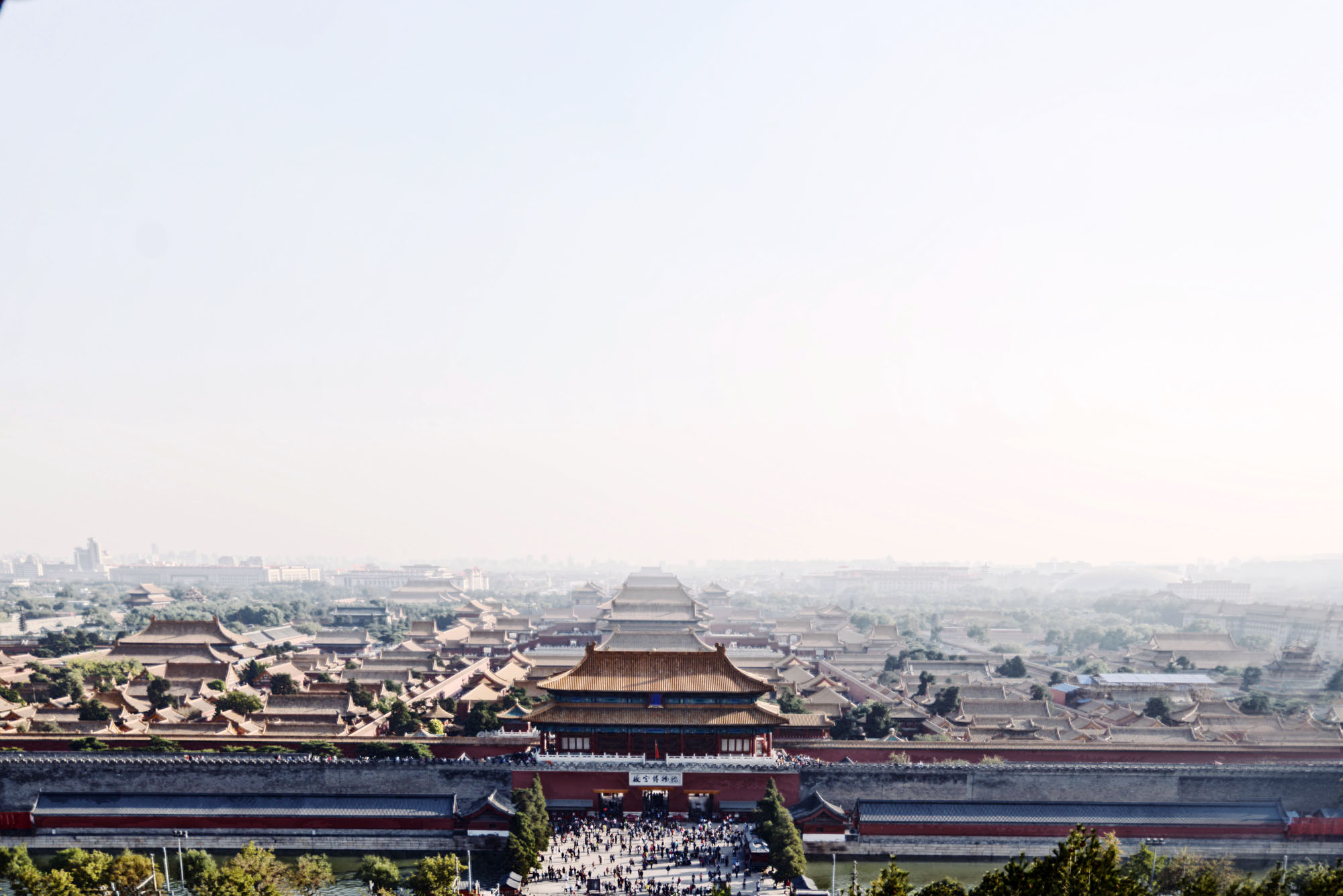 Av en slump sammanföll vårt Peking-besök med den årliga Månfesten (då fullmånen sägs vara som allra klarast). Under denna högtid får Kinas befolkning betald ledighet, vilken många väljer att spendera i Peking. Detta förklarade det överväldigande kaoset vid tågstationen och de omöjligt fulla gatorna. Istället för att trängas med hundra tusentals kineser på semester valde vi bort utflykten till kinesiska muren, klättrade upp på en höjd i en närliggande park för att se Förbjudna staden ovanifrån istället för att försöka få tag i inträdesbiljetter.

Our visit to Beijing happened to be the same week as the annual Moon Festival (when the full moon is said to be the clearest). During this festival, China's population get paid holidays, which many choose to spend in Beijing. This explained the overwhelming chaos at the train station and the extremely crowded streets. Instead of crowding up with hundreds of thousands of Chineses people on vacation, we skipped the the trip to the Chinese Wall, and climbed up at a height in a nearby park to see the Forbidden City from above instead of trying to get entrance tickets to get inside it.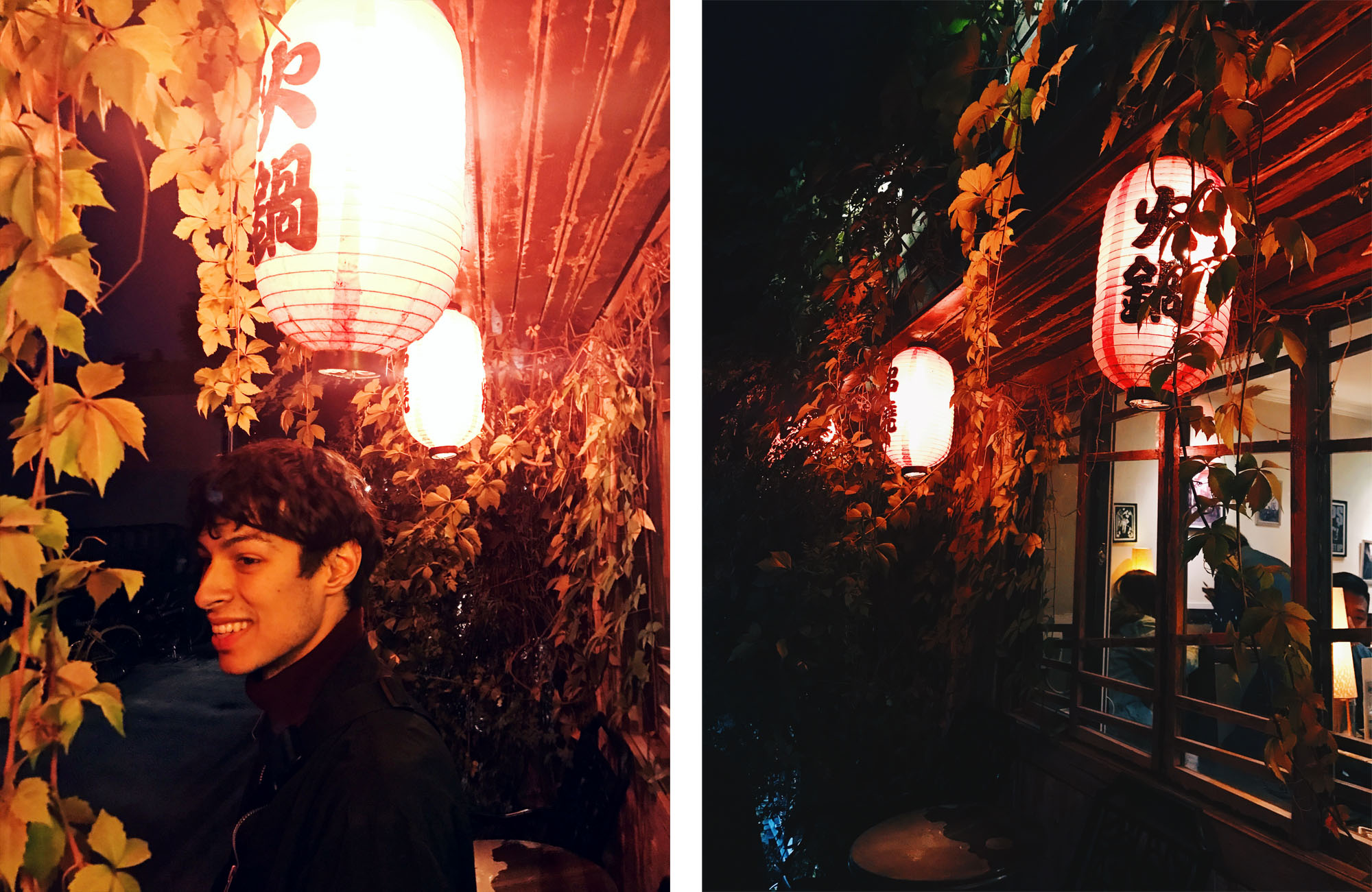 Mest höll vi oss i hutongerna- där jag personligen trivdes bäst. Vi provade märklig streetfood, besökte mindre tempel, letade upp de hippa haken för att spana på kinesiska inne-kids. Det visade sig att man med lite research kunde hitta barer, cafén och restauranger som lika gärna kunnat ligga i Kreuzberg i Berlin som i centrala Peking. Det är alltid spännande att hitta vattenhål där de jämngamla invånarna hänger, och inte bara är en fasad gjord för att underhålla turister.
Mostly we stayed in the hutongs – where I personally felt the most comfortable. We tried strange streetfood, visited small temples, looked up the some hip bars and restaurants to see some Chinese hipster kids. It turned out that with some research you could find bars, cafes and restaurants that might as well could have been located in Kreuzberg, Berlin, as in central Beijing. I always think it's fascinating to find urban water holes where the real habitants in my own age are hanging out, and not just a facade made for entertaining tourists.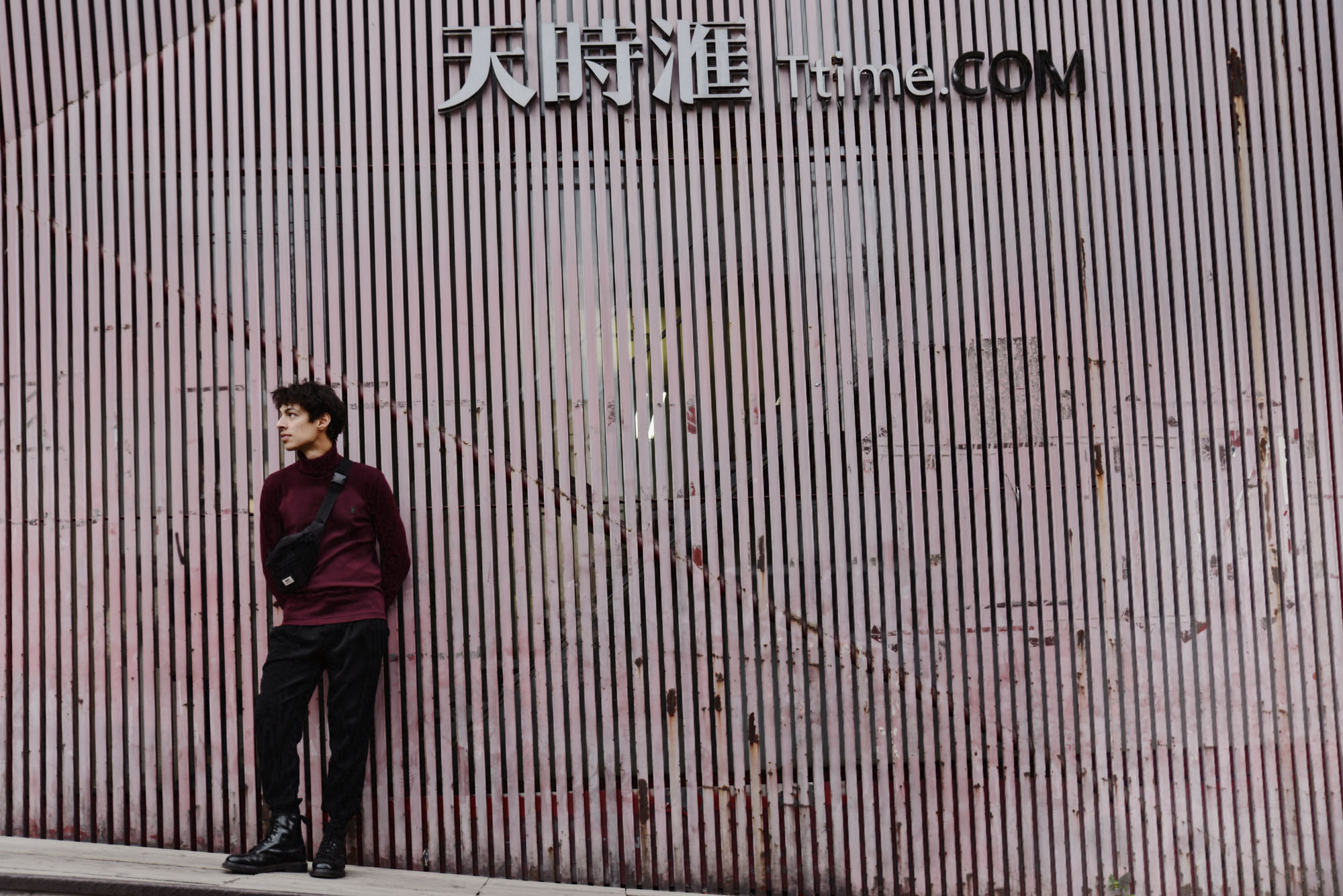 Efter fyra nätter tog vi våra väskor och reste vidare till Bankok. Det kändes märkligt att resa med flygplan efter två veckors tåg-äventyr. Det blev så tydligt att en flygresa inte är något annat än en transportsträcka från A till B, när en tågresa är en slags upplevelse i sig och en mjukare övergång från en kultur till en annan.
Detta var mitt sista inlägg i följetången om vår transsibiriska resa. Hoppas att ni gillat den! Har ni frågor och funderingar är det bara att säga iväg en kommentar. Slutligen vill jag VARMT rekommendera alla med någon slags nyfikenhet på världen att resa med transsibiriska järnvägen, bristen på solbränna och paraplydrinkar vägs upp hundra falt av unika upplevelser och livslärdomar. Jag är så glad att jag gjorde detta.

After four nights, we said goodbye t Beijing and went on to Bankok. It felt strange to travel by airplane after two weeks of train adventures. It became so clear to me that a flight is nothing but a transport from A to B, when a train journey is an experience in itself and a softer transition from one culture to another.
This was my last post in the series about our trans-Siberian trip. Hope you liked it! If you have any questions, just leave a comment and I'll answer it as good as I can. Lastly, I would HIGHLY recommend anyone with some kind of curiosity on the world to travel with the Trans-Siberian railways, the lack of tan and pina coladas was more than compensated by unique experiences and life lessons. I am so glad I did this.
Read my other posts about the transsiberian trip here:
PT 1- MOSCOW
PT 2- LIFE ON THE TRAIN
PT 3- LAKE BAIKAL
PT 4- MONGOLIA