Jag har funderat fram och tillbaka på hur jag på bästa sätt ska kunna berätta för er om mitt sommarlov. Jag har så mycket intryck jag vill dela med mig av, men vill liksom inte tvinga er att läsa en hel roman heller. Därför har jag valt att dela upp det i korta stunder som på något vis fastnade i mig. Här, från vår allra första semestervecka, har vi nio små vykort från Öland:
I've been thinking about how to tell you about my summer vacation in the best way possible. I have so many impressions I want to share with you, but I don't want to bore you with an entire novel either. Therefore, I've chosen to divide it in short moments that somehow stuck with me after the trip. Here's nine moments from our very first vacation week spent on Öland:
Semesterns första dag spenderades på flygplan och flygplatser. Vi försökte slumra mot varandras axlar och i varandras knän i olika skeva konstellationer, men jag lyckades aldrig zona ut tillräckligt mycket för att somna. Satt och funderade på hur de kommande veckorna skulle te sig, hur det skulle vara att bo tillsammans med Seans familj, jobbet jag lämnat bakom mig och vilka vänner vi skulle anförtro vattnandet av våra plantor åt.
We spent the first day of the holiday on airplanes and airports. We tried to sleep on each other's shoulders and in each other's knees in different skewed constellations, but I never managed to relax enough to fall asleep. Reflected on how the coming weeks would be, how it would be to live with Sean's family, the work I left behind me and which friends we should entrust with the watering of our plants.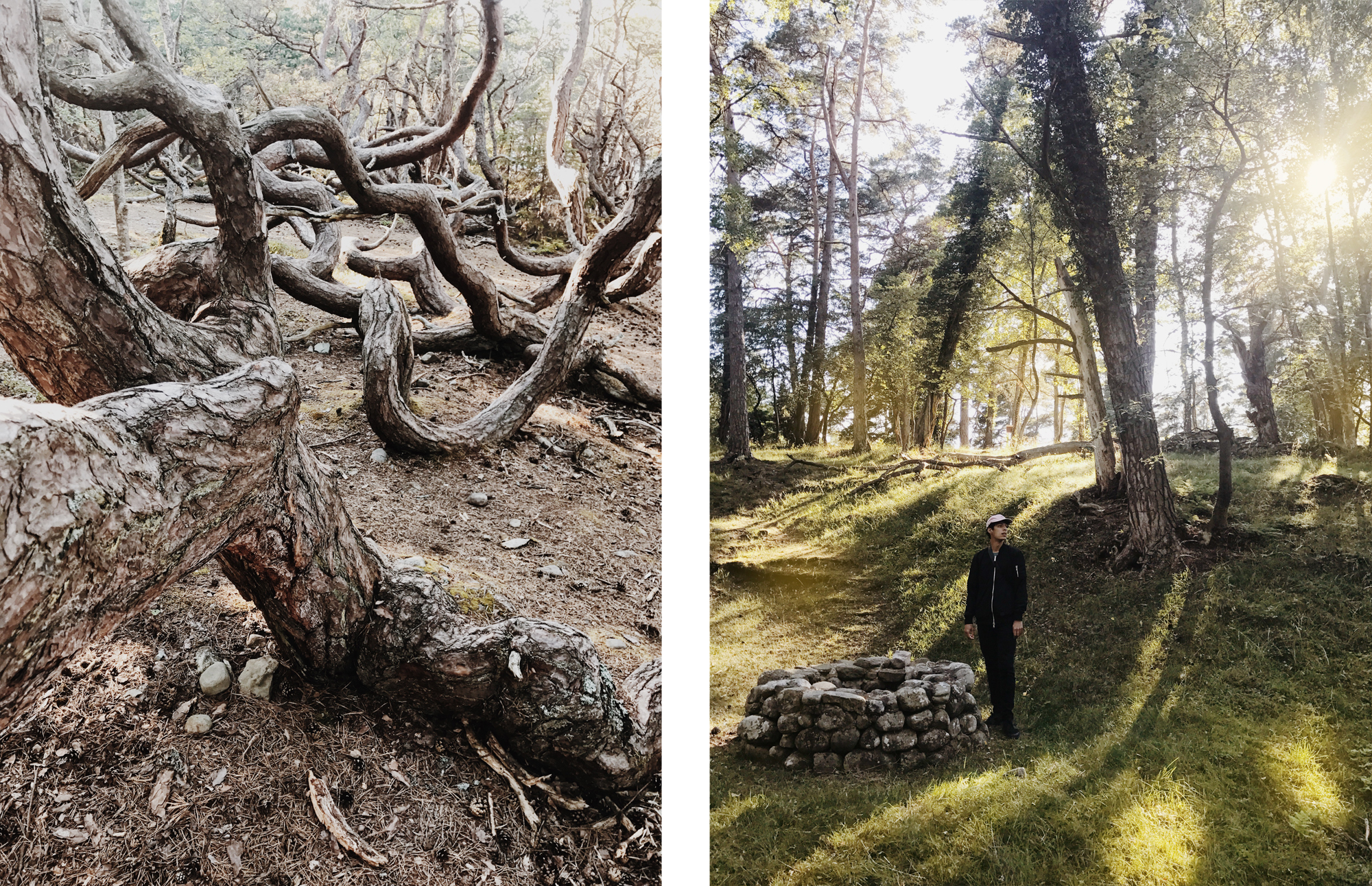 Han visade mig skogen på Ölands norra spets, där vinden format trädstammarna till slingrande bläckfisk-armar och vrak från båtar som gått på grund spolats upp på stränderna. Samma stigar som han sprungit på som barn och "alltid haft en pinne i handen".
He showed me the forest on the northern tip of Öland, where the wind has shaped the trees to winding octopus arms and wrecks from ships had flushed onto the beaches. We walked on the same paths he sprung on as a child "always had a stick in his hand".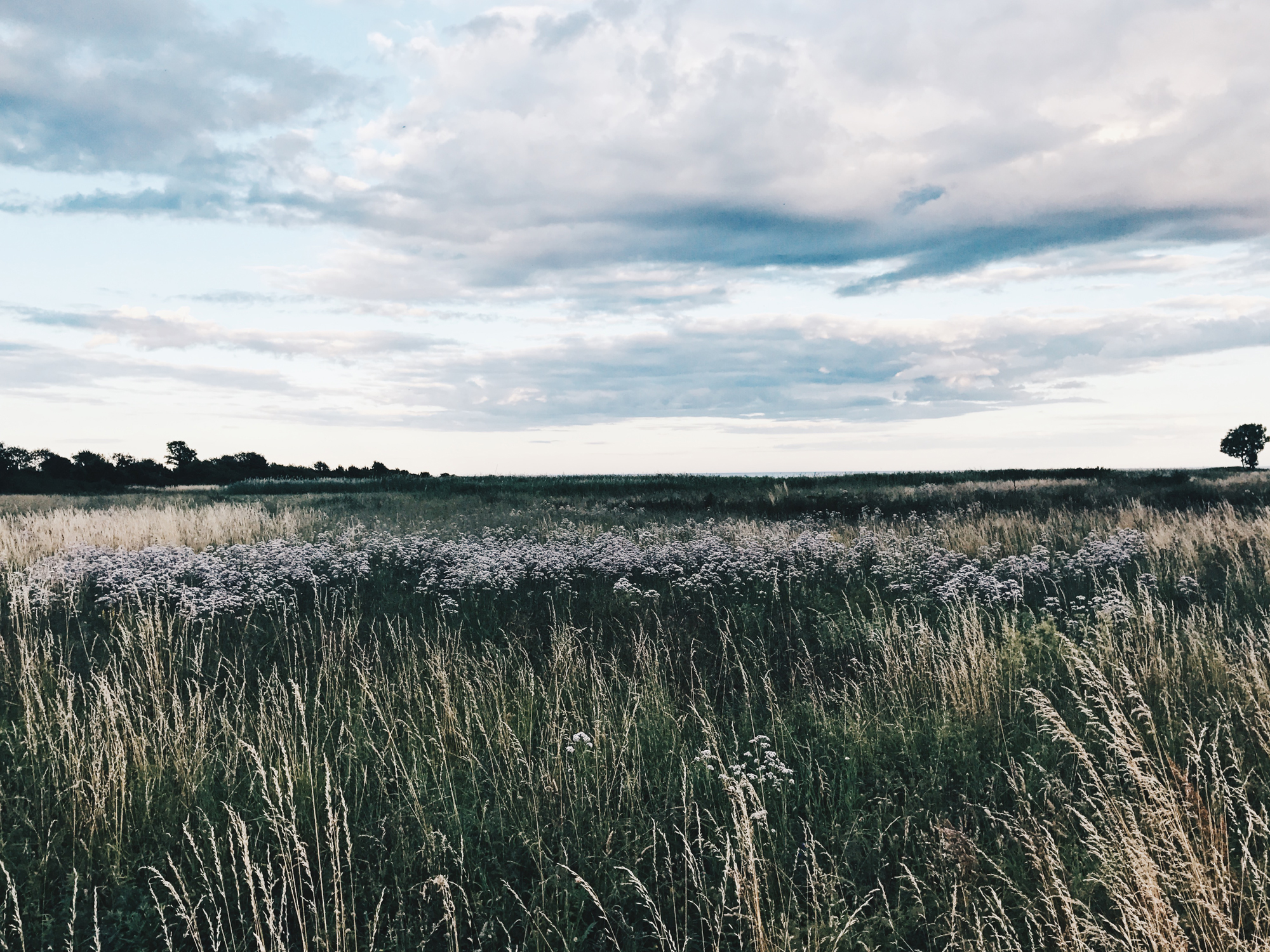 De första mornarna vaknade jag med en dunkande huvudvärk och försämrad syn. Som någon slags baksmälla efter det senaste halvårets jobb och plugg, läkaren jag besökte misstänkte migrän. Tack och lov hann värken försvinna innan jag hann få tag på värktabletterna jag fick utskrivna.
The first mornings I woke up with a throbbing headache. Almost like some kind of hungoverness from the last six months of work and studies, the doctor I visited suspected migraines. Thankfully the pain disappeared before I got hold of the painkillers I got prescripted.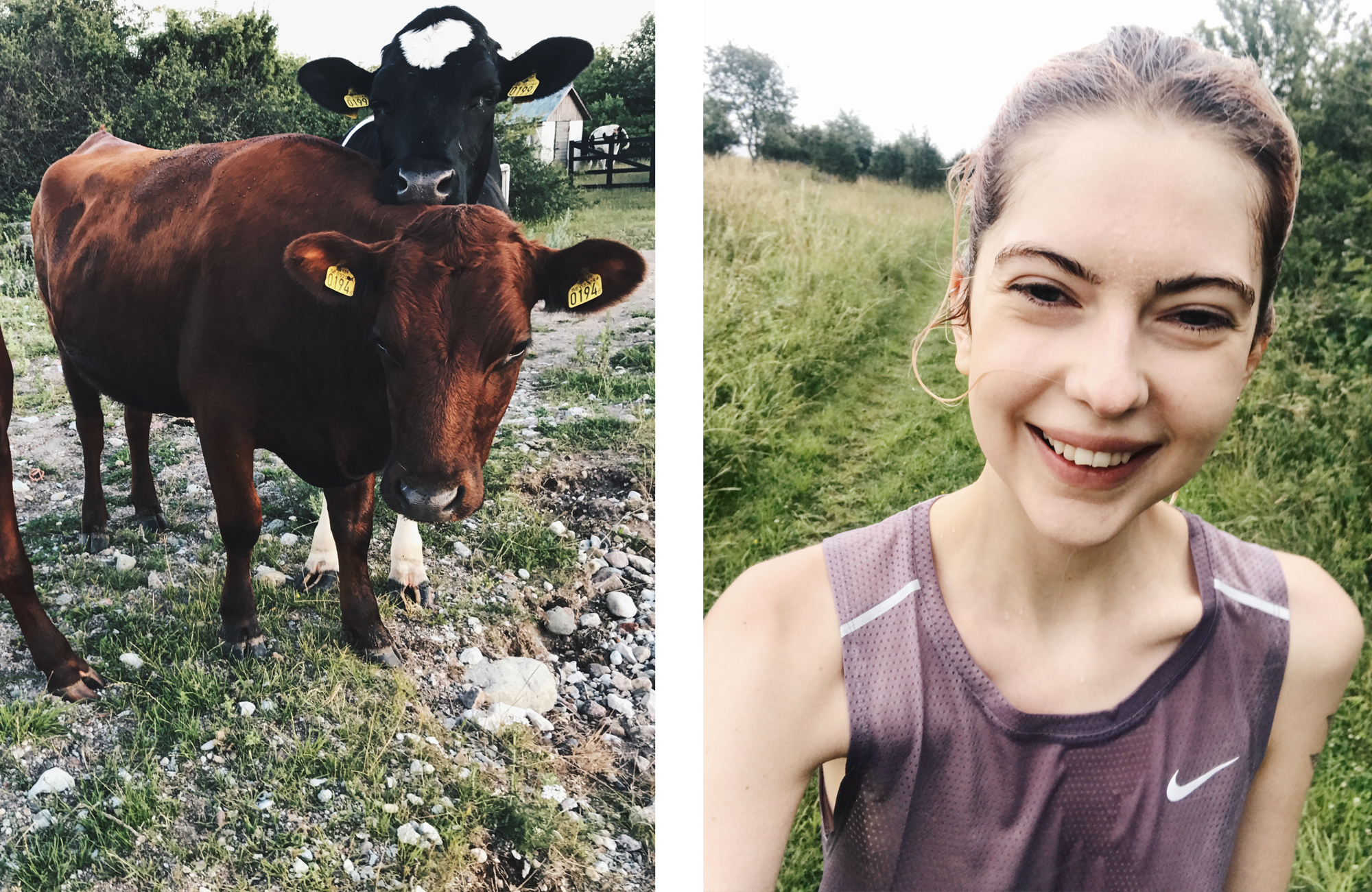 Det var svårt att anpassa sig efter den nya livsrytmen, inte kolla mailen varje kvart och inte se sina omgivningar som "potentiellt content". Då humöret sjönk och det kliade i fingrarna som mest smet jag iväg på springturer längs med kusten och genom det närliggande samhället. Stannade till och blev kompis med ett gäng kossor som spenderade sitt allra första sommarbete med att i lugn och ro avverka gräset som växte vid vattenbrynet. Jag kände den klassiska löpar-euforin precis då himlen öppnade sig och det började regna. När jag kom tillbaka till gården sprang jag rakt ut i havet istället för in i huset eftersom jag ändå var helt genomvåt. "Du blir så himla lugn och glad varje gång du sprungit" sa Sean senare på kvällen.
Sometimes it was hard to adapt to the new rhythm of life, not check the mail every ten minutes and not see my surroundings as "potential content". When the mood dropped and the restlessness stroke me the hardest, I went out running along the coast and through the nearby community. Stopped and became friends with a bunch of cows who spent their very first summer outside calmly eating the grass growing by the waterline. I felt the classic runner's high just as the sky opened and it began to rain. When I got back to the yard I ran straight into the ocean instead of entering the house since I was completely soaked anyway.
"You always get so calm and happy after a run," Sean said later that evening.
Vi klättrade på raukarna och studerade fossiler från utdöda djurarter i kalkstenen. På vissa av dem hade svarta och lila glittrande kristaller bildats.
We climbed the rauks and studied fossils from extinct animal species in the limestone. On some of them, black and purple sparkling crystals had formed.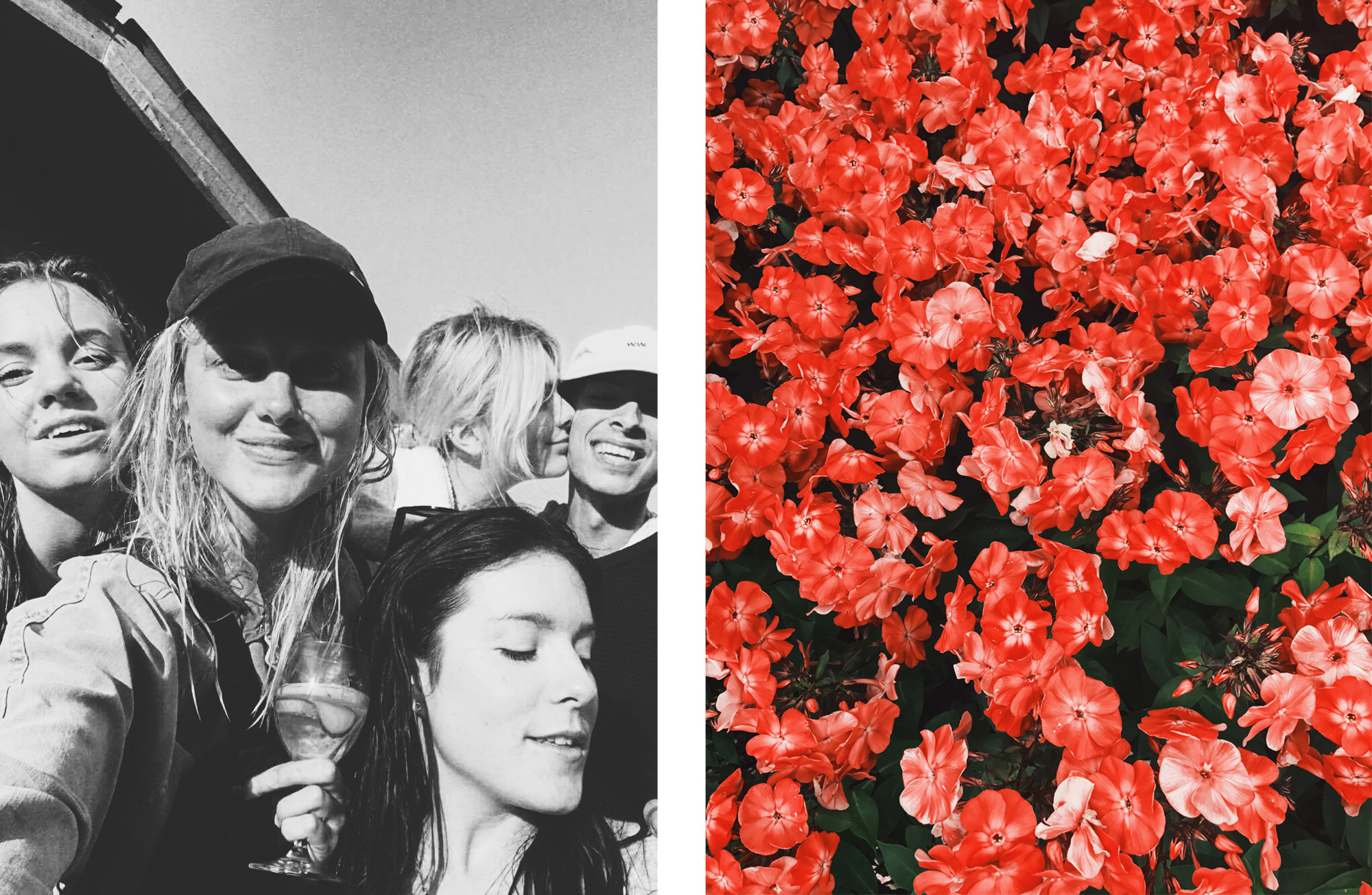 En eftermiddag virvlade Susanna, Lou och Ellen in på gården. Efter flera dagars lugnt semester-liv blev vi omtumlade av det nya tempot. Vi badade, pratade, lagade mat och morgonen därpå försvann de iväg i fina klänningar för att gå på det bröllop de egentligen besökt ön för att gå på- och lämnade gården lika tyst och lugn som innan.
One afternoon, Susanna, Lou and Ellen swirled into the yard. After several days of peaceful vacation life, we were overwhelmed by the new pace. We bathed, talked, cooked food and the morning after they disappeared in nice dresses to go to the wedding they in the first hand visited the island to attend, and left the yard as quiet and calmly as it was before.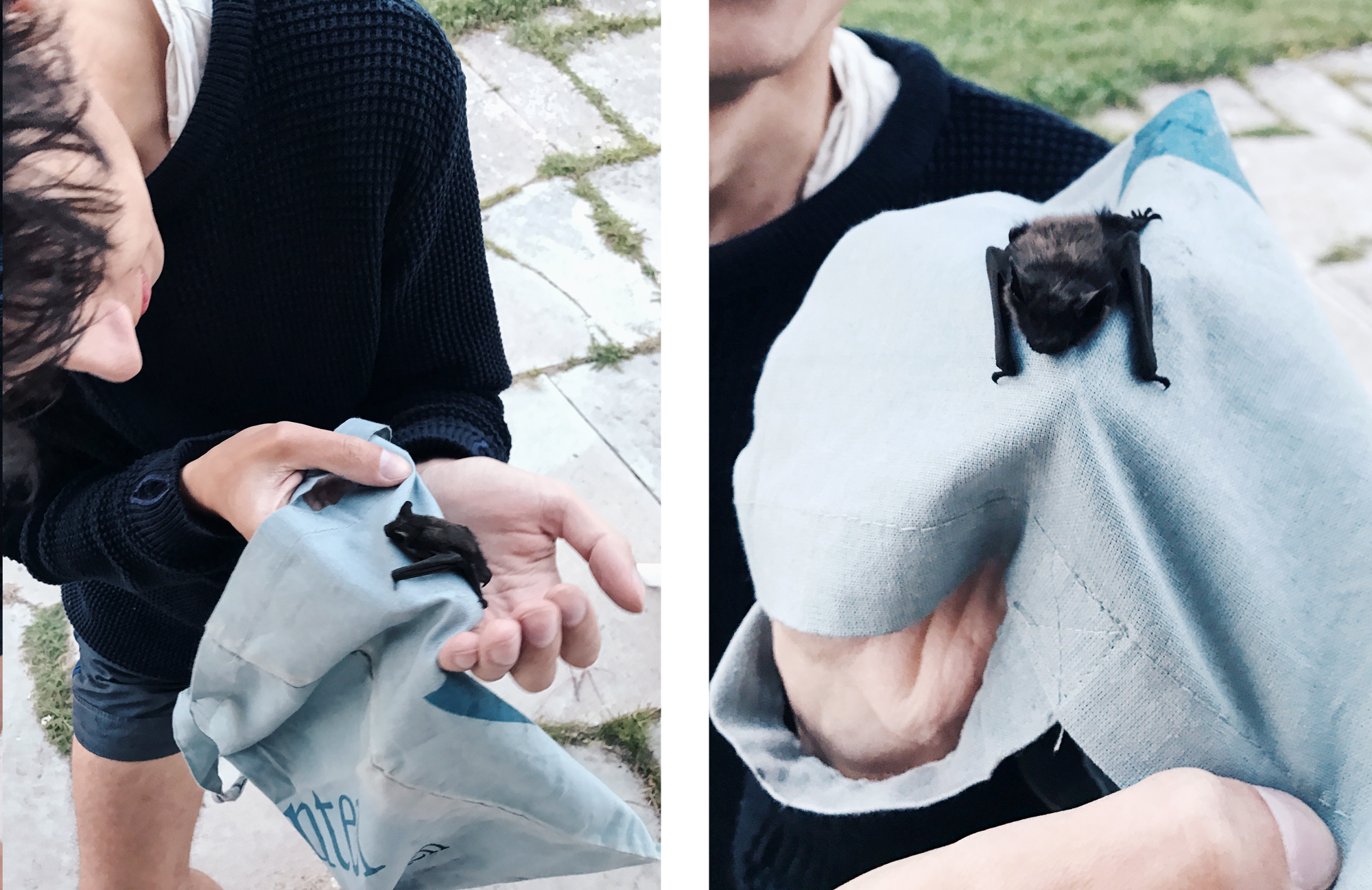 En kväll hörde Seans mamma någonting krafsa inne i kaminen. Där inne låg en sotig fladdermusbebis som ramlat ner från boet uppe vid skorstenen på taket. Jag fick akut hjärtkramp av att titta på den förvirrade krabaten som klamrade sig fast på Seans tygklädda händer, jag hade aldrig sett något liknande.
One night, Sean's mom heard something strange inside the stove. When Sean opened, there was a sooty baby bat that had fallen down from the roof through the chimney. I heart cramped just by looking at the cute and confused little creature clinging to Sean's fabric covered hands. I had never seen anything like that.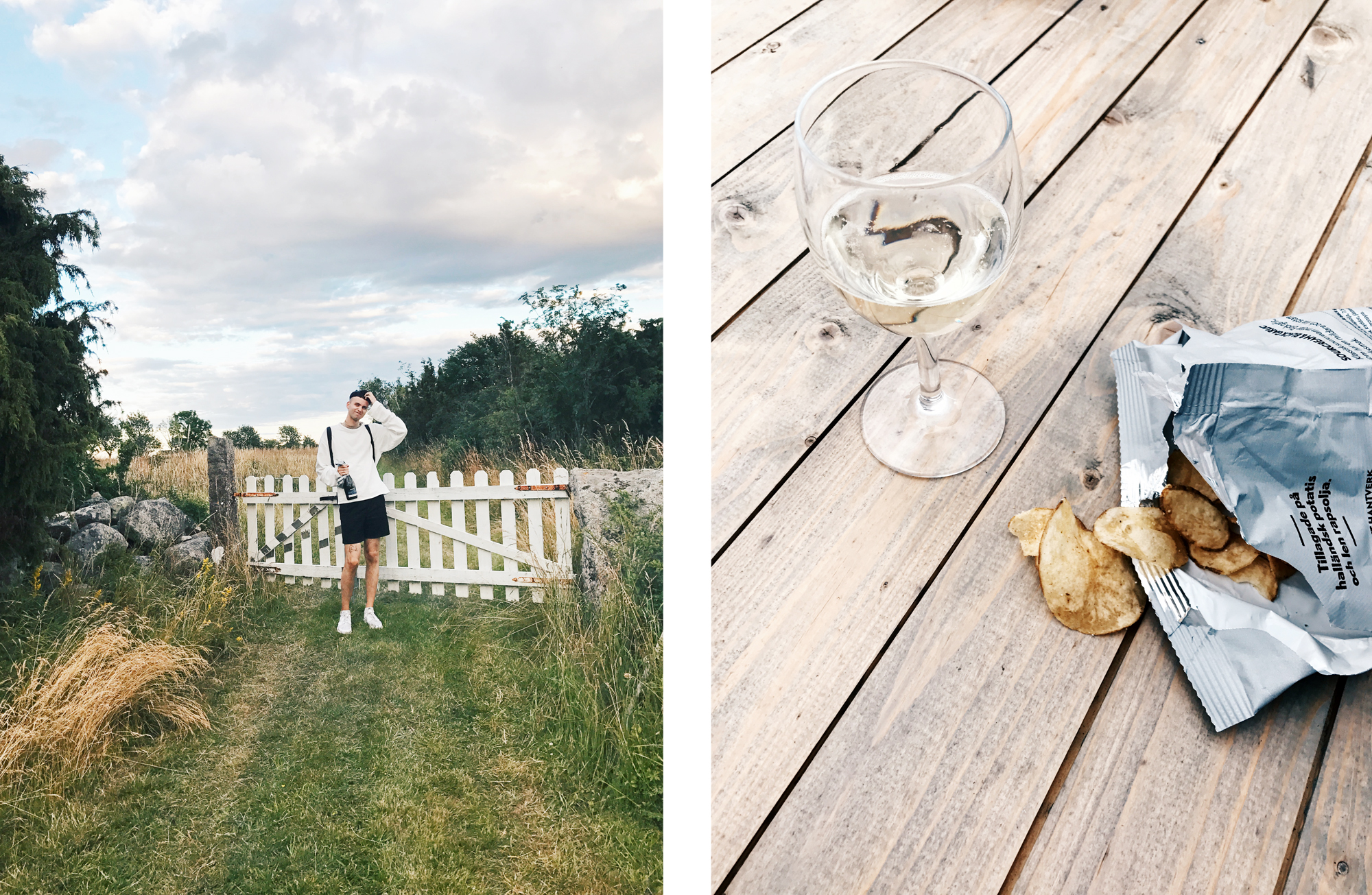 Sista kvällen gjorde Krille oss sällskap. Vi pratade om livet, åt chips och kvällsbadade bland alla maneter i havet (även dessa varelser var en helt ny bekantskap för mig, men som istället för något i stil med moderskänslor fick mig att känna en märklig blandning av fascination och obehag).
Our last night, Krille made us company. We talked about life, ate chips and swam among all the jellyfish in the ocean (also these creatures were a totally new acquaintance for me, an acquaintance which made me feel a strange mixture of fascination and discomfort).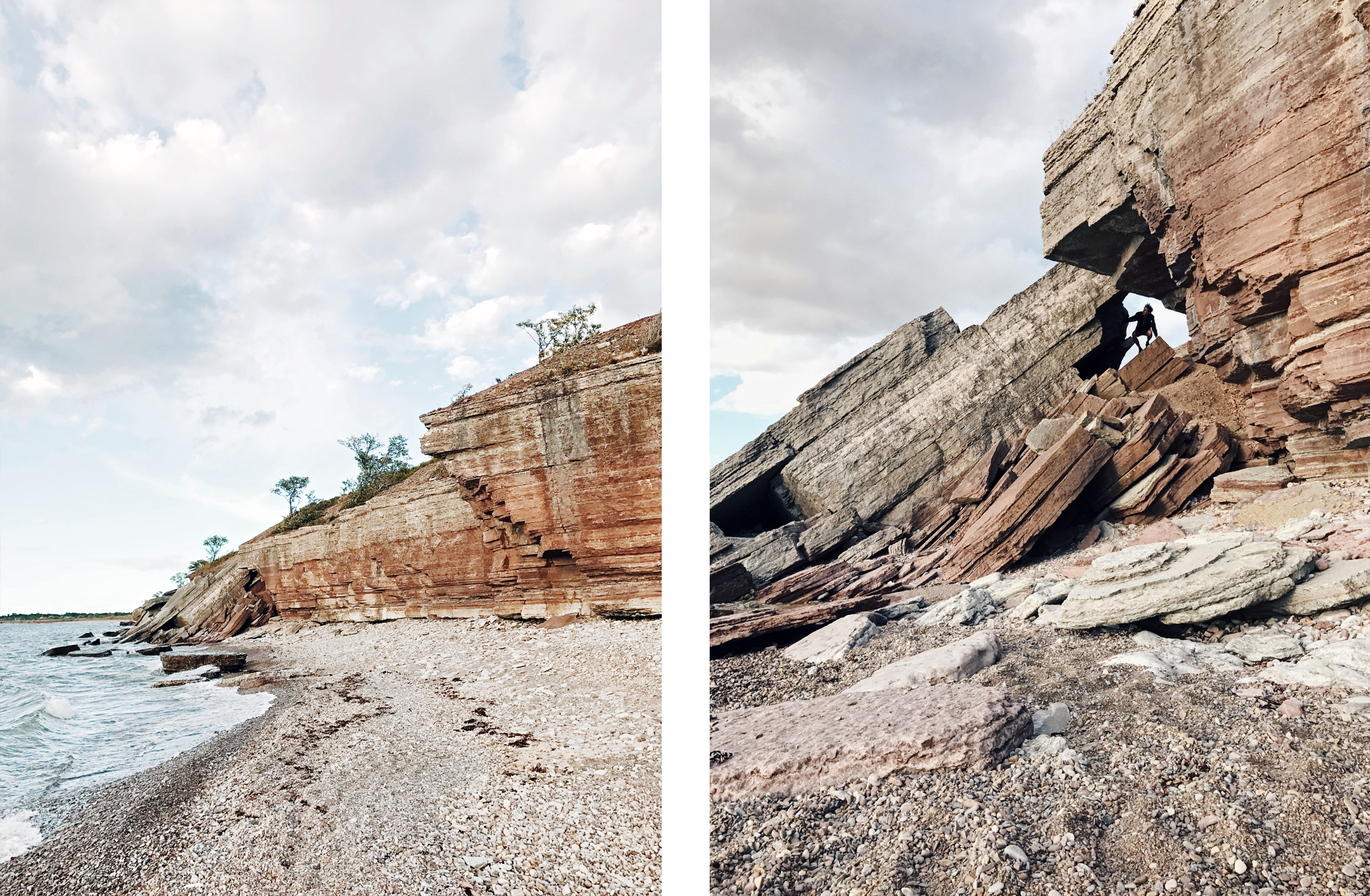 Det kändes lite vemodigt att lämna Öland, tio dagar efter att vi först landat. Framför allt landskapet på ön var så mycket häftigare än jag föreställt mig. Alvaret, de enorma majsfälten, raukarna och fornlämningarna.

It felt a bit sad to leave Öland ten days after our arrival. Especially the landscape on the island was so much more exciting than I could have imagined beforehand. "Alvaret", the huge cornfields, the rauks and all the ancient remains.