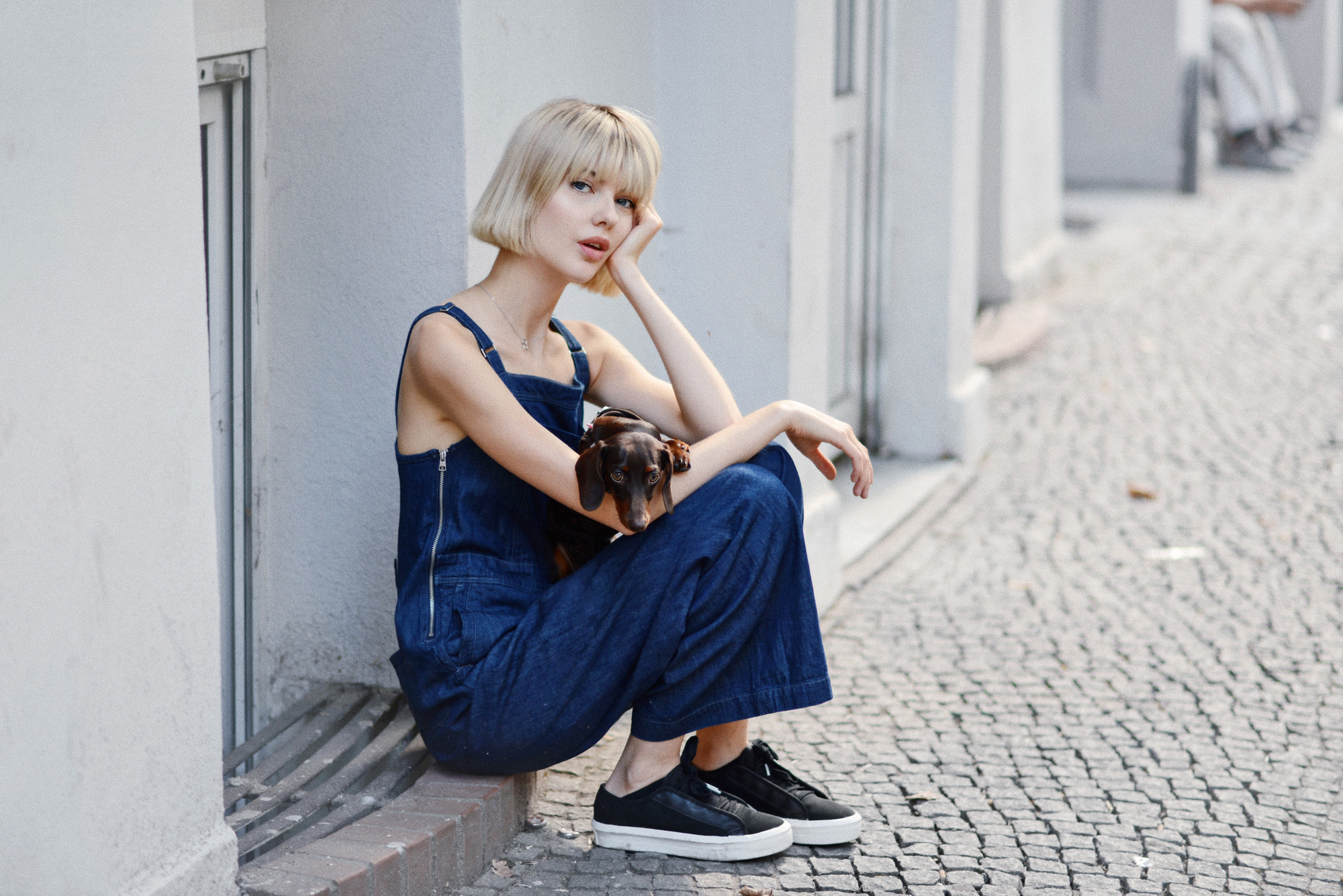 Hej blobbar. Jag är mitt uppe i en väldigt intensiv jobb-period just nu, igår sprang jag på möten hela dagen och idag stylar och plåtar vi en bildserie för Urban Outfitters (vilket kommande dagar kommer ägnas åt att välja ut och redigera), och varje ledig stund fylls ut med mail och uppdatering av sociala kanaler.
Genom åren som egenföretagare och influencer har jag haft anledning att tänka på utbrändhet, och positiv samt negativ stress. Jag har lärt mig att såna intensiva skov ofta är roliga och givande så läge de infinner sig i begränsade tidsperioder. Det är okej att gå helt in i jobbet 24 timmar om dygnet i någon vecka om man nästa vecka kan tillåta sig koppla bort det totalt, men ibland är det svårt för hjärnan att gå hem från jobbet även om kroppen gör det.
Det mest effektiva sättet för mig att "snap out of it" är definitivt att umgås med djur. Att vara dagmatte åt detta fantastiskt gulliga lilla monster får omedelbart "jobb" att trilla ner flera snäpp på prioriteringslistan, något som är väldigt nyttigt för mig. Jag tänker ofta på att jag förmodligen varit 200% gladare i vardagen med en egen hund, men för tillfället skulle det inte passa in i vår livsstil, just nu är detta en perfekt lösning.
För någon annan skulle det kanske kunna vara sport, en specific plats eller ett tv-spel, men att hitta någonting som triggar ens instinkter och ger hjärnan ett nytt perspektiv tror jag är ett viktigt hjälpmedel för att undvika skadlig stress, kanske speciellt för oss som driver våra egna businesses och därmed bär allt ansvar på egna axlar. Någon som känner igen sig i dessa tankar? xx
Hi babes. I'm in the middle of a very intense work period right now, yesterday I ran between meetings all day and today we're styling and shooting a series of pictures for Urban Outfitters (which'll used big parts of the rest of the week to select and edit), and every free time slot is filled with answering emails and updating my social channels.
Through the years as self-employed influencer, I've had lots of reasons to think about burnout, and positive as well as negative stress. I've learned that intense weeks like these are often fun and rewarding as long as they occur during limited periods of time. It's okay to live and breathe for your job 24 hours a day for a week if you next week can allow yourself to be completely disconnected. But sometimes it's hard for the brain to go home from work even if the body does.
The most effective way for me to snap out of it is definitely to hang out with animals. Being babysitter for this unbelievably cute little monster immediately makes "work" drop on my priority list, and I get a mental break that is very good for me. I often think that I probably would have been 200% happier in my everyday life as a dog owner, but at the moment that just would not fit into our lifestyle. Right now, being a babysitter a couple of times a week is a perfect solution.
Does any of you recognizes these thoughts? xx