Var hälsade! Vill föreställa mig att ni läser detta från soffan i någon sommarstuga, att de första semesterveckorna försett er med solbruna axlar, irriterande myggbett och ett härligt lugn. Varesig detta stämmer eller ej hoppas jag att ni mår bra där ute. Nu är det dags för veckouppdatering!
Hola guapas! I'm imagining that you're reading this from the patio of a summer house, that the first weeks of the summer break have provided you with tanned shoulders, annoying mosquito bites and an inner calm. No matter if this is correct or not, I hope you're doing well out there. Now it's time for my weekly update!
Veckans nervösa: Jag ska gästa The Mustards-podden imorgon! Insåg att jag är riktigt nervig trots att jenny och David ju är mina gamla goda homies och att jag ändå har en del erfarenhet av formatet sedan jag själv hade podd med syrran. Oh well, håll tummarna för mig så hojtar jag när avsnittet är ute.
This week's nervousness: I'm guesting The Mustards podcast tomorrow! I realized that I'm really nervous even though Jenny and David are good old friends of mine and that I have lots of experience of the format since I had my own podcast. Oh well, cross your fingers that I'll do a good job, and I'll let you know when the episode is out.
Veckans masspsykos: Fick en CHOCK igår då jag gick ut för att äta lunch och knappt tog mig fram på gatan på grund av det gormande, oändliga folkhavet utanför. Jag hade råkat kliva utanför dörren precis när Tyskland spelade sin första match i fotbolls-VM. Utan överdrift har nittio procent av restaurangerna här försett sina flitigt besökta uteserveringar med stora tv-apparater eller projektorer där de sinsemellan konkurrerar om vem som har högsta volymen och minst fördröjning. VM-stämningen är ett så fascinerande, och medryckande fenomen!!
This week's chock: Got a surprise yesterday when I went out to have lunch and barely was able to walk the street outside my apartment because of the loud, huge crowd of people. I realized I'd gone out just as Germany's first game in the World Cup started. Without exaggeration, ninety percent of the restaurants here have provided their widely visited outdoor dining spaces with large televisions or projectors. The World Cup atmosphere is such a fascinating, strange but compelling phenomenon!!
Efter några veckor av frekvent besök av kompisar från sverige fick vi för första gången lite gammalt hederligt vardagsliv tillsammans, bara vi två. Insåg att jag saknat det.
After having friends visiting almost constantly the past weeks, we've finally had some good old everyday life just the two of us. I realized I had missed that.
På fika-fronten har gelato varit lika frekvent förekommande som vanligt, men vi har även påbörjat ett nytt projekt. Eftersom Sean och jag båda DYRKAR den svenska ostkakan (som så vitt vi vet inte går att få tag på här i Berlin) har vi nämligen bestämt oss för att göra egen. Detta visade sig kräva tid, speciella ingredienser och precision, men ah, det är det värt. Det finns inget MYSIGARE än nygräddad ostkaka, punkt.
When it comes to sweets, I've had just as much pistachio gelato as usual, haha. A new project though, is that Sean and I are trying to make our own Swedish cheesecake. It turned out to be a whole science, demanding both time, precision and chemical ingredients. It's definitely worth it though, Swedish cheesecake is my favorite dessert.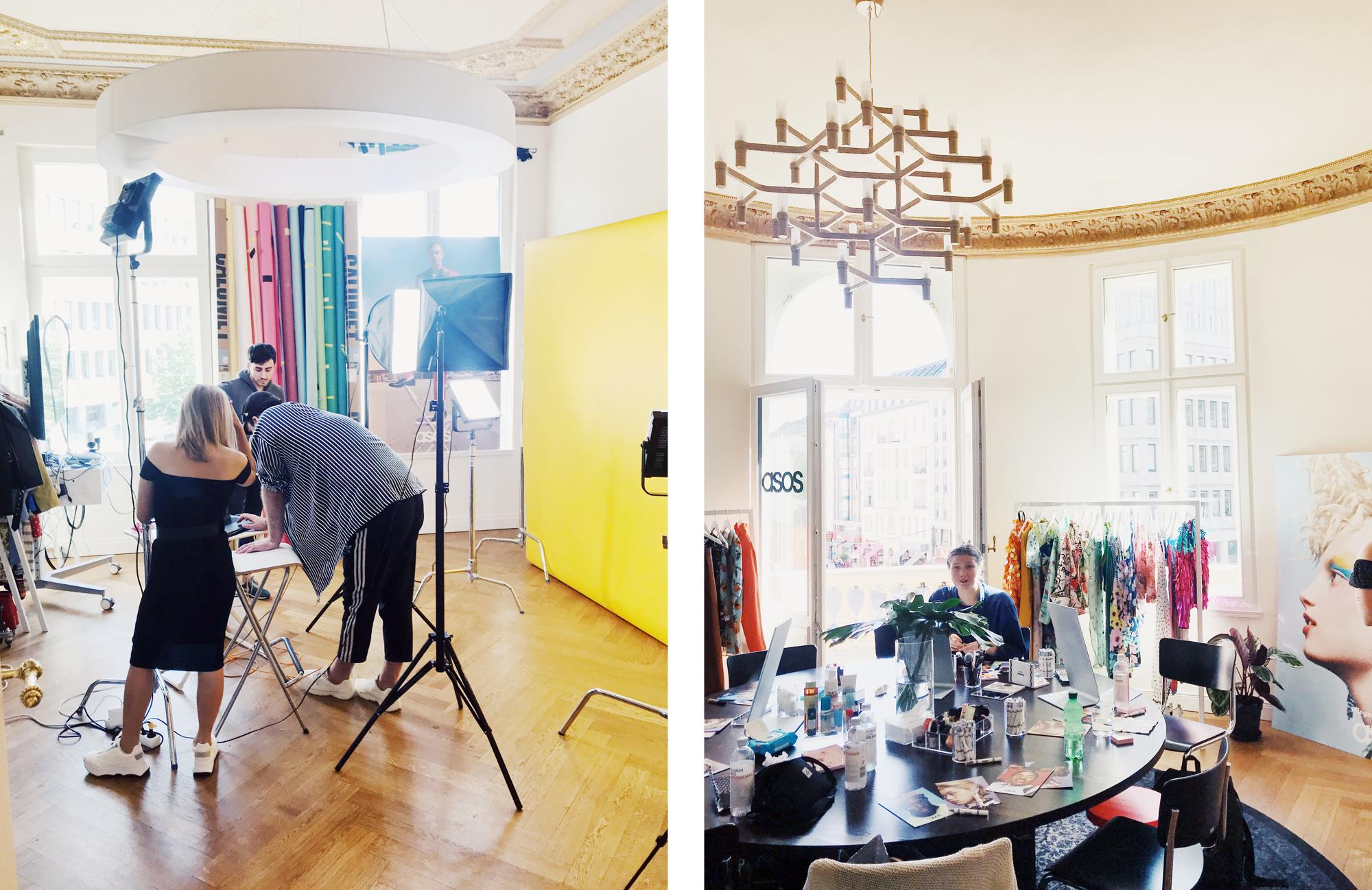 Var på ASOS fina kontor för att plåta och kladda med kritor, men det vet ni ju redan.
As you know I went to the ASOS office to play around with make up, but you know that already.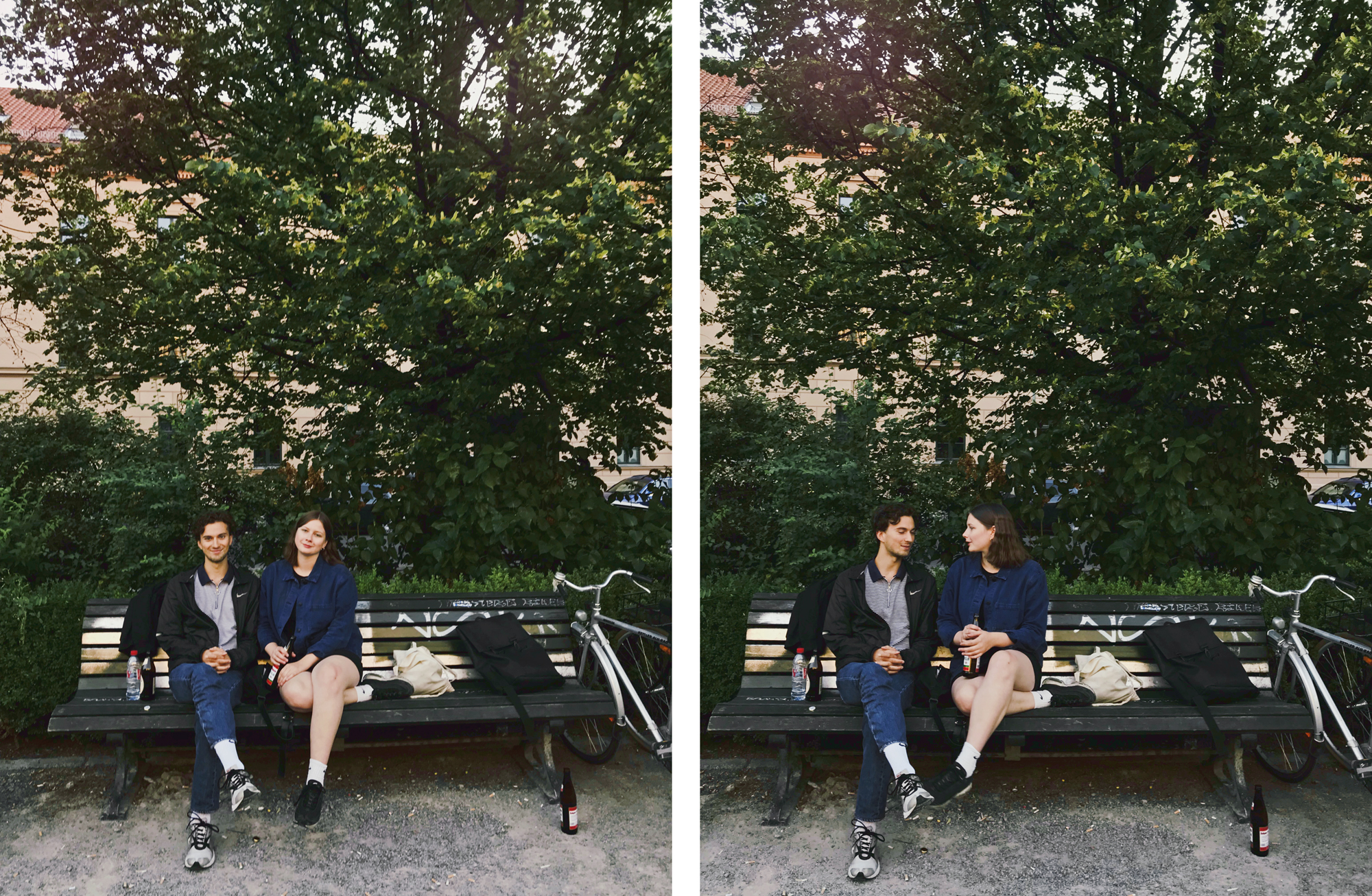 Tildas pv Corni mötte upp efter för att hänga med oss. Oj vad jag gillar dessa två.
Tildas bf Corni came to hang out with us after!
Som vanligt har vi plåtat lite också! Ibland får man oväntad användning av sina klättrings-skills när man letar locations, hehe. Får svårare och svårare att nöja mig med gammal hederlig streetstyle, annat var det när jag fotade alla mina outfits på samma väg hemma i Umeå. Minns ni?
As usual, we've been shooting! I got unexpected use of my climbing skills when looking for locations, haha. Remember back in the days when I photographed all my outfits on the same road back in Umeå?
Helgen spenderades bland annat med mina favvodonnor. Behöver liksom inget mer än en enkel hemma-lunch eller en trottoarkant att sitta på för att ha det oförskämt bra med dessa.
I spent the weekend with my favorite ladies.
Veckans filmtips: Såg St. Vincent häromdagen. En perfekt film för den som vill ha ett skratt, bli frustrerad men lämnas med en varm känsla i magen. Tummarna upp från mig.

This Week's Movie Tip: I watched St. Vincent the other day. A perfect movie for those who wants to laugh, get a little pissed but after all leave with a warm feeling in the stomach. Thumbs up from me.
Det var allt jag hade att komma med denna gång. Hörs snart, puss!

That's all I had this time. Talk soon, kisses!