Dags för sista delen av min lilla sommar-följetong! Denna gång handlar det om hur vi reste upp i landet till mina rötter i Umeå, och sedan vidare till Milano.
Time for the last part of my little summer diary! This time it's about how we traveled north to my roots in Umeå, and then on to Milan.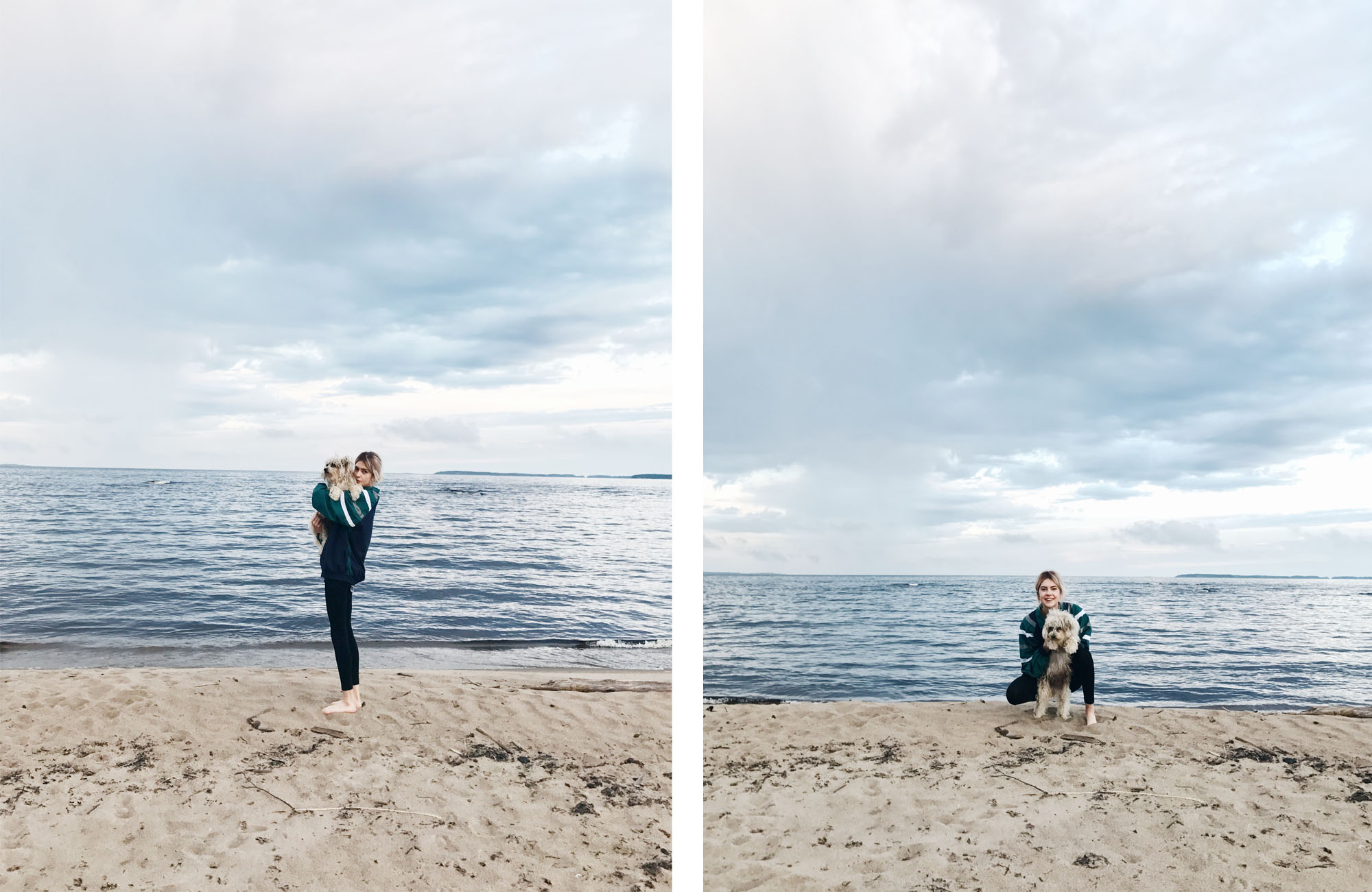 Natten innan vi reste till Umeå kunde jag inte sova, det kändes precis som jag var åtta år natten innan julafton. Ville bara spola fram timmarna till gryningen, så att vi kunde ta våra väskor och bege oss till Arlanda. Det första vi gjorde när vi landade i Umeå dagen därpå var att åka ut till mitt favoritställe på jorden- Örsten.
The night before we traveled to Umeå, I couldn't sleep. It felt like I was eight years and it was the night before Christmas Eve. Just wanted to fast forward the hours to dawn so we could take our bags and head to Arlanda. The first thing we did when we landed in Umeå the following day was to go to my favorite place on Earth- Örsten.
Här spenderade vi hela första delen av vår Umeå-vistelse. Vi grillade, promenerade på stranden och spelade spel. Mamma, pappa, hundarna och Sean fick bekanta sig med varandra och det var fanimig en ny nivå av värme i hjärtat när jag såg Sean skjutsa Ville på havet i sin kanot, eller vinna över mig och mamma i kubb tillsammans med pappa :"')

This is where we spent our first days in Umeå. We grilled, walked on the beach and played games. Mom, Dad, the Dogs and Sean got to know each other and my heart reached a new level of warmth when I saw Sean give Ville a ride on the ocean in his canoe, or win over me and Mom in "Kubb" with Dad :"')
Vi såg på gulliga (och mindre gulliga) gamla bilder på mig och Fanny, och jag fick gulliga snaps från Berlin som fick mig att börja längta hem lite lite.
We looked at cute (and less cute) old pictures on me and Fanny, and I got cute snapchats from Berlin that made me start longing home a little tiny bit.
Går sönder inombords av kärlekskramp av dessa bilder. Mina favoritmänniskor i hela världen.
These are my favorite people in the whole wide world.
Efter några dagar på landet åkte vi in till "city". Att visa upp Umeå får någon som aldrig varit där visade sig ganska svårt. De enda sakerna som kändes lite viktiga var att:
– Gå på bildmuseet (stans bästa museum)
– Träffa Farfar, mormor och Sara (tre av stans bästa människor)
– Gå på Båten (stans "bästa" klubb på sommaren)
After a few days on the countryside we went to the "city". It proved to be quite difficult to show the best things with Umeå to someone who never had been there. The only things that felt a little important was to:
– Go to "bildmuseet" (the best museum in Umeå)
– Meet Grandpa, grandma and Sara (three of the best people in Umeå)
– Go to Båten (the best "club" in Umeå in the summer)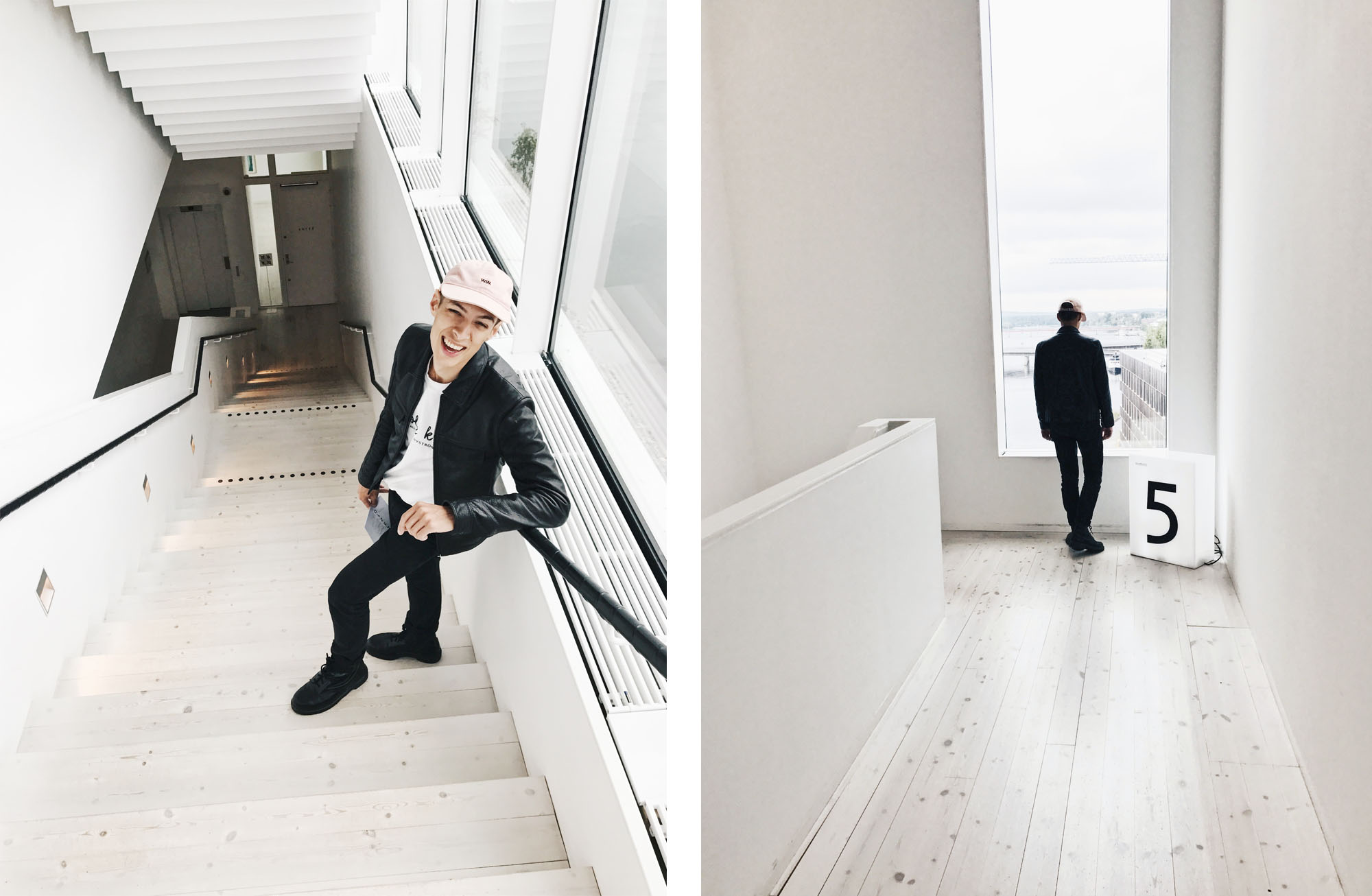 Sagt och gjort, alla ovanstående aktiviteter uträttades. Dessutom umgicks vi massor med Fanny och David, gick på spa (en födelsedagspresent från mamma och pappa)….
Said and done, all of the above activities were accomplished. In addition, we hanged out a lot with Fanny and David, went to the spa (a birthday present from mom and dad) ….
…plockade kantareller och roadtrippade till kalkbrottet och Glassbonden. Sedan var våra Umeå-dagar räknade, och det var dags att resa till Milano för mitt jobb.
… picked canterelles and road-tripped to a lime quarry and a ice cream cafe in the forest. Then our Umeå days were over, and it was time to travel to Milan for work.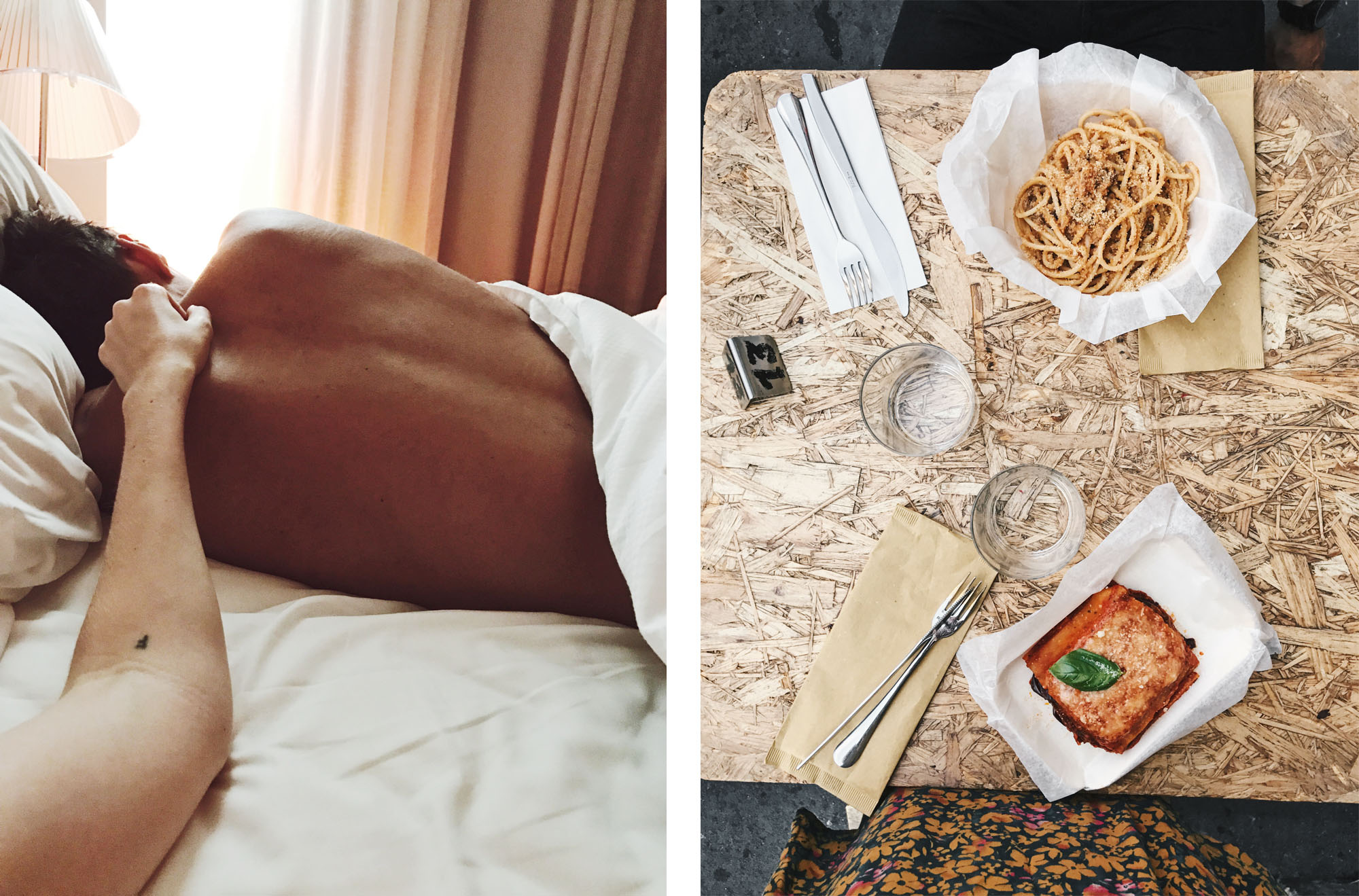 Efter att ha sovit på andras soffor och sängar i flera veckor var det rätt skönt med ett eget hotellrum. Vi spenderade 90% av vår fritid till sängs eller på jakt efter god italiensk mat, haha.

After sleeping on someone else's sofas and beds for several weeks, it was nice to have a hotel room of our own. We spent 90% of our free time in bed or in search of good Italian food, haha.
Åker du till Milano måste du lova mig att 1. Äta lunch på Michelin-prisade restaurangen Al Pont De Ferr, och sedan äta choklad och postage-glassen (en av de 4 olika pistage-smakerna, de vill säga) på Gelaterian Latteneve som ligger runt hörnet. Den absolut bästa glassen jag någonsin ätit.
If you are going to Milan, you must promise me to: 1. Have lunch at the Michelin-starred Al Pont De Ferr restaurant, and then eat the chocolate and the postage ice cream at Gelateria Latteneve located around the corner. The best lunch and ice cream I've ever had.
*mätt i magen*
*full*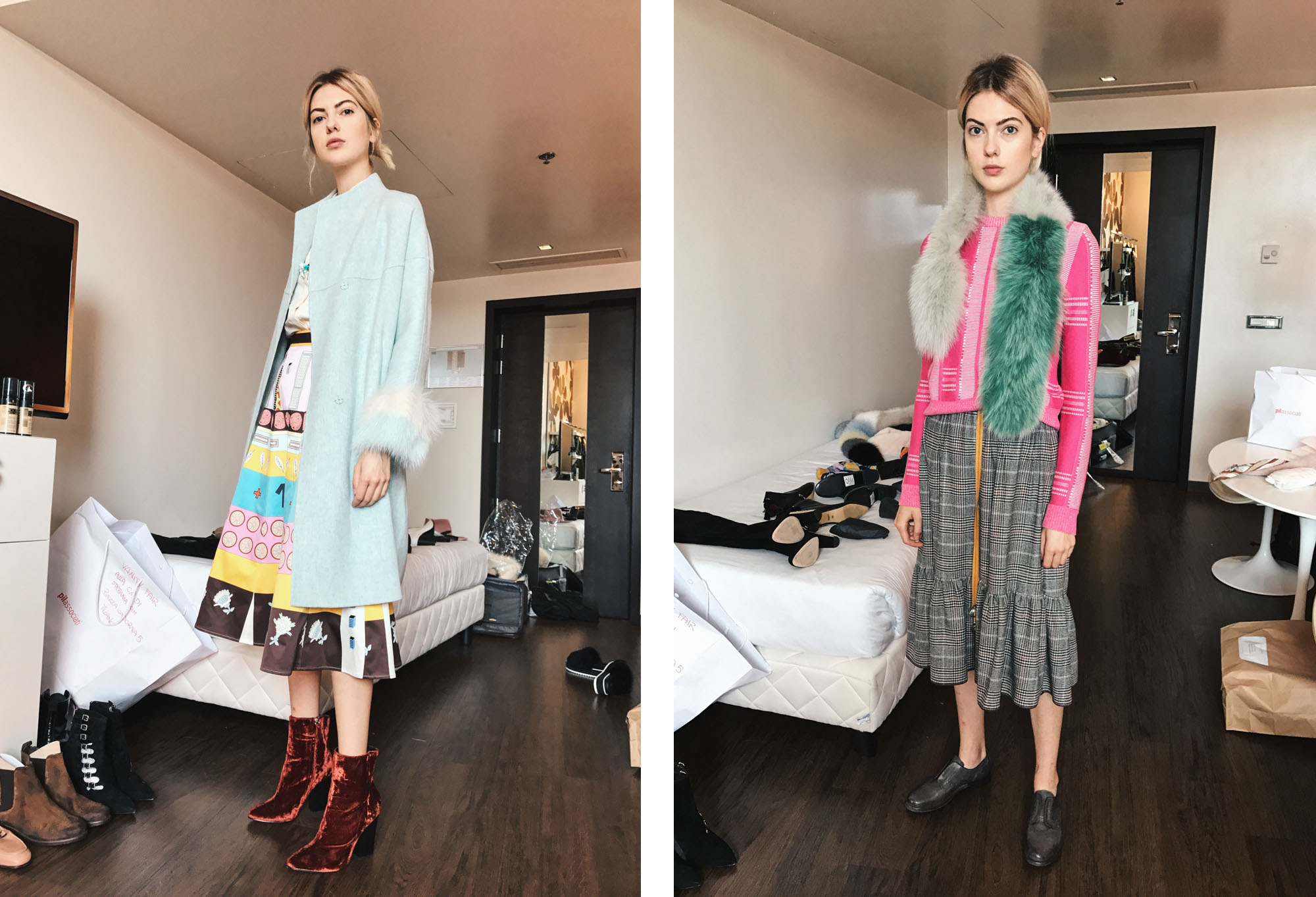 Äta och sova var såklart inte det enda vi gjorde i Milano. Vi var ju där för en plåtning med klädmärket Thyren. Detta är jag på fittingen dagen innan plåtningen, jag och Sean fick lite fria händer att kombinera plagg och accessoarer fritt, så vi spenderade en arbetsdag med att leka stylister.
But of course eating and sleeping wasn't the only thing we did in Milan. We were there for a shoot with the brand Thyren. This is me on the fitting the day before the shoot, Sean and I got free hands to combine clothes and accessories, so we spent a day working as amateur stylists.
Sedan plåtade vi från 6 på morgonen till 6 på kvällen. Jag har ju redan visat er ett gäng BTS-bilder, men ska visa er fler nästa vecka.

Then we shot from 6 in the morning to 6 in the evening. I've already shown you a bunch of BTS images, but will show you more next week.
…och snipp snapp snut, så var vår sommar-turné slut. Efter fyra veckor på vift var det så otroligt härligt att sätta sig på planet mot Berlin igen.
… and then our summer tour was over. After four weeks of traveling it was so nice to get on the plane to Berlin again.