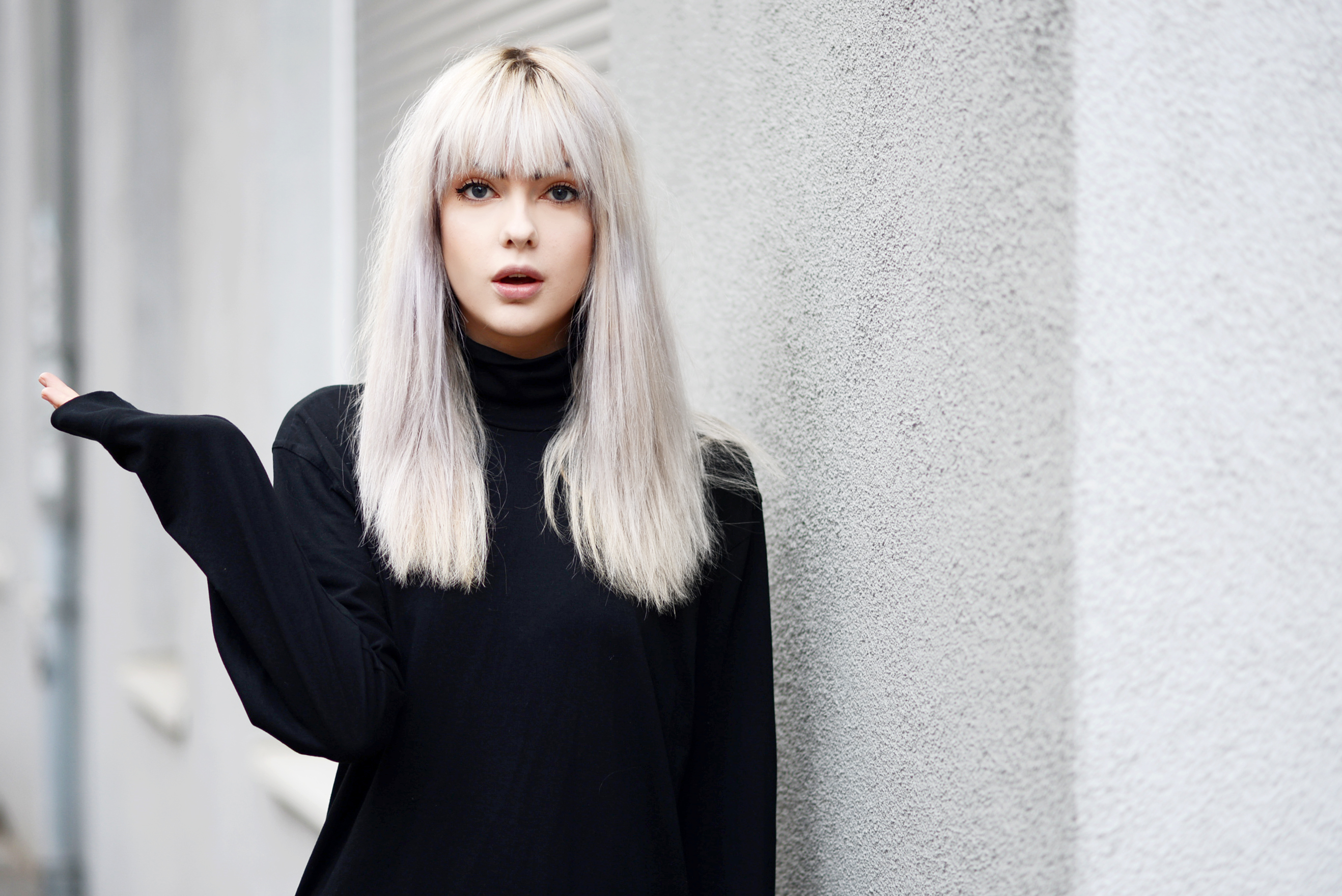 Får mycket frågor om silvershampon så därför tänkte jag posta en liten mini-guide till hur jag normalt använder det medan jag springer runt i Paris med Krille.
APPLICERING
Vanligtvis applicerar jag shampoot på torrt hår med hjälp av en kam så att hela håret blir blått och sätter sedan upp det i en knut. Vill jag få det riktigt kallt och använder ett schampo jag vet inte har extremt mycket pigment lämnar jag det i över natten (och sover med en plastpåse på huvudet för att inte fläcka ned kudden, haha) eller går omkring med blått hår en hel dag, men oftast kör jag typ fyra timmar eller så länge det passar. Sedan sköljer jag ur och använder gärna en bra hårinpackning direkt eftersom silverschampo sliter ganska mycket på stråna.
///
I get a lot of questions about silverschampoos so therefore I thought I'd post a little mini-guide to how I usually use silver shampoos while I'm running around in Paris with Krille.
APPLICATION
Usually I apply shampoo to dry hair using a comb until the entire hair is blue, and then just put it up in a bun or something. If I want to get the color really cold and use a shampoo I know isn't extremely pigmented, I leave it in overnight (sleeping with a plastic bag on my head so the pillow won't get blue, haha) or walk around with blue hair all day, but usually I leave it in like four hours or as long as it fits my schedule. Then I rinse and afterwards I like to use a good hair mask since silver shampoo is kinda bad for the quality of the hair.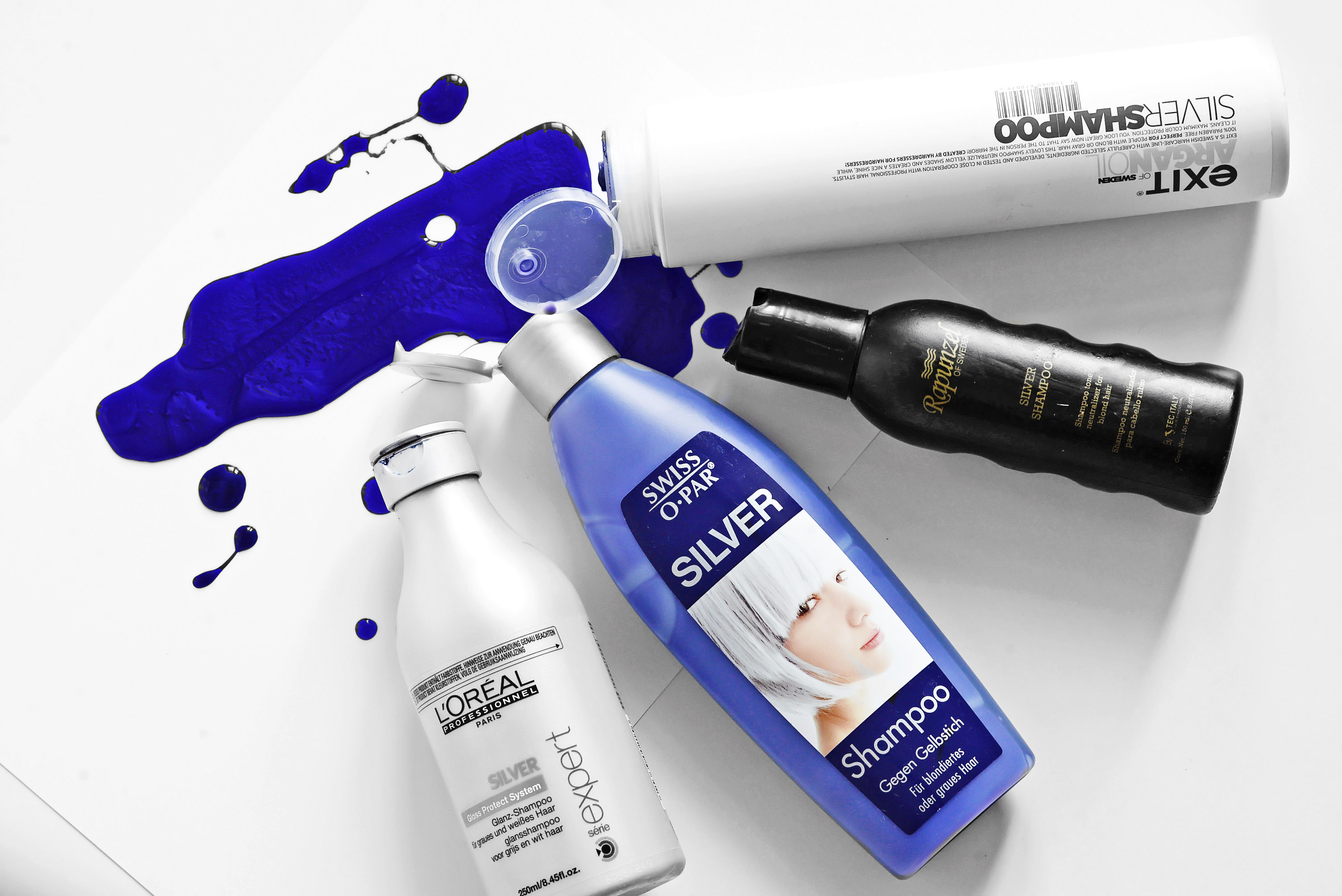 PRODUKTER
Dessa är de schampon jag använt:
Rapunzel Of Sweden- Detta är min favvo just nu, det har inte jättemycket pigment så det passar perfekt att ha över natten. Det drar mycket åt lila-hållet vilket jag gillar eftersom mitt hår har lite gula pigment kvar och därför gärna blir turkost/grönt.
Loreal- Detta är lite för blått för mig, har dessutom en lukt jag verkligen inte klarar av (??), men set är ju en smaksak. Inte jättemycket pigment.
EXIT silver shampoo- EXIT är ett svinbra hårvårdsmärke som jag använder mycket, och detta silverschampot håller standarden. Ganska mycket pigment så det passar bra för en två till fyra timmars behandling.
Swiss- Detta silverschampo ÄGER eftersom det kostar ca 2 EUR på Rossmann och DM i Berlin. Kan alltså slösa hur mycket man vill. Har väldigt mycket pigment och är ganska blått i färgen. Vet inte om det går att köpa i Sverige dock.
PRODUCTS
These are the shampoos I've used:
Rapunzel Of Sweden- This is my fave right now, it doesn't have a lot pigments so it is ideal to have overnight. The color is more purple than most other shampos which I like because a little yellow pigments remains in my hair and therefore easily gets turquoise/green combined with too blue pigments.
Loreal- This is a little too blue for me, it also has a smell I really can't stand(??), but that's of course a matter of taste. Not a lot of pigment.
EXIT silver shampoo- EXIT is a really really good hair care brand that I use a lot, and this silverschampoo is just as good as I would Imagine. Pretty much pigment, so it is suitable for two to four hours of treatment.
Swiss- I loove this silver shampoo because it costs about 2 EUR at Rossmann and DM in Berlin, haha. In other words you can waste much as you like. It has a lot of pigment and is quite blue. Probably not the best quality but it's totally worth it if you don't like spending a lot of money on haircare.