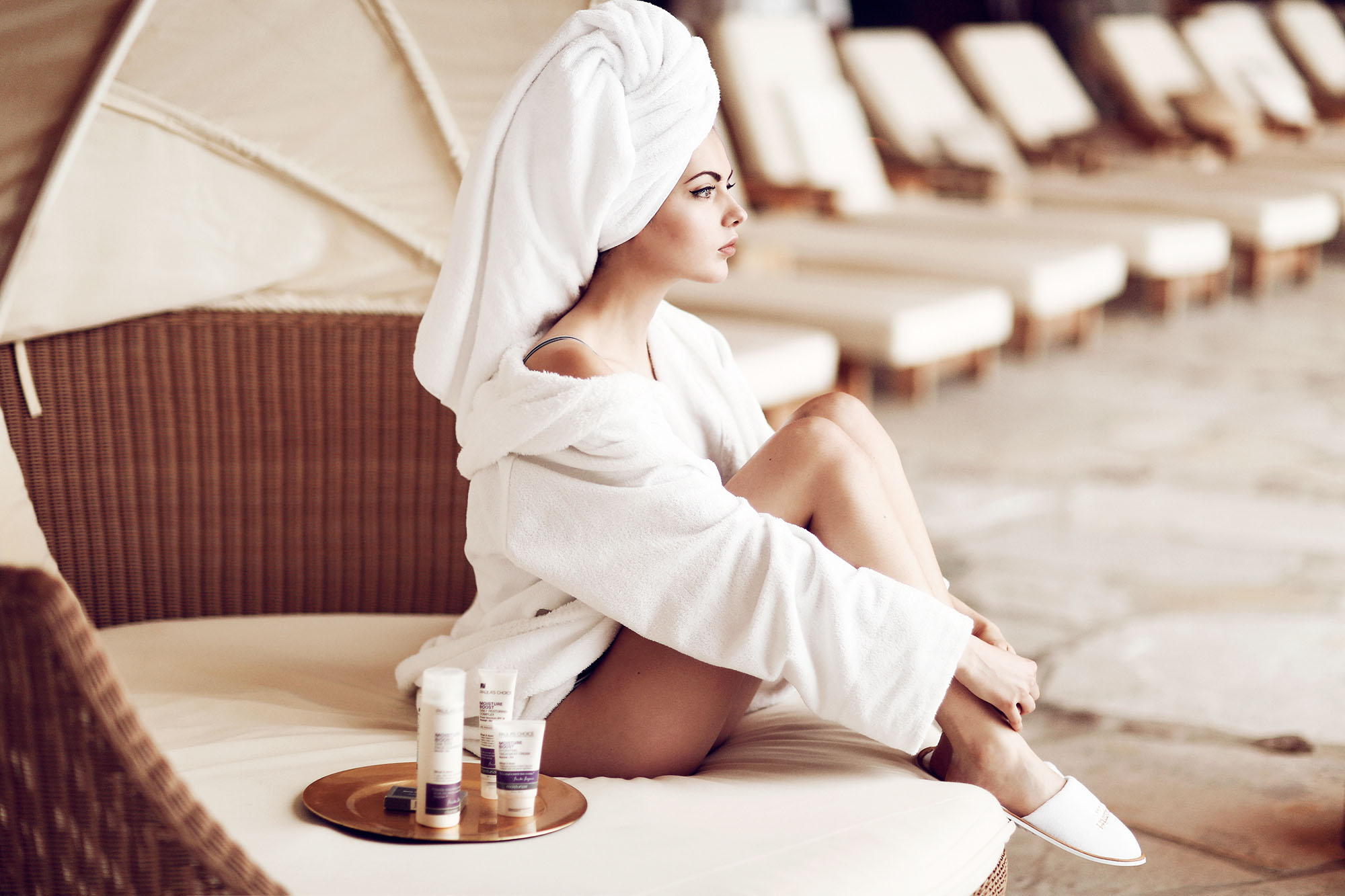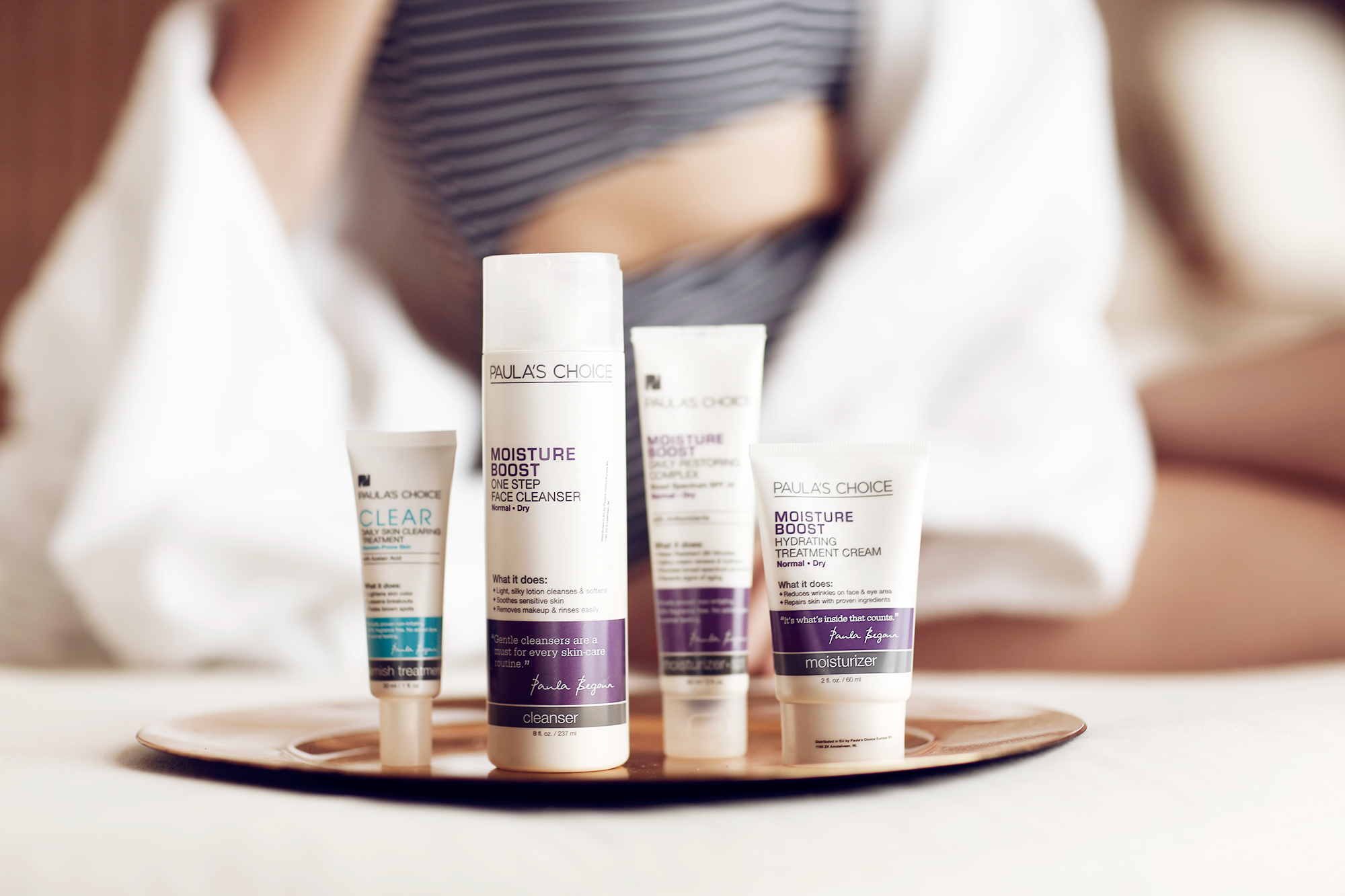 För ett par månader sedan började jag använda Paula's Choices hudvårdsserie för ansiktet. Jag hade helt ärligt struntat rätt hårt i allt vad hudvårdsrutiner hette de senaste tiden och kände att det faktiskt började märkas- jag kände mig torr och tråkig i huden. Men så frågade min agentur om jag ville testa dessa produkter och nyfiket tackade jag ja.
Nu när jag använt produkterna ett bra tag känner jag mig redo att göra en recension. Det tar ju ett tag att känna någon skillnad när man byter hudvårdsrutiner menar jag.
Paula's Choice är ganska stort i USA, och framförallt känt för att ha proffsiga produkter till mycket överkomliga priser. Fördelar med dessa produkter är att de är väldigt återfuktande utan att kännas ett dugg oljiga, att dagcremen har spf 25 (hurra!) och att rengöringen tar bort allt smink direkt utan att för den delen torka ut hyn. Dessutom består mitt kit inte av så många produkter, jag hatar att behöva spendera tid på att använda massa ansiktsvatten, serum och cremer när allt som egentligen behövs är EN bra creme och EN bra tvätt. No bullshit.
Den enda nackdelen jag känt av sedan jag började är att jag ibland behöver en ännu fetare creme även fast mina produkter ska vara gjorda för torr hy. Å andra sidan är jag extreeemt torr i ansiktet om vintrarna.
Kort och gott vill jag ge Paula's Choice-produkterna 4/5 poäng. Jag har fått mycket piggare hud utan att behöva spendera för mycket tid i badrummet om kvällarna. Tack och bock för det.
I started using Paula's Choice's face care products a couple of months ago. I had honestly ignored everything that had to do with skincare routines, and started to notice that my skin was more dry and dull than before. But then my agency asked me if I wanted to try these products, and of course I said yes!
Now when I've used the products for a while, I feel ready to make a review. It takes a while to feel the difference when changing skin care routine.
Paula's Choice is quite large in the US, and especially known for having professional products at affordable prices. According to me, the best things about these products are that they are very moisturizing without feeling oily, the day cream has SPF 25 (hurray!) and that the cleanser removes all makeup directly, without making the skin dry. Moreover, my kit doesn't consist of that many products, I hate to have to spend more time using toners, serums and creams when all that's really needed is a good cream and a good cleanser. No bullshit.
The only minus I've discovered since I started is that I sometimes need an even more moisturizing cream even though my products already are made for dry skin. On the other hand, my face is extreeemely dry in the winter.
After all, I want to give Paula's Choice products 4 of 5 points.My skin looks and feels much healthier now than before and I still doesn't have to spend too much time in the bathroom every night. That's all I ask for in a skin care product.