Sitter på planet mot GBG och passar på att göra ett realtidsinlägg. Kom att tänka på hur jag för ett år sedan, vid ungefär samma tidpunkt satt på ett plan från Berlin till GBG. Reste från min och Saras stora lägenhet i ett turist-tätt sommarBerlin till mina 20-någonting kvadratmeter i Göteborg där golvet fortfarande täcktes av ett tunt lager av Gustafs volleyboll-sand och kidsen som hängde på gården utanför huset skrålade Håkan Hellström-låtar på fyllan inpå småtimmarna. Jag gick långa planlösa promenader i slottsskogen, fyndade porslin och en färgglad randig hängsel-klänning för några kronor på loppis. Satt på uteservering med Louise och lät henne förklara var alla stadsdelar låg i förhållande till varandra.

I'm on the plane to Gothenburg using the travel time to make a real-time post. I came to think about how I one year ago, also sat on a plane from Berlin to Gothenburg. I traveled from Sara's and mine big apartment in a tourist filled summer Berlin to my 20-something square meter room in Gothenburg where the floor was still covered by a thin layer of Gustaf's beach volleyball sand and the drunk kids hanging outside the house shouted out indie pop songs every night. I went for long planeless walks in the forest, found porcelain and a colorful striped dungaree dress for a few crowns at a flea market. Sat at a cafe with Louise and let her explain the geography of the city.
Jag föreställer mig hur jag reser tillbaka i tiden för att berätta för mig själv hur allting löst sig. Att jag om 365 dagar skulle komma att sitta på ett plan med en slumrande soulmate bredvid för att packa ihop resterna av tiden i Gbg, lägga dem i flyttkartonger som skulle skickas tillbaka till Berlin. Allt jag ville var att bryta upp och börja om den där sommaren, men istället skulle det visa sig att min flytt var lite som att rymma hemifrån när man var liten.
Plötsligt stod man inte ut hemma längre, man drog ilsket på sig gympadojjorna och klampade ut i skogen. Där satt man på en stubbe, sparkade i blåbärsriset och tänkte minsann aldrig gå hem. Här skulle man leva i symbios med naturen, äta bär och klättra i träd tills mamma och pappa bad på sina bara knän att få sin dotter tillbaka.
Men så blev myggornas surr allt mer hotfullt, anledningen som fått en att smälla igen dörren och lämna familjen för gott allt mer avlägsen, och tanken på den varma middagen som säkert stod och väntade på köksbordet allt mer lockande. Aldrig uppskattade man väl hemmet så mycket som efter en traumatisk halvtimmes-flytt till skogen.
I imagine how I travel back in time to tell myself how it all worked out. That in 365 days, I would sit on a plane from Berlin to Gothenburg with a slumbering soulmate next to me, to pack together the remains of the time in Gbg. Put everything in boxes and send them back to Berlin. All I wanted that summer was to break up and start over, but instead my rebellious move from Berlin was a bit like running away from home as a kid.
You shouted something you'd regret later, put on your sneakers and ran out in the woods. Then you sat there on a rock, kicked some bushes and thought to yourself that you'd never go back home. You would stay right there, live in symbiosis with the nature, eat berries and climb trees until mom and dad prayed on their bare knees to get their daughter back.
But then the buzz of the mosquitoes started to sound threatening, the reason of why you slammed the door and left the family in the first place was suddenly hard to remember, and the thought of the warm dinner that most certainly was waiting on the kitchen table got more and more tempting. You never appreciated your home as much as after a traumatic 30 minute "move" to the forest.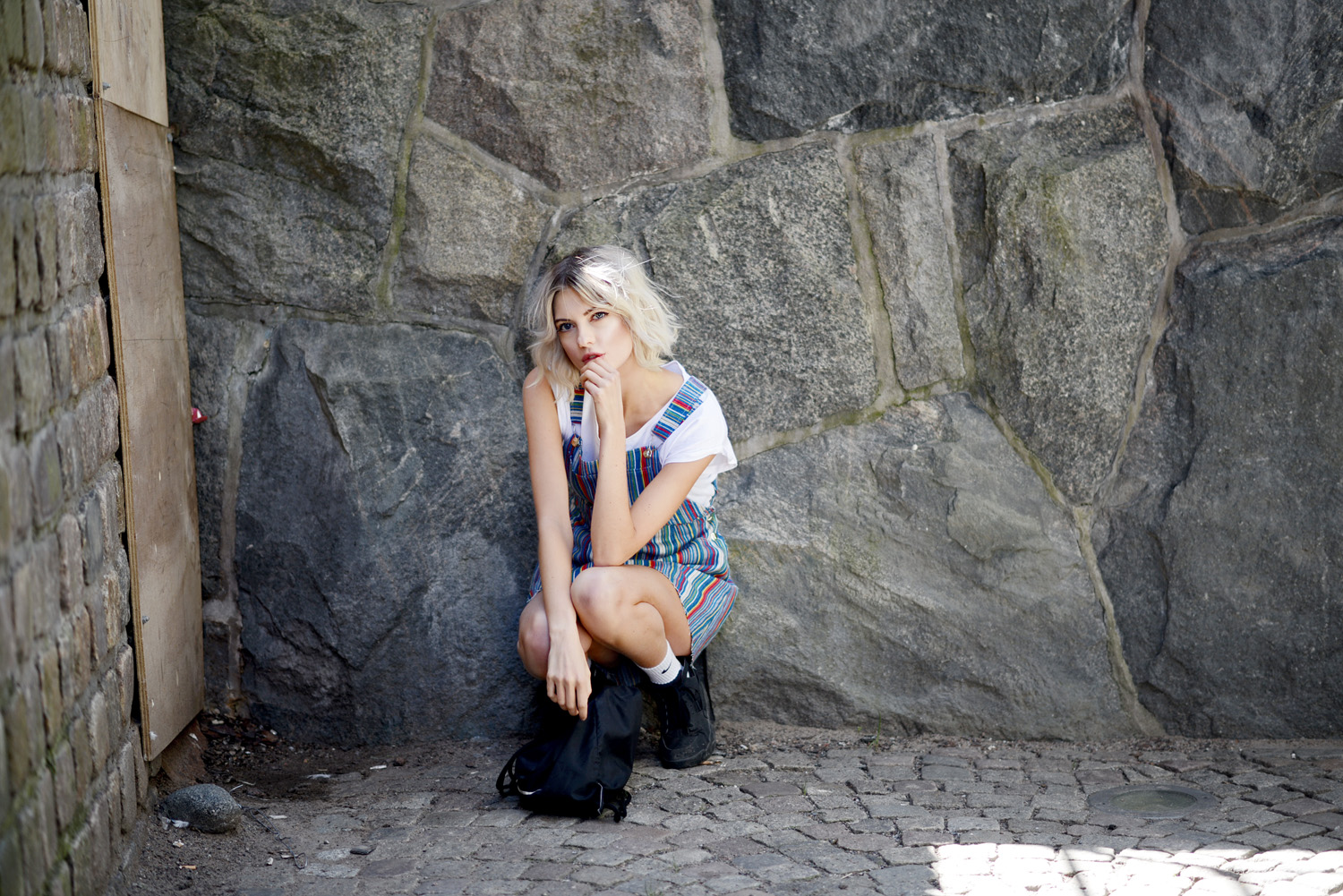 Min poäng är att det kanske inte är helt meningslöst att rymma ibland. Att återvända behöver inte vara ett misslyckande, det kan också vara ett kvitto på att man faktiskt befann sig på rätt ställe hela tiden utan att inse det.
My point is that it may not be completely meaningless to run away sometimes. Returning doesn't have to be a failure, it can also be a proof of that you were in the right place all along without realizing it.