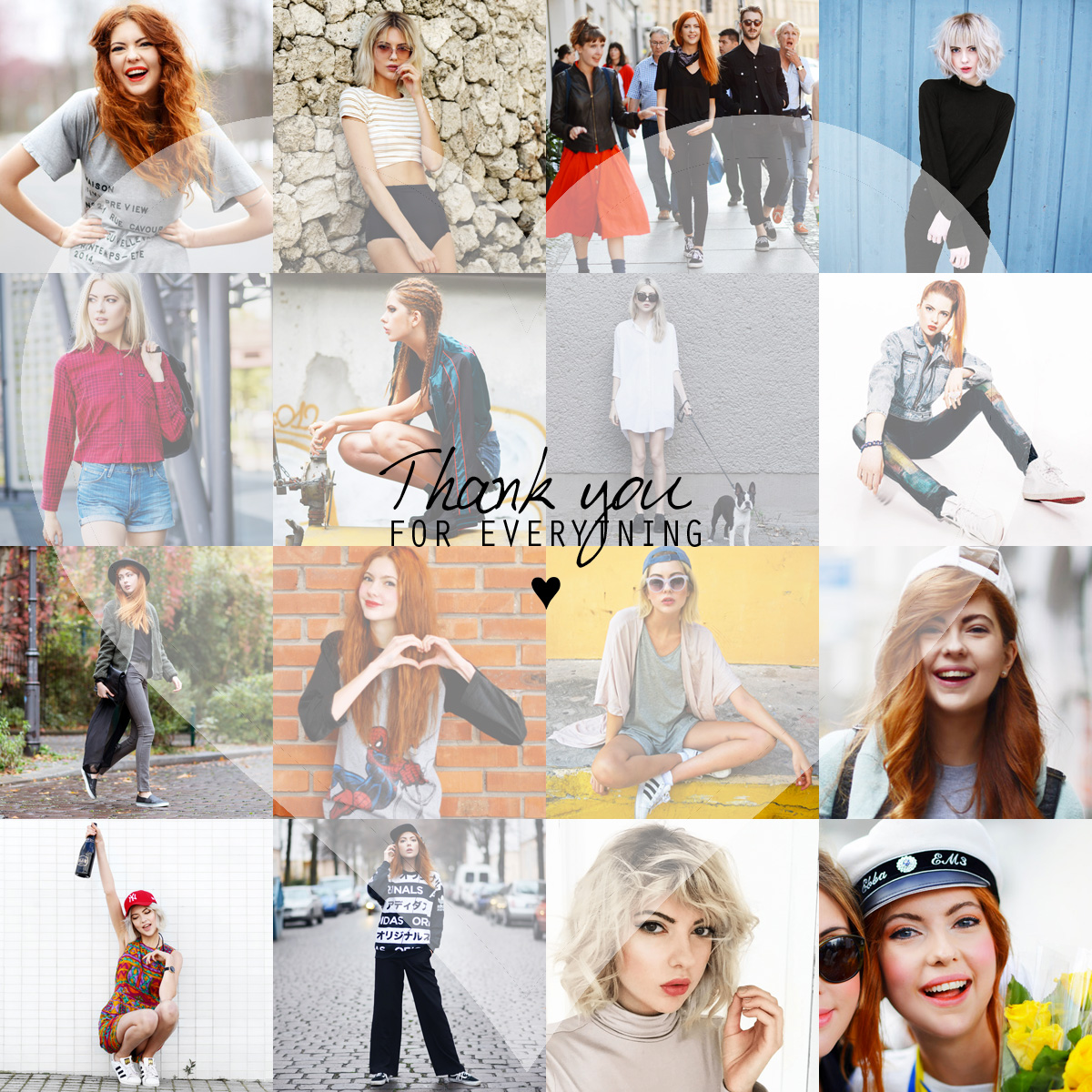 Kära, kära kompisar! Blir så himla rörd och glad av alla era engagerade mail och kommentarer. Den senaste tiden har som ni vet varit väldigt svajig för mig, men mitt i allt kaos har ni visat mer kärlek och pepp än på länge. Ni har kommenterat, skickat långa stöttande mail, snaps, IG och facebook-meddelanden. Det som nästan gör mig mest rörd är att så många av er har följt med mig så himla lång tid, vissa namn känner jag igen sedan gammalt och andra har följt mig i tystnad i åratal och plötsligt bestämt sig för att skicka iväg ett mail.
Ni har verkligen blivit en del av mitt liv. Ni har sett mig flytta hemifrån, följt med på mina första plåtningar, sett mig svettas i svt, sett mig ta studenten, lämna landet, bli kär, starta eget och livskrisa totalt. Blir alldeles gråtig när ni visar att ni är så engagerade i mitt liv, och att ni följer med mig in i detta steg in i "vuxenlivet". Att ni tar er tid att skriva till mig betyder ALLT.
Tar såklart åt mig av all feedback- vill ni ha kvar mina knäppa, ostrukturerade, personliga vardagsinlägg kommer jag såklart ha det. Men jag ska också ordna mer kvalitet och matiga inlägg åt er! Ni förtjänar det bästa materialet som någonsin går att framställa, och vill såklart hålla min blogg relevant för er som faktiskt inte hängt med så länge utan mer är ute efter ren inspiration. Huvudsaken är att jag vill att ni ska känna att jag ger tillbaka allt engagemang och pepp ni ger mig. Slut på sentimentalitet. PUSS!
♥
Dear, dear friends! Reading your comments and messages has gotten me deeply touched lately. As you know, the recent times has been very messy for me, but in the midst of all the chaos, you have shown more love and support than ever. You have sent long supportive emails, snaps, IG and facebook messages and comments. One of the things that makes me the most touched is that so many of you have followed me for such long time, I recognize some of your names since back in the days and others of the senders has followed me in silence for years and suddenly decided to send an email.
You have really become a part of my life. You have seen me leave home, followed me on my first shoots, seen me sweaty and nervous in TV, seen me graduate, leave the country, fall in love, start my own business and have a life crisis. I get all weepy when you show that you are so involved in my life, and that you still want to follow me on this step on the road to "adulthood". That you take the time to write me means everything to me.
Of course I take all the feedback with me- if you want me to keep on posting my quirky, unstructured, personal everyday posts- I'll keep on doing it. But I'll also organize more high quality and editorial posts for you! You deserve the best material possible to make, and of course I want to keep my blog relevant to those of you who haven't actually been around for so long or just are looking for pure ispiration. The main point is that I want you to feel that I'm raising the quality a notch. Okay, that's enough sentimentality for today. PUSS!