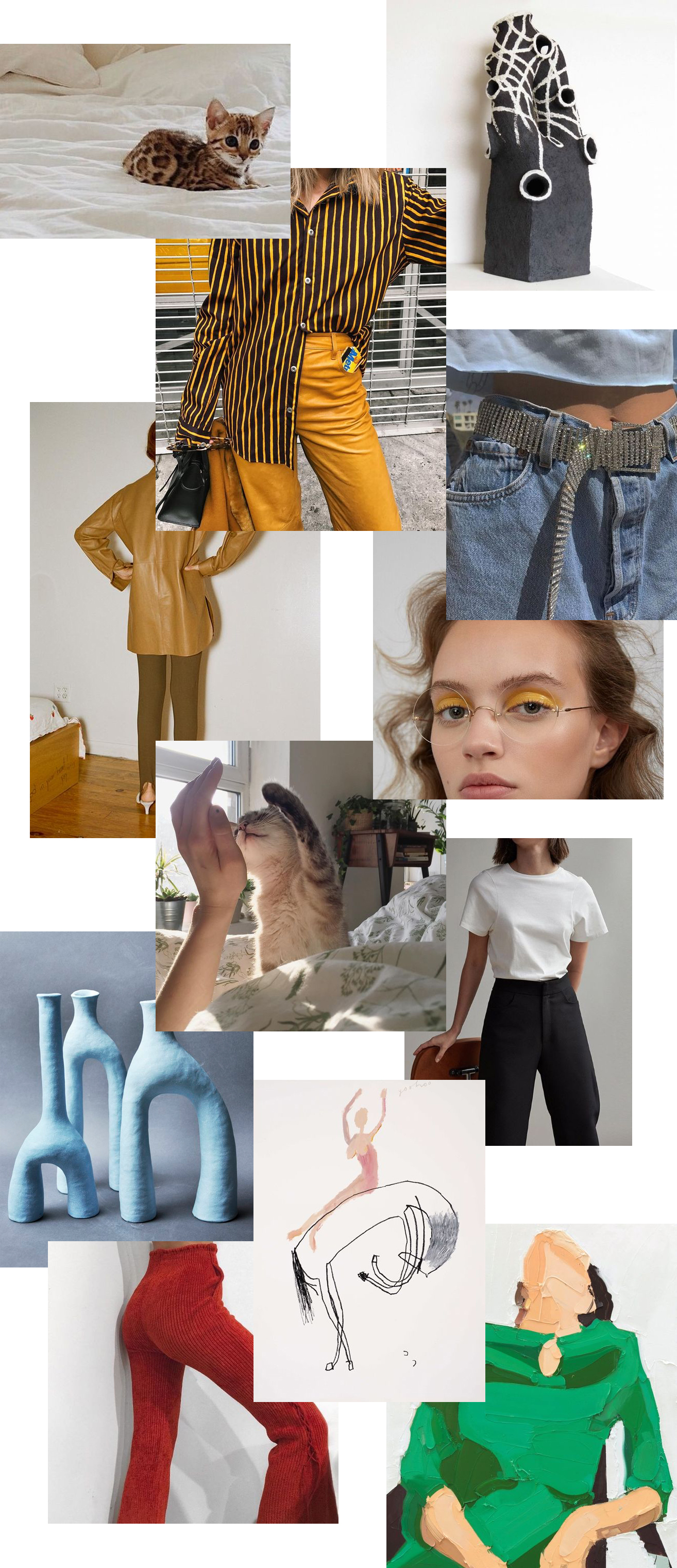 Lördagshälsningar till er alla! Idag hänger jag i keramikstudion och kladdar med glasyr. Under tiden tänkte jag bjuda på en kombinerad inspirationsmoodboard och önskelista. Jag har verkligen tänkt och tänkt, men inte kunnat komma på så många materiella ting jag önskar mig i år. Det som jag lyckades pressa fram var:
1. Konst att ha på väggarna hemma. Konst är ju väldigt personligt och helt omöjligt att köpa till någon annan, men jag tänker mig kanske någon slags presentkort eller voucher. Eller en tavla från någon av mina målande vänner.
2. En katt. NEJ, detta är inte heller en bra present att ge till någon annan. Trots att det inte passar min livsstil finns det inget jag hellre vill ha just nu. Shoot me.
3. Valfritt plagg i manchester.
4. En plats i keramikstudio, alternativt en keramik-kurs! Vill så himla gärna fortsätta arbeta med lera, det gör mig så himla himla gott i lill-själen.
5. Accessoarer! Jag har verkligen inte plats för mer kläder, men skulle älska att få ett glammigt skärp eller en rolig ögonskugga att leka med.
– Vad står högst upp på era önskelistor i år?

Hope you've had a lovely Saturday morning so far! Today I'm back in the pottery studio, painting my pieces. Meanwhile, I'm showing you this combined inspirational moodboard and wishlist. I've really thought about it for a long time, but not been able to come up with so many material things I wish for xmas this year. What I managed to come up with:
1. Art to put on the walls at home. Art is very personal and almost completely impossible to buy for someone else, but I'm thinking about some kind of gift card or voucher. Or a painting from one of my artist friends.
2. A cat. NO, this isn't either a good gift to give to someone else. Although it doesn't suit my lifestyle, there is nothing that would make me happier right now. Shoot me.
3. All kinds of clothes in Corduroy.
4. A ceramic/pottery studio space, alternatively a ceramic/pottery course! I would love to continue to work with clay, I really feel that working with my hands in that way is very good for me.
5. Accessories! I really don't have room for more clothes, but would love to have a cool belt or a funny eyeshadow to play with.
– What's on top of your wishlists this year?