Hallå, jag vill prata lite om träning! Jag har känt att jag haft en så himla TREVLIG relation till träning hela den här våren. Att känna sig form ger verkligen ett otroligt härligt rus av självförtroende, en vara som vanligtvis inte finns i överflöd hos mig. De senaste månaderna har Sean hittat mig flexande framför spegeln inne på toan x antal gånger (det är sant), och numera brukar jag ogenerat strosa in i gym-avdelningen i klätterhallen och lyfta mina 2,5kg-hantlar bredvid alla muskelknuttar istället för att stryka runt tills gymmet är tomt. Jag har försökt hitta källan till varför jag plötsligt tycker träning är så himla kul, och kommit fram till att det till stor del beror på en handfull faktorer som ger mig motivation, jag tänkte att det kunde vara intressant att höra om någon av er känner igen er i detta:
Hey guys, can we talk a little about working out? I feel like my relation to training and fitness has ben so good this spring. Feeling in shape really gives you a lovely rush of confidence, which is something that's not very common to me. The recent months, Sean has found me flexing my muscles in front of the bathroom mirror several times (seriously!), and now I usually walk into the wheight-lifting section of the climbing hall to lift my 2.5 kilos next to all the super fit dudes without feeling ashamed. I've tried to understand why I suddenly think working out is so much fun, and come up with some important keys to why I'm so motivated lately: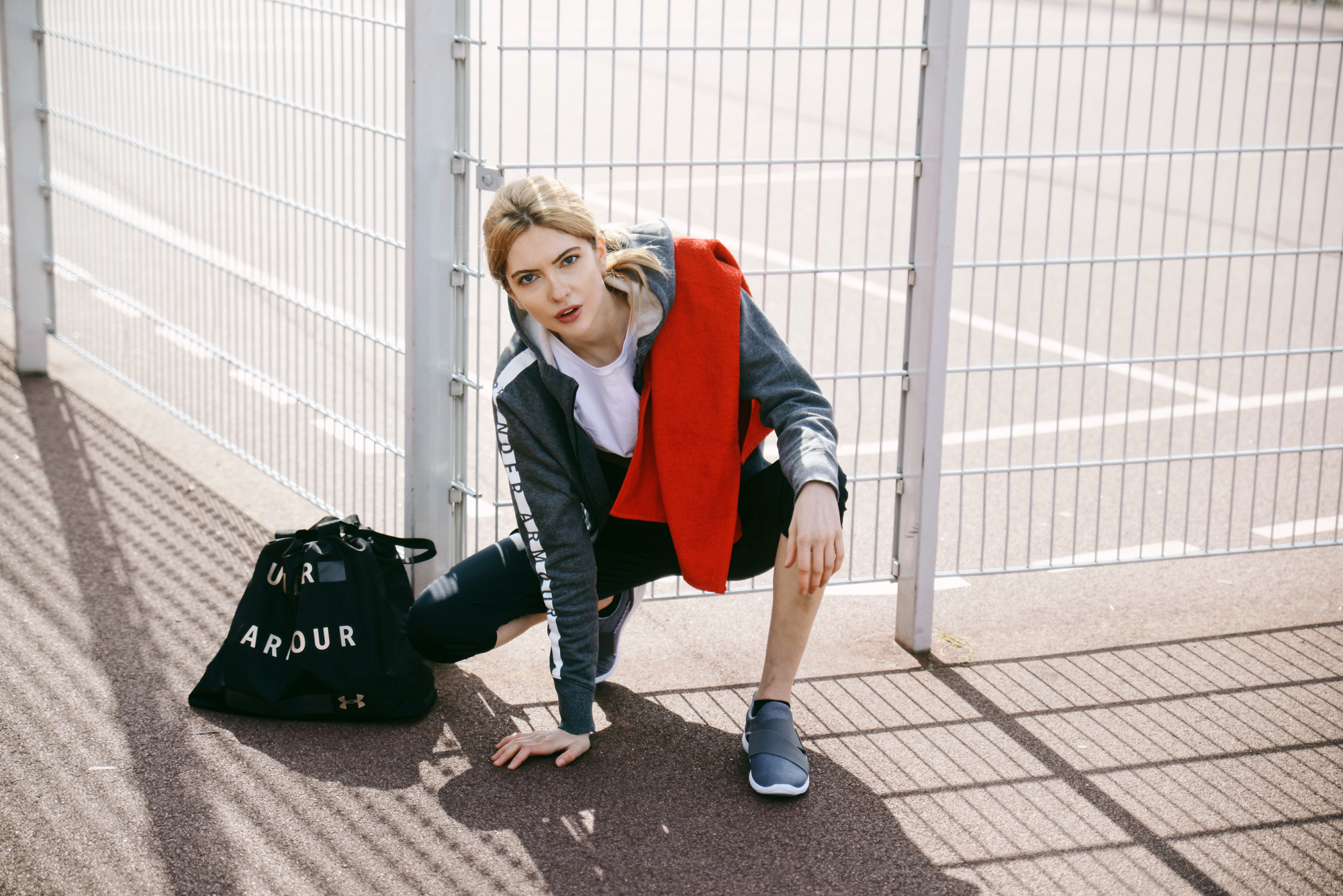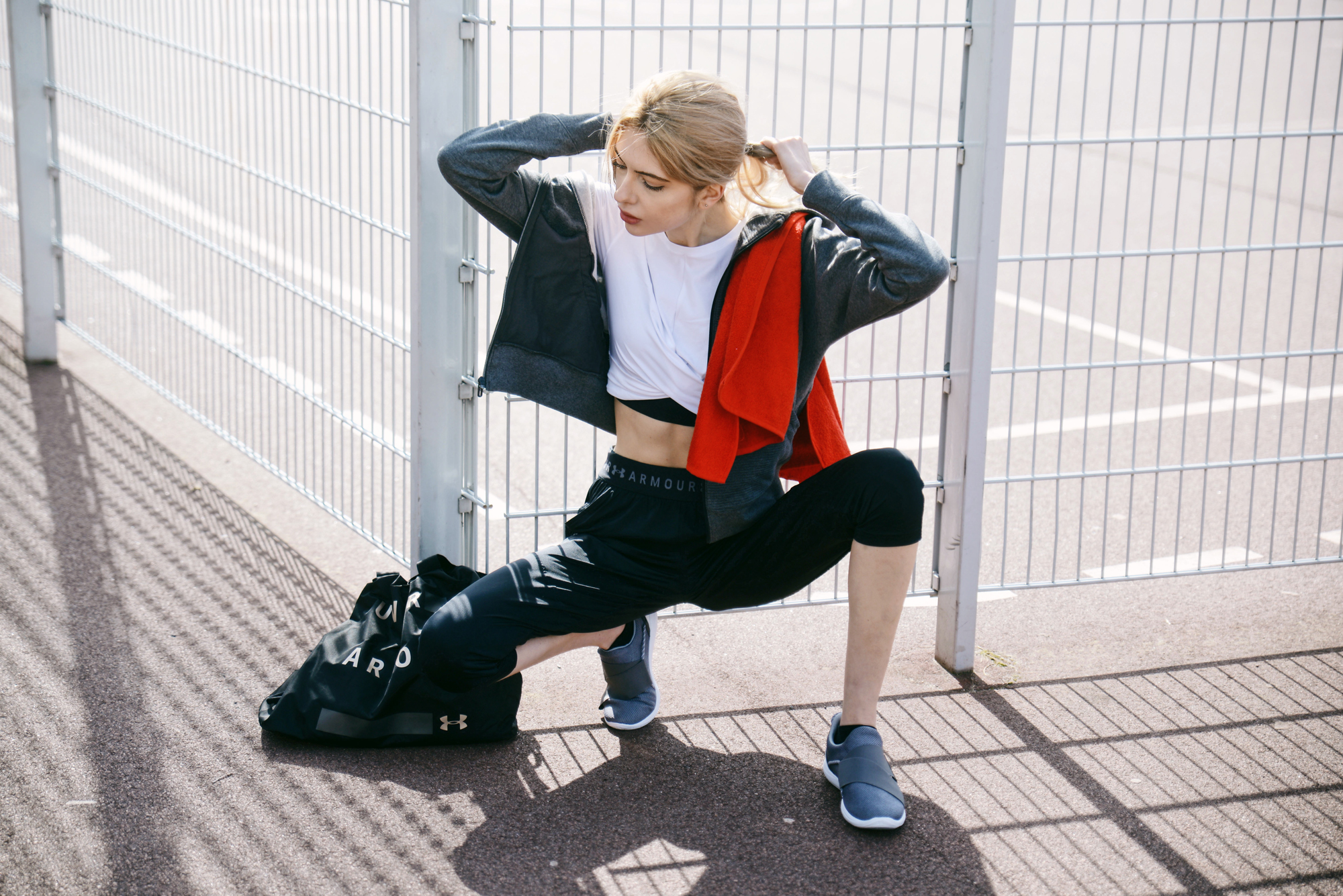 – Jag har hittat en aktivitet jag verkligen tycker om. Klättringen ger mig en anledning att pusha extra mycket på gymmet, eftersom jag vet att det kommer hjälpa mig att klara svårare väggar. Att kunna använda sin styrka till något konstruktivt gör verkligen att alla till synes meningslösa maskiner får en helt ny innebörd.
– Omvänd psykologi. Jag har aldrig satsat hårt på träning, men under vissa perioder i livet har jag ändå känt att det blivit ett stress-moment i min vardag, och då försvinner all motivation för mig. Om jag däremot inte får eller kan träna längtar jag istället efter att få svettas. Därför har jag satt en max-gräns på 3 pass i veckan, mer än så får jag helt enkelt inte träna. Detta gör att jag känner att jag måste ta till vara på mina pass, och ser det som en belöning snarare än något på min att göra-lista.
– Att gå på tjej-gym! Jag har ju skrivit om detta tidigare, men jag älskar att glida runt bland alla ladies på gymmet, som snackar skit med varandra över löpbanden, ägnar mer tid åt speglarna än maskinerna och som ogenerat fokuserar endast på sätesmuskulaturen (haha).
– Att träna nära hemmet. Anledningen till att jag tidigare i livet föredragit löpning framför andra träningsformer har antagligen till stor del berott på att det är så otroligt enkelt att bara snöra på sig skorna och sticka iväg. Nu när jag satsar mer på muskelträning och klättring har jag sett till att både min klättrings-klubb och gym ligger nära mitt hem, så att det bara tar 10 minuter från idé till faktisk handling.
– I've found an activity I really like. Climbing gives me a reason to push a little extra on the gym because I know it will help me climb more difficult walls. Being able to use your strength a constructive way really gives all the machines in the gym a purpose.
– Reversed psychology. I've never invested that much in becoming fit, but during certain periods of my life I've felt that working out has made my everyday life more stressful, and then all my motivation disappears. But if I, on the other hand, don't get to or can exercise, I suddenly crave going to the gym. That's why I've set a limit of maximum 3 gym sessions a week, instead of a minimum. This makes me feel like I have to make the most out of my sessions.
– Going to a women's gym! I've told you about this before, but I love tower out among all the ladies in the gym, gossiping with each other over the treadmills, spending more time looking in the mirrors than using the machines, and who aren't ashamed to focus on just the gluteal muscles (haha).
– To work out close to home. The reason why I previously preferred running over other types of training has probably been due to the fact that it's so incredibly easy to just lace the shoes and get going. Now that I'm focusing muscle building workouts and climbing, I've made sure that my climbing club and gym are close to my home, so it only takes 10 minutes from idea to actual action.
Vi tog förresten dessa bilder för Under Armour's senaste kampanj för någon månad sedan, det var extra kul att plåta träningskläder eftersom jag faktiskt känner mig lite fit, haha.
Hur som helst. Motivation är en väldigt personlig sak, vissa går igång på tävlingsmomentet i sport och vissa blir motiverade av att göra träningen till ett socialt event. Dessa punkter är vad som som visat sig funka för mig, men det skulle vara intressant att höra vad ni går igång på. Har ni några trick eller strategier för att maxa motivationen?

We took these pictures for Under Armor's recent campaign a month ago, by the way. It was extra fun to shoot a fitness editorial since I actually feel a little fit, haha.
Anyway. Motivation is very personal, some people gets excited of competition and some gets motivated by turning the work out sessions to social events. This is what seems to work for me, but it would be interesting to read what gets you in the right mood. Do you have any tricks or strategies to maximize your motivation?