Hej gullon. Tiden i Stockholm har som vanligt gått snabbt. Julen har fyllts av familj och vänner, som sig ju bör. Jag tänkte bara slänga in en liten update här och dela med mig av två stunder som kändes extra mycket i lillhjärtat på mig:
Hi guys. Our visit in Stockholm has, as usual, felt way to short. Christmas has been filled by family and friends, just like it should be. I just wanted to give you a little update and share two recent moments that made me feel extra warm inside: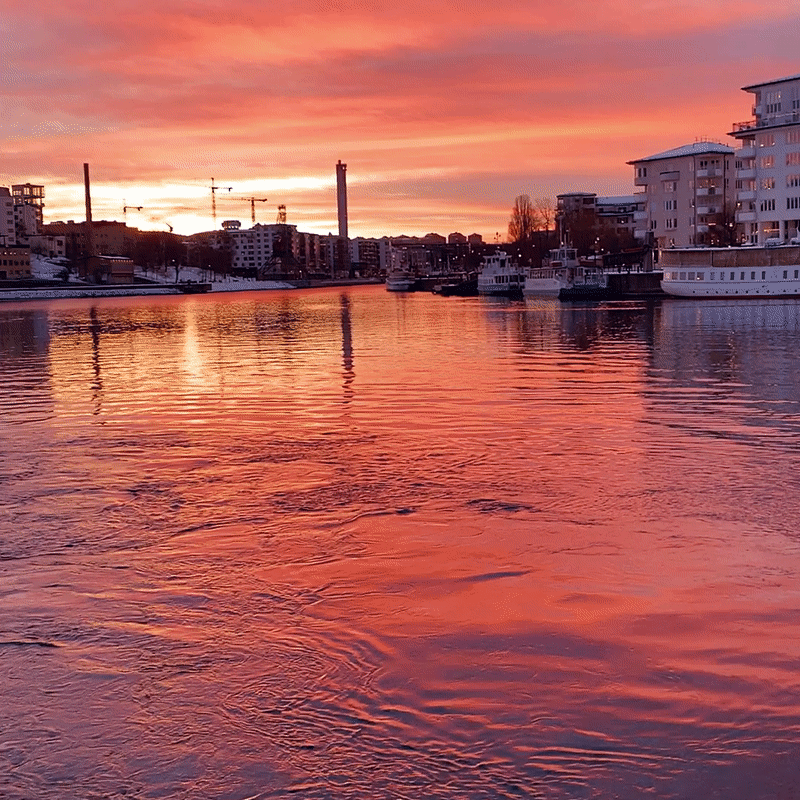 Att promenera mitt emellan mamma och pappa med knarrande snö under skorna och rinnande näsa. En så bekant och trygg situation. Det hade lika gärna kunnat vara en av de oändliga vinterpromenader vi spenderat så många helger och lov med genom hela min uppväxt, innan jag flyttade. Mycket har hänt i familjen sedan dess men där och då kändes allt sig likt. På båten hem glödde himlen helt rosa.
Walking between mom and dad with snow creaking under the shoes and runny nose. Such a familiar situation. It could just as well have been one of the endless winter walks we've spent so many weekends and holidays with through the years, before I left town. Much has happened in our family since then, but there and then everything felt the same. On the boat home, the sky glowed in pink and orange.

När jag kom till Seans mamma efter bussresan på julaftonsmorgonen och möttes av en så välkomnande stämning att jag bara ville smälta. Fikade och julrimmade (på klappen till min syrra och hennes kille som TYVÄRR glömts kvar i Berlin, haha) och tänkte för mig själv på människorna som kommer på köpet när man lever med någon. Att det inte bara är partnern i fråga man adderar till sitt liv, utan ett helt sammanhang. Att bli välkomnad som en självklarhet på det viset var egentligen inget jag förväntade mig eller var beredd på innan. Det är något väldigt väldigt fint med det. Förstår ni vad jag menar?
When I came to Sean's mum on the Christmas morning, the welcoming atmosphere made me all emotional. We ate homemade saffron buns, wrote rhymes for our Christmas gifts (it's tradition to write a short verse and then let the person guess what's inside) and I thought about the people who comes as a bonus when you decide to get together with someone. That it's not just your partner that you add to your life, but a whole new social context. Being welcomed with open arms and without any questions was nothing I expected, or was prepared on, before. There's something very special, and amazing, about that. Do you know what I mean?
Om två dagar är vi tillbaka i Berlin, och jag har redan mentalt börjat sammanfatta 2018 inför årsskiftet. Tänkte enligt tradition dela med mig om lite tankar och reflektioner senare. Nu ska jag avsluta detta sjukt blödiga inlägg till förmån för film och soffan. Fet kram <3
In two days we'll be back in Berlin, and I have already mentally started to summarize 2018 for new year's. Just like every year, I'll share my thoughts and reflections on 2018 later. Now it's time to end this embarrassingly sentimental post in favor of Netflix and goodies. Big hugs <3