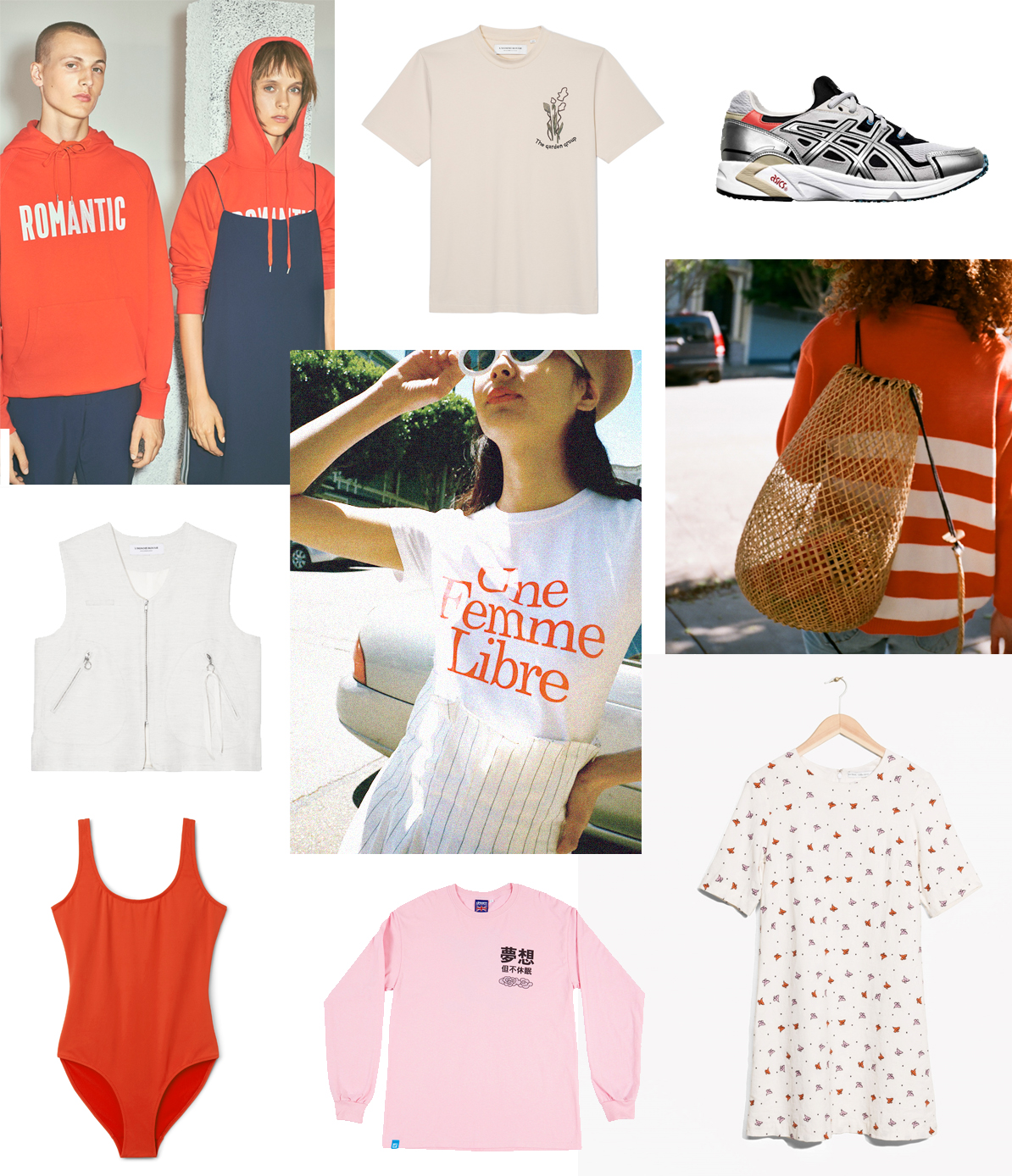 LINKS & ADLINKS: ROMANTIC Hoodie and sneaker- Wood Wood, T-shirt and white vest- L'Homme Rouge, 
Femme Libre Tee and backpack- Lisa Says Gah, Swimsuit- Weekday, 
Pink sweater- Dream But Do Not Sleep, Dress- &other stories.
Här kommer ett gäng kläder som jag sparat ner på datorn den sista tiden och mer än gärna skulle vilja låta flytta in i min garderob snarast möjligt. Har speciellt suktat efter en knallröd baddräkt och WoodWoodxAsics-dojjorna i måånader. Klänningen var en stark kandidat till min födelsedags-outfit, och ni vet ju redan att jag älskar L'Homme Rouge.
Jag försöker att bli bättre på att planera mina inköp, jag shoppar väldigt väldigt sällan (förstår ärligt inte hur människor har tid att "gå på stan" ofta), men när jag väl gör det blir det alltid väldigt spontant och ungefär hälften av gångerna slutar det med att jag kommer hem med något plagg som kändes kul i stunden men som inte alls känns lika spännande en dag senare. Tycker om att spana på produkter länge innan jag slår till, suga på karamellen lite innan man unnar sig att beställa/köpa. Då är det fett värt att spara ner bilder och kanske till och med sätta ihop kollage bara för att gotta sig ännu mer i det.

Here's a bunch of clothes that I saved on my computer recently, and would be more than happy to let them move into my wardrobe as soon as possible. I've been wanting a red bathing suit and WoodWoodxAsics shoes for months. The dress was a strong candidate for my birthday outfit, and you already know that I love L'Homme Rouge.
I'm trying to get better at planning my purchases, I shop very very rarely (Honestly I don't understand how people have time to go shopping often), but when I do, it's always super spontaneous and about half of the times it ends with me coming home with some clothes that felt fun at the moment but doesn't feel that right anymore a day later. I like to crave products for a long time before I buy them, to get to long a little bit. Then it's a good idea to save pictures and maybe even make collages like this one just to make the feeling even more intense, hehe.