Var hälsade! Ännu en ny vecka har sett dagens ljus. Låt oss fira det med en weekly update:

Ahoy! Another new week has begun. Let's celebrate that with a weekly update:
Veckans mood: Förväntade mig att vakna till ett valresultat idag, men möttes istället av en väldigt oklar situation. Det odefinitiva valresultatet har gett mig känslan av att befinna sig i ett vakuum, säga vad man vill om det politiska läget just nu men jag längtar intensivt efter tydlighet.

The mood of the week: Yesterday's election in Sweden turned out so even that we will have to wait until Wednesday, when all the votes have been counted, to know the final results. This makes me feel like we all live in a vacuum.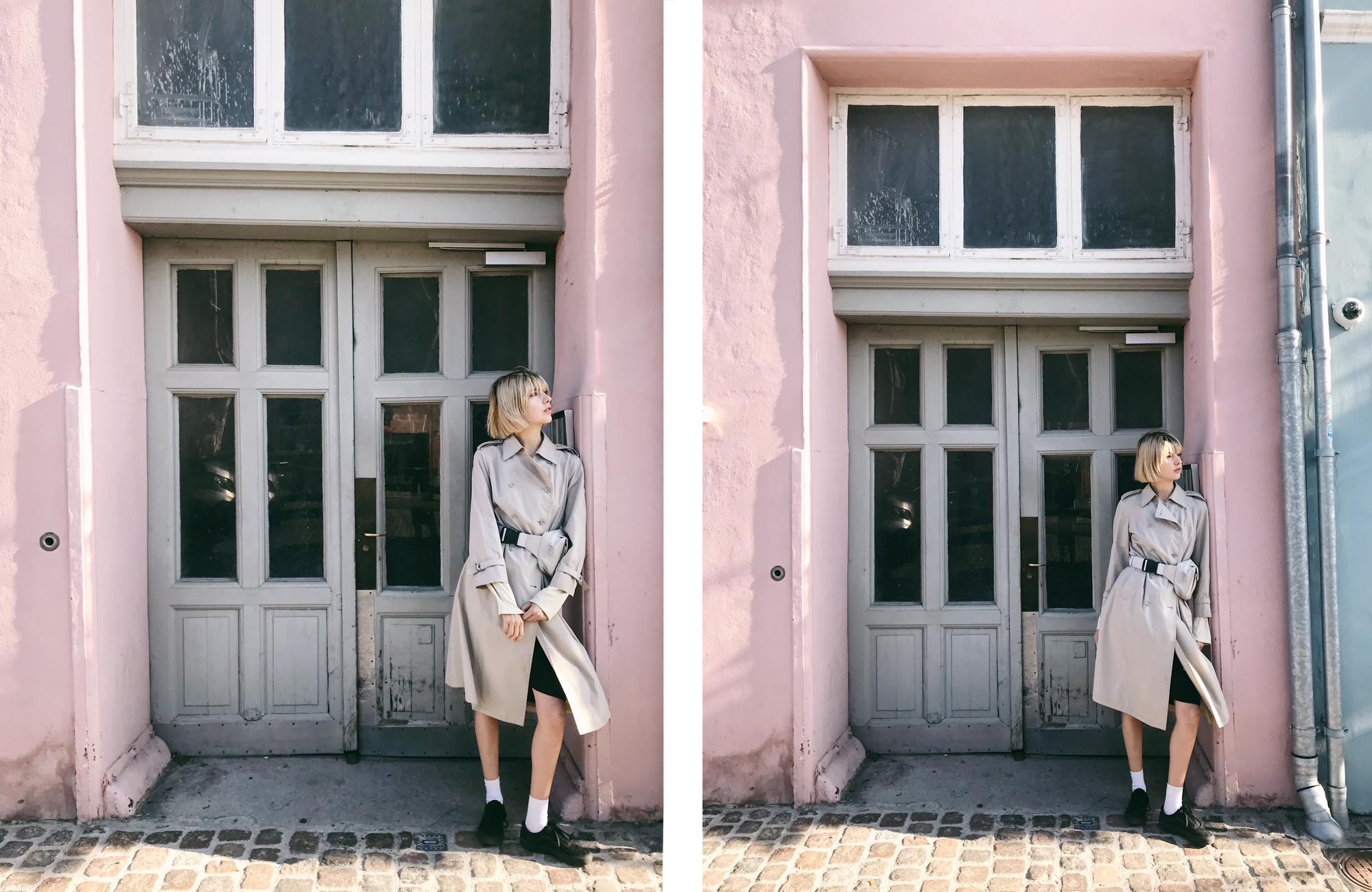 Veckans outfit: Såhär har jag sett ut på Malmös, köpenhamns och Berlins gator i veckan. Jackan köpte jag av Sara (går alltid att argumentera för ett inköp av en bra bas-trenchcoat), blev så glad när jag upptäckte att min midjeväska passade perfekt till.
This week's outfit: This is how I've looked on the streets of Malmö, Copenhagen and Berlin this week. I bought this jacket from Sara (a nice trenchcoat is always a good find), and was so happy when I discovered that my bumbag matched perfectly.

Förra veckan: Last week:

Varvade kontorsjobb med att ta hand om Cava. Det är helt omöjligt att vistas offentligt med henne utan att förbipasserande hela tiden pekar och utbrister kommentarer om hur gullig hon är eller kommer fram och vill klappa.

I started the week with office work and taking care of Cava.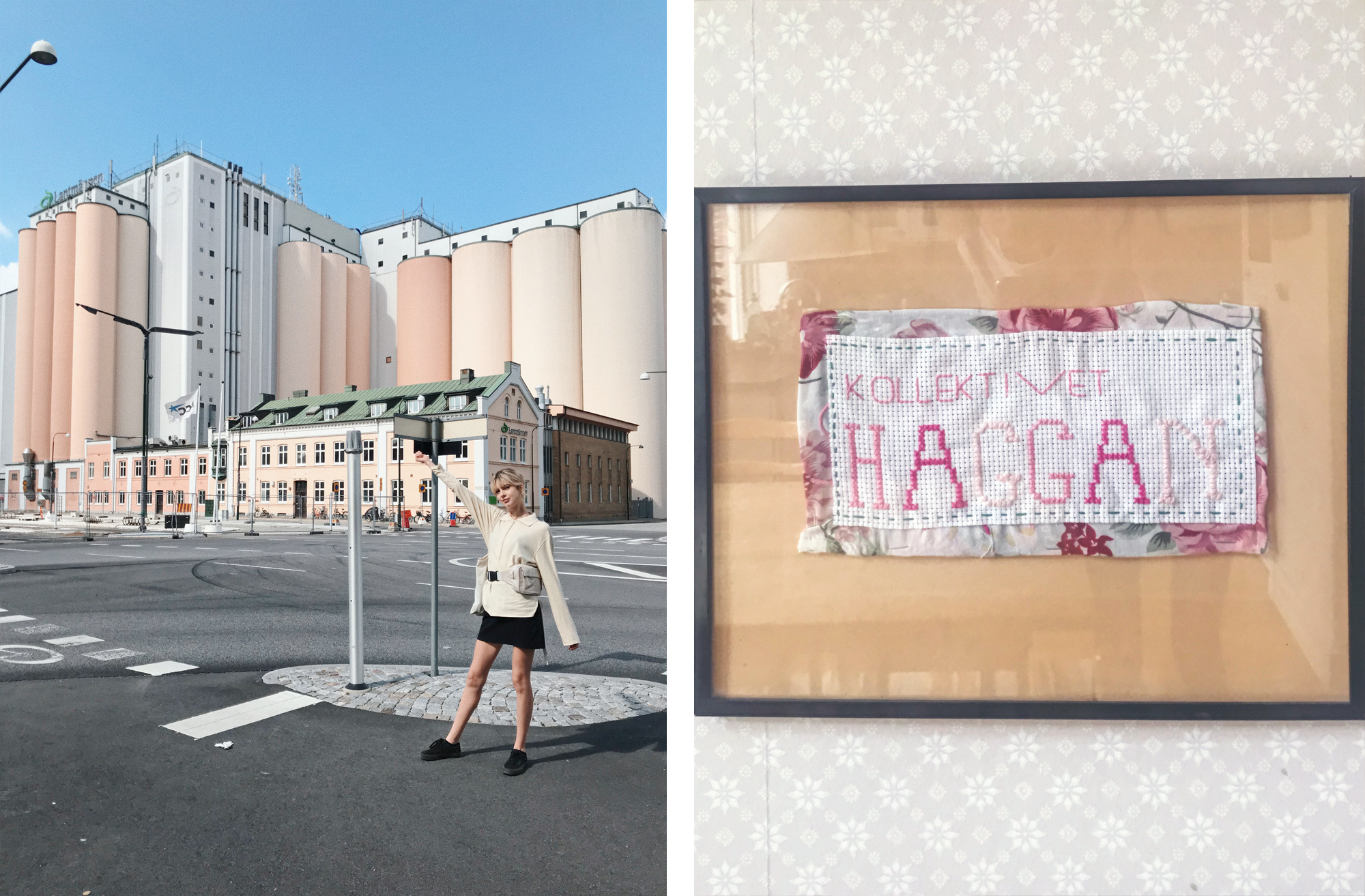 I onsdags åkte jag till Sara i Malmö! Det var så himla nostalgiskt mysigt: bodde i Saras tjej-kollektiv, låg vaken till sent på natten och pratade om LIVET, lajvade student på hennes konstskola och hade intensiva diskussioner om ""ideologi"" runt matbordet med Sara, Ebba och Linnea. Allt hade lika gärna kunnat utspela sig i Umeå året innan jag flyttade till Berlin.

On Wednesday I went to visit Sara in Malmö! It felt so nostalgic: lived in a girl-collective, stayed awake long past midnight laying in bed talking about life, walked the corridors of Sara's art school and had intense discussions about "ideology" around the dining table with my old Umeå-friends Sara, Ebba and Linnea. All of this could might have been scenes from my life the years before I moved to Berlin.
På tal om Saras skola- så himla himla fin plats att spendera sina dagar på. Mitt ute på landet bland äppelträd och stora fält, med ateljéer och resurser att skapa. Blev varm i magen av att ha henne där, och det satte samtidigt igång tankarna på att någon gång börja plugga igen.
Speaking of Saras school- it was such a nice place to spend your days at. Located on the countryside among apple trees and large fields, with studios and resources to create. I got so happy for her, at the same time as a little part of me started considering going back to school.
När man har en tjejkompis till hands är det obligatoriskt att "gå en runda på stan". Köpte inget men kan.inte.sluta.tänka.på skinnjackan från &other stories (dålig bild, men den är perfekt jag lovar!).
When you have access to one of your best girlfriends, you have to take the opportunity to go shopping. I didn't buy anything but fell.in.love with this leather jacket from &other stories.
Hur som helst! Efter några Malmö-dagar åkte jag och gummsan till köpenhamn!! Sara var med som sällskap och moraliskt stöd på konferensen jag var inbjuden på.
Anyway! After some days in Malmö, we went to Copenhagen!! Sara was going to keep my company and be my moral support at the conference I was invited to.
Konferensen var SÅ trevlig, hade flera väldigt givande möten!! Nyöppnade Nobis Hotel stod förresten för login, titta vad fint de ordnat!
The conference was SO nice, I had a lot of very good meetings!! Newly opened Nobis Hotel Copenhagen let us stay in one of their pretty rooms, just look at the nice interior!
För att inte tala om frukosten. Denna intogs för övrigt någon meter från mister Filip Hammar som råkade bo på samma hotell som oss, hejhej!

… Not to speak about the breakfast! It was absolutely one of the better hotel breakfasts I've had.
Veckans reminisce: När valresultatet och de politiska frågorna känns för tunga vill jag uppmana er alla att sluta era ögon och tänka på Spirit- hästen från vildmarken. Någon mer än mig som får gåshud av nostalgi av att titta på den här videon??
Reminisce of the week: When coming back to school or work feels too hard, I want you to close your eyes and think of "Spirit: Stallion of the Cimarron". Anyone besides me who gets goosebumps of nostalgia by watching this video??
Ta hand om er hörni. Vi hörs snart!
Take care now! xx