Glad måndag! Tycker vi kör igång med veckans weekly update direkt, utan fuzz:
Happy Monday! Let's go ahead with this week's weekly update right away, without fuzz:
Veckans start: Har precis återhämtat mig från en kort men intensiv bihåleinflammation. Kändes som en blessing att kunna andas genom näsan imorse när jag vaknade. Något som tydligen ska vara supereffektivt mot bihåleinflammation ska vara att hålla ansiktet i ångorna ovanför en kastrull med kokande vatten och lite tigerbalsam. Någon som testat?
The start of the week: Just recovered from a short but intense sinusitis. It really felt like a blessing to be able to breathe through my nose when I woke up this morning. A folk remedy that's supposed to be super effective curing sinusitis is to put your face above a pot of boiling water and some tiger balm and breathe in the steam. Have any of you tried that?
Veckans tanke: Har funderat på hur effektivt små vardagsbeteenden kan ringa in någons personlighet. Till exempel, om man är en person som lämnar en redig skrutt när man äter ett äpple, eller fortsätter gnaga tills bara det lilla kärnhuset och kvisten finns kvar. Eller om man är en person som metodiskt torkar sig uppifrån och ned, lem för lem, efter att man duschat, eller om man bara gnider handduken lite slumpvis över kroppen och sedan tröttnar och övergår i att klä på sig trots att det fortfarande droppar. Jag tror verkligen att såna beteenden säger mer om oss än vad vi tror. Jag är definitivt typ 2 i båda dessa fall, haha, vilken typ är ni?
Thought of the week:I've been thinking about about how small everyday behaviors can tell a person's personality. For example how much you leave when eating an apple, if you leave a chunky piece or if you continue to chew until only the little kernel house and twig remains. Or if you're a person who strategically dry yourself from head to toe, limb after limb, after a shower, or just rub the towel randomly over the body and move on to get dressed still dripping. I really believe small things like that can tell a lot about one's personality. I'm definitely Type 2 in both of these cases, haha, what type are you?
– Lekte lite med olika sminkningar inför ett kommande samarbete. Har sakta men säkert börjat gilla läppglans efter att i hela mitt liv ha fått så starka konnotationer till snor av det (både visuellt och hur det känns på läpparna) att jag inte kunnat använda det, haha. Sedan Alva introducerade mig för att använda det som ögonskugga har en helt ny värld av glossiga looks öppnats för mig.
– Gick i skolan och gjorde mitt bästa för att banka in konjunktion 2 och användning av reflexiva verb i huvudet.
– Played around a little with different makeup for a future cooperation. I've slowly started to like lip gloss! Before I just thought it both felt and looked too slimy, but now I love it. Especially if you use it on your lids and lips at the same time.

– Went to school and did my best to wrap my head around conjunction 2 and the using of reflexive verbs.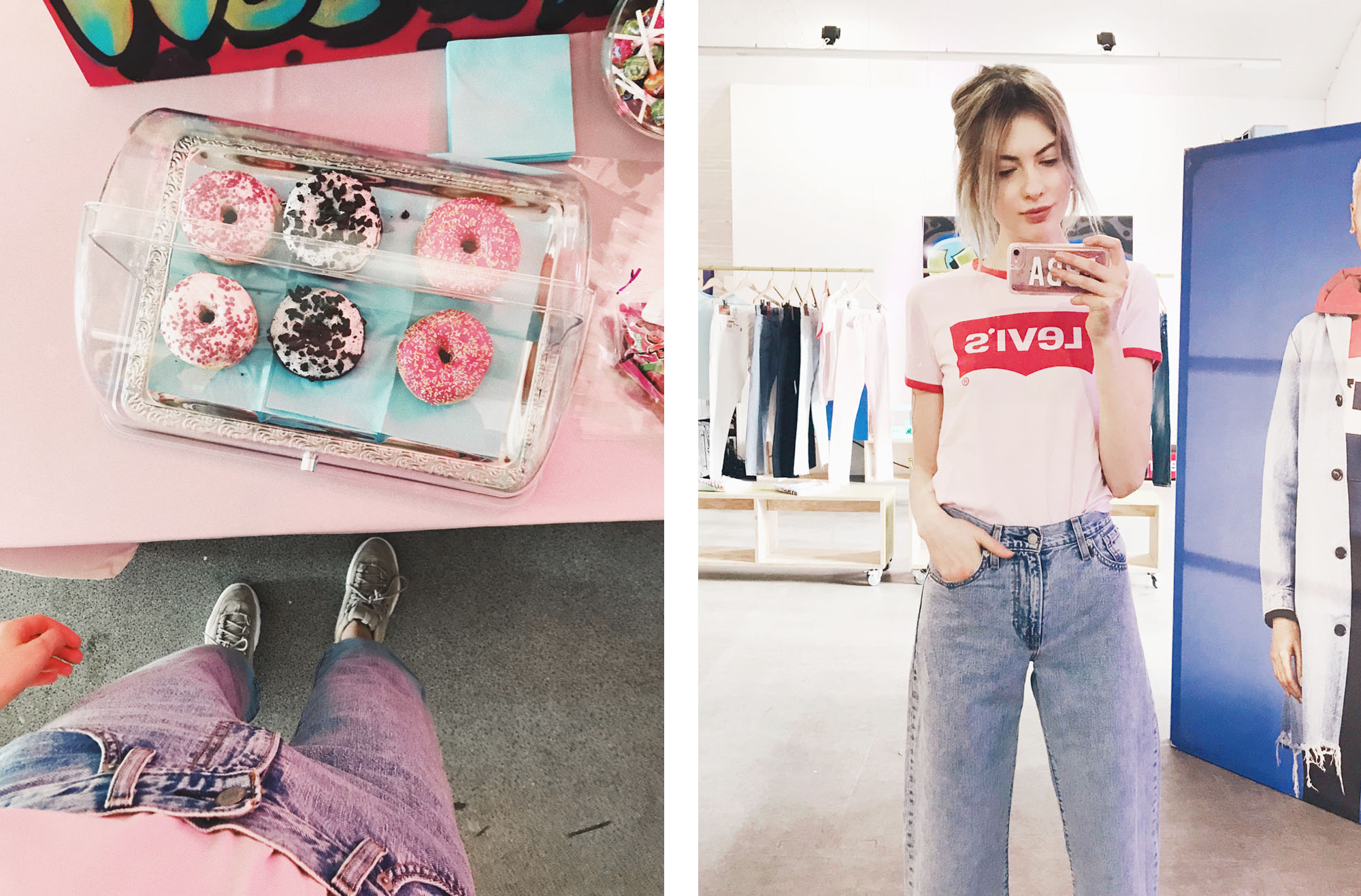 – Gjorde ett besök i Eye Candy-studion för att plåta Levi's-braxor och äta eftermiddags-snacks.
– Visisted the Eyecandy studio to shoot some Levi's pants and get an after school-snack.
– Gick på musik-event med Sean mitt i veckan och lyssnade på experimentell elektronisk musik på ett golv med 50 andra musiknördar.
– Went to a music event with Sean some time in the middle of the week to listen to experimental electronic music on a floor with 50 other music nerds.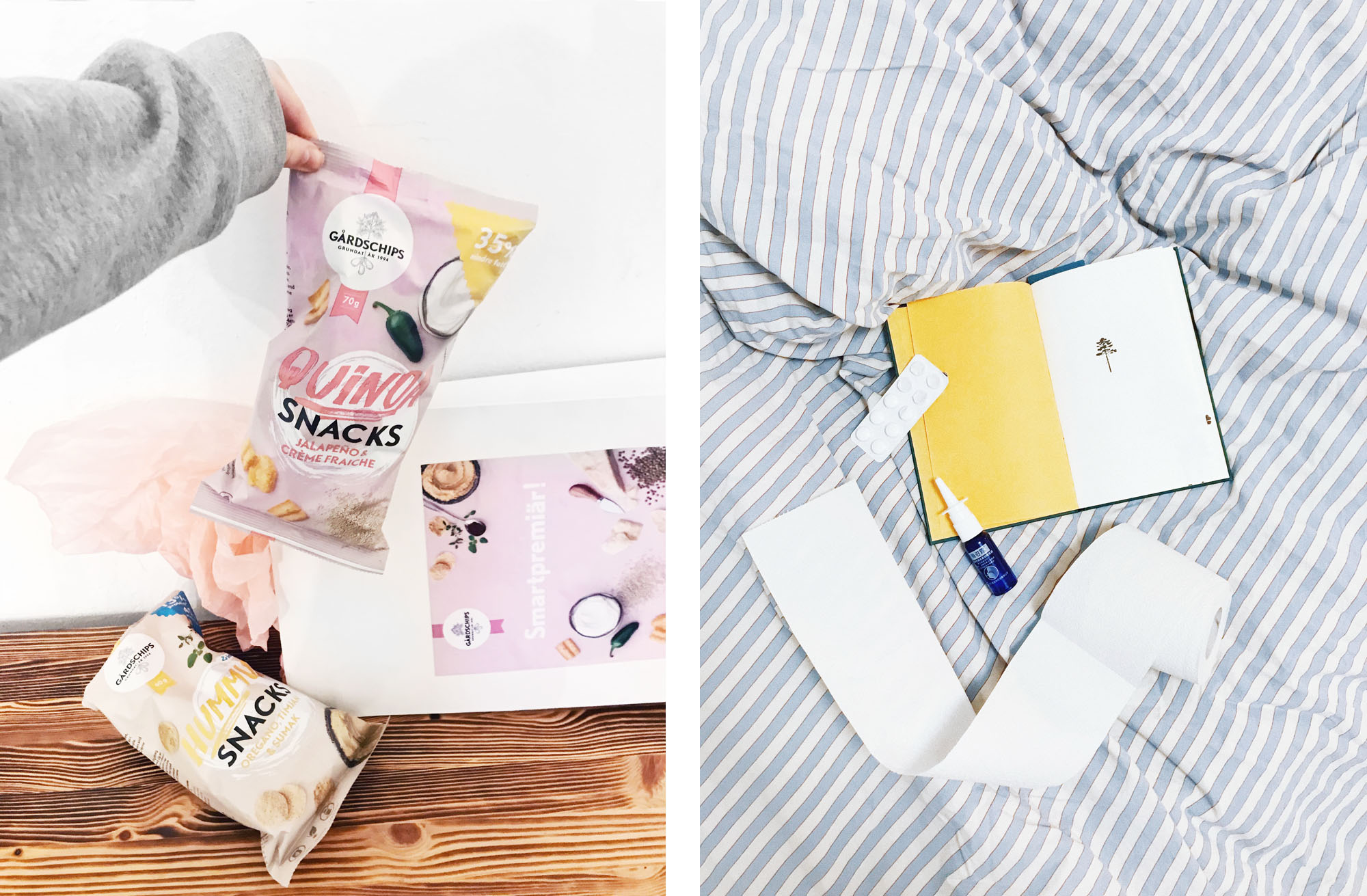 – Sedan kom helgen och min bihåleinflammation bröt ut ordentligt. Istället för att vistas i sociala sammanhang blev jag sängliggandes med min fantastiska bok "Trädens hemliga liv" (vilken jag lovar att berätta mer om senare, haha).
– När livet kändes som mest trist knackade en postman på dörren med ett bud från Gårdschips med säsongens senaste smaker. Det kunde verkligen inte ha kommit lägligare. Är det någonting jag saknar från matbutikerna i Sverige så är det gårdschips.
– Then the weekend came and my sinusitis broke out for real. Instead of staying in social contexts, I stayed in bed with my amazing book "The Secret lives of the Trees" (which I promise to tell you more about later, haha).
– When I was really low, a postman knocked on the door with a big box from my favorite Swedish crisp brand with the latest flavors of the season. They couldn't have had a better timing. I really miss the crisps back in Sweden.
Veckans inlägg: Vet faktiskt inte riktigt! Skulle vilja posta någon outfit, kanske bjuda på ännu ett recept, avsluta min 2017-recap. Vi får se! Önskemål?
The posts of the week: I'm actually not sure! I'd like to post an outfit, maybe give you another one of my favorite recipe, maybe finish my 2017 recap. Any wishes?