Var hälsade! Nu tar vi en titt på veckans weekly update!
Ahoy errybody! Let's have a look at this week's weekly update!
Veckans känsla: Fortfarande alldeles varm i magen efter Fannys besök över helgen. Få saker slår kvalitativt syster-häng.
Feeling of the week: I'm still all happy from Fanny's visit this weekend. Few things are better than good old sister-time.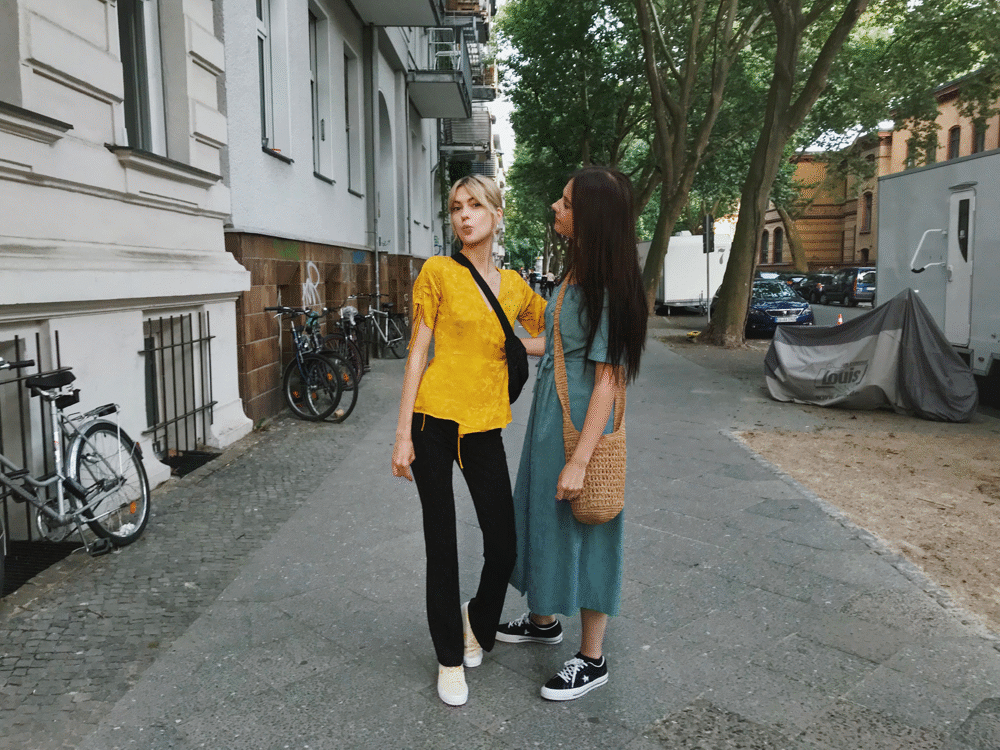 (Top from Chiquelle, pants from Loavies)
Veckans upptäckt: Jag måste säga att jag var väldigt skeptisk till ännu en H&M-ägd kedja, men när jag besökte den nya Arket-butiken i helgen kunde jag inte annat än medge att både utbudet och atmosfären verkligen var right up my alley. Ååååkejdå.
This week's discovery: I have to say I wasn't very enthusiastic about yet another H&M-owned store, but when I visited the new Arket this weekend, I had to admit that both the range and the atmosphere really were right up my alley.
Veckans tips: Sean berättade för mig om en studie som visar att människor finner samma konversationer mycket mindre intressanta om de har sina telefoner liggande på bordet när de konverserar, något man kanske inte tänker på i vardagen.  På sistone har vi varit mycket noggrannare med att aktivt lägga bort mobilerna hemma, inte ha dem i sovrummet på natten och inte lägga dem på bordet när vi äter. Det är obehagligt hur mycket mer närvarande man känner sig.
This week's tip: Sean told me about a study that shows that people find the same conversations much less interesting if they have their phones lying on the table when they talk. So we've been putting away our mobiles at home much more often lately, not having them in the bedroom at night and not putting them on the table when we eat. I actually feel much more mentally present in my everyday life now!
Jag var på Loréal-event (Iförd ny topp! Visar senare!) och fick prova deras nya icke-permanenta glitterfärger (som faktiskt funkar både på mörkt och ljust hår). Ska beställa hem att gäng så fort de är tillgängliga.
I was at Loréal Hair Fashion night and got to try their new non-permanent glitter hair colors (which actually work on both dark and bright hair). I'll definitely order some as soon as they are available.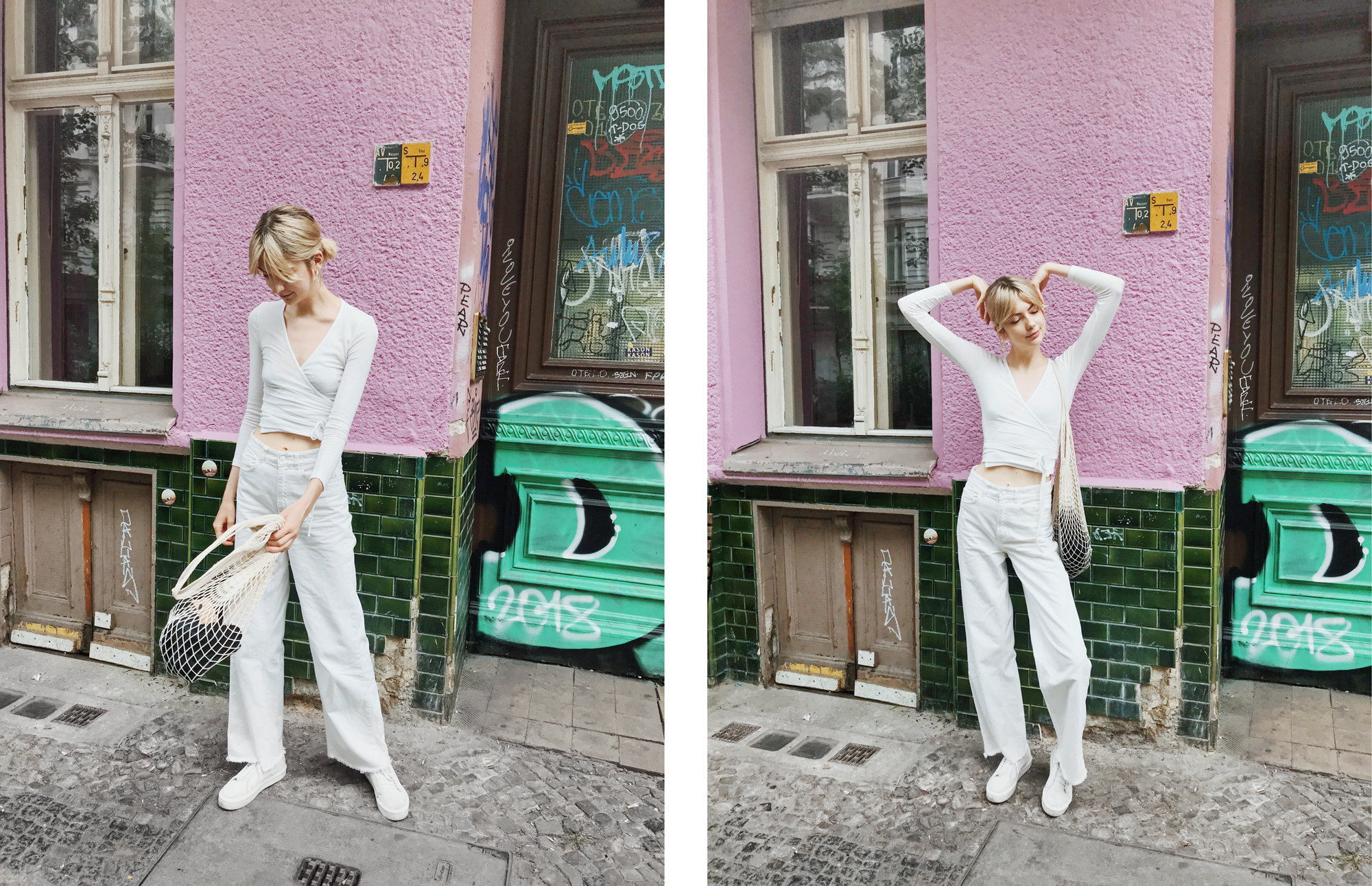 En dag klädde jag mig i helvitt och poserade framför min favorit-vägg i våra hoods. På kvällen hade jag och Sean världens date night med finmiddag, drinkar och hela baletten, men på grund av ovan nämnda mobilvanor lämnade vi faktiskt telefonerna hemma så foton uteblev.
One day I dressed in all white. In the evening, Sean and I had an amazing night with fine dinner, drinks and everything, but because of the above-mentioned new phone habits we actually left the phones at home, so I couldn't capture that on photos.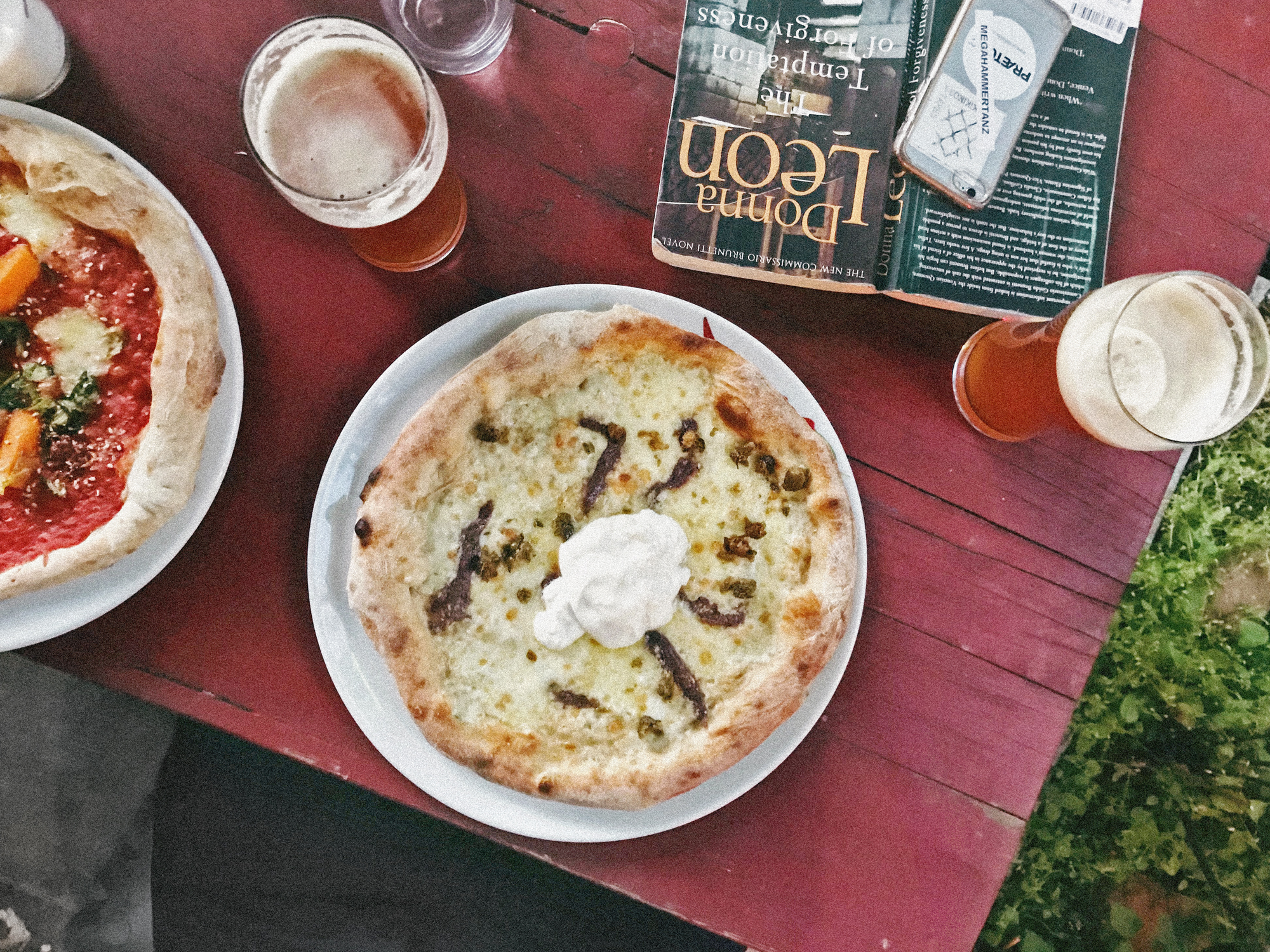 Fler än en middag konsumerades på vår stammispizzeria. Jag vet att det är dessa kvällar jag kommer sakna allra mest när vintern kommer: då man i timmar sitter på uteserveringen med diverse personer man tycker om och pratar och äter tills solen gått ner, och sedan strosar hem längs kanalen.
More than one dinner was consumed at our favorite pizzeria. I know it's these evenings I'll miss the most when winter comes: the ones we spend hours sitting on the outdoor seating with people we like, just talking and eating while the sun is setting.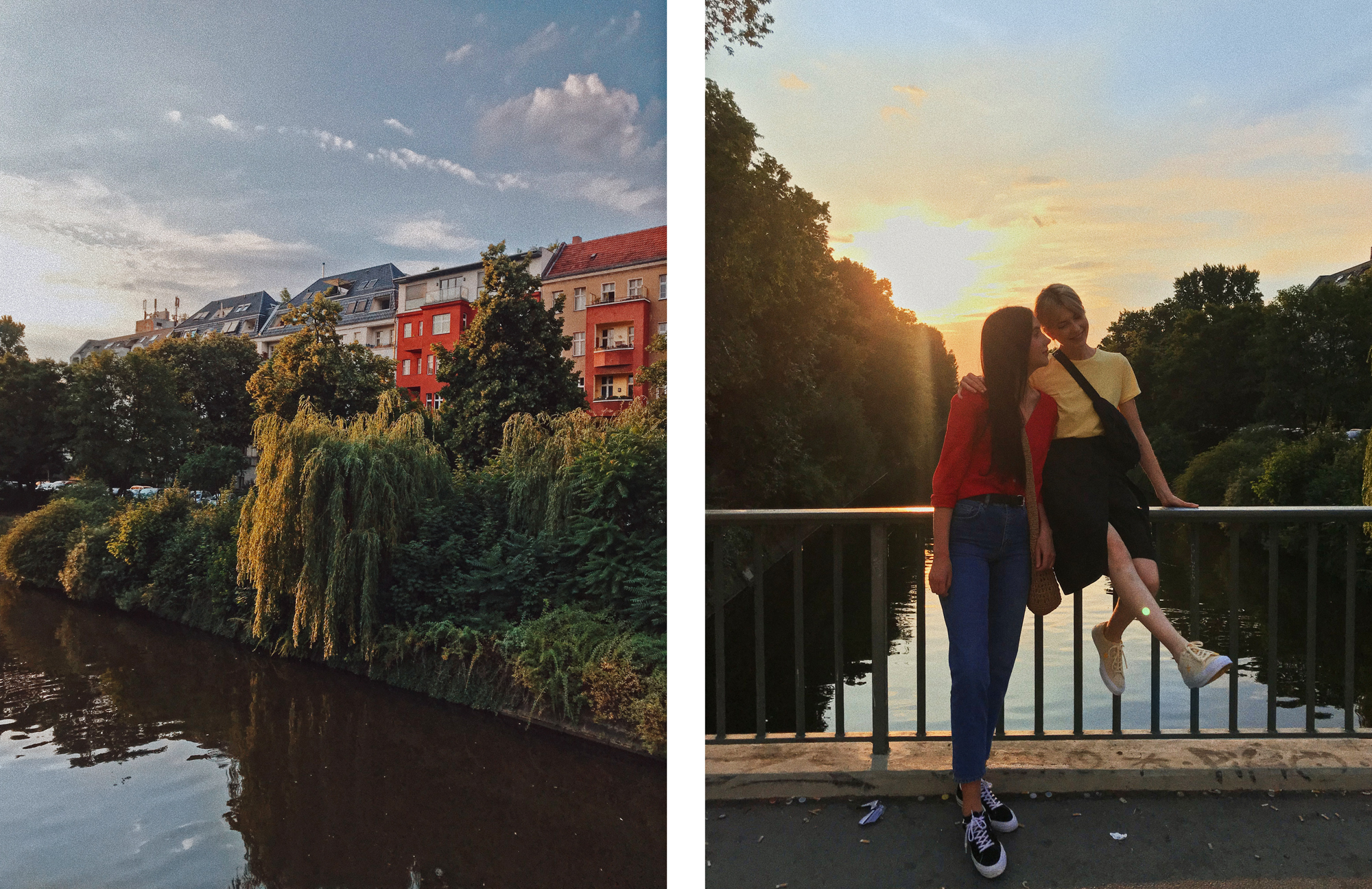 (T-shirt from LOAVIES)
Och så en kväll kom Fanny äntligen äntligen till oss!
And then Fanny finally came to us!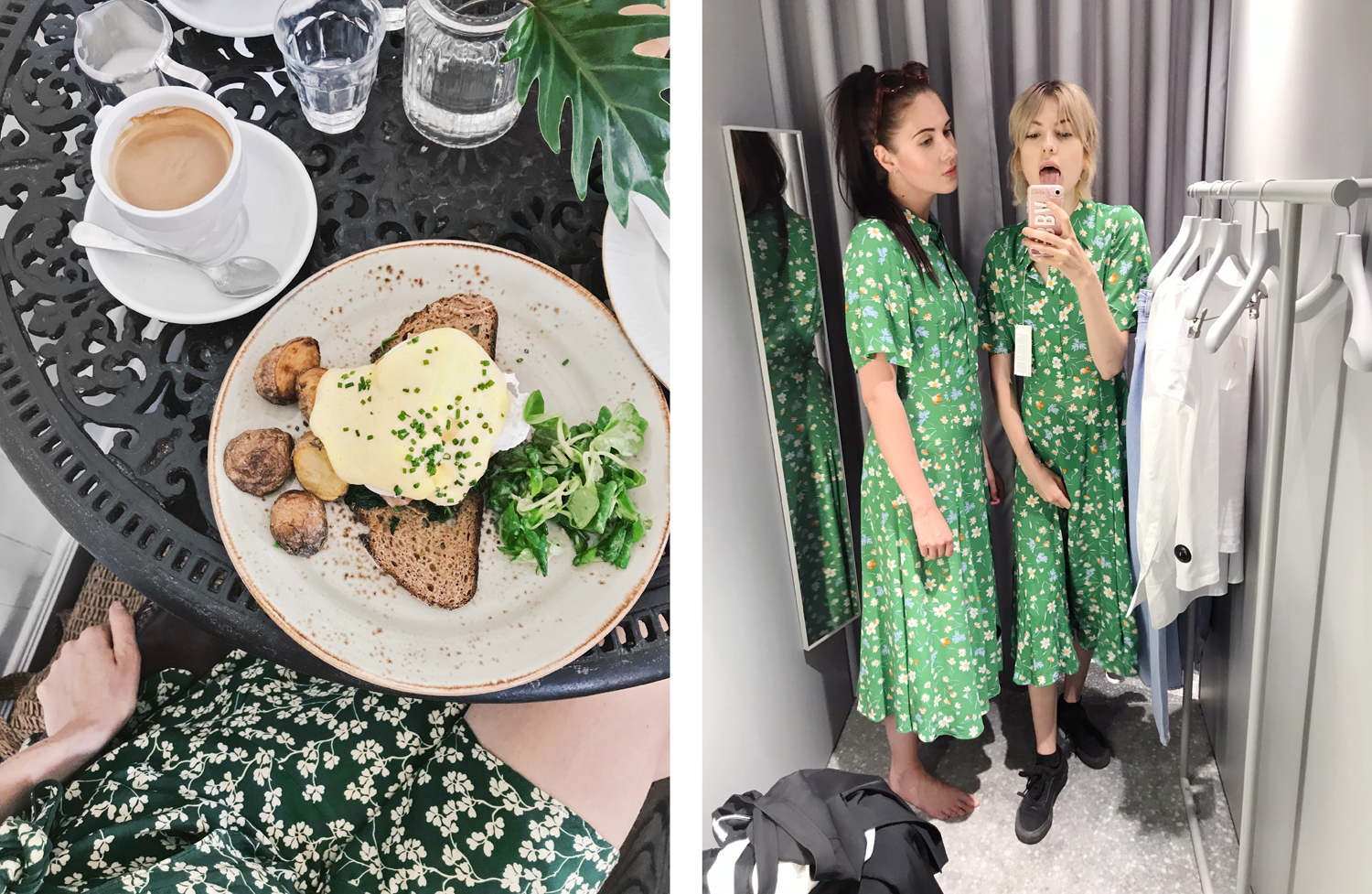 Vi brunchade eggs florentine i 32-gradig hetta och delade provrum i affärer där vi som vanligt föll för precis samma plagg.
We ate eggs florentine in 32-degree heat and shared changing rooms in stores where we as always liked the exact same garments.
Gick förbi favoriten König Galerie där jag nästan alltid blir mer fascinerad av själva byggnaden i sig än utställningarna (vilket säger mer om byggnaden än om utställningarna).
Walked by König Galerie where I almost always get more fascinated by the building itself than the exhibitions (which says more about the building than about the exhibitions).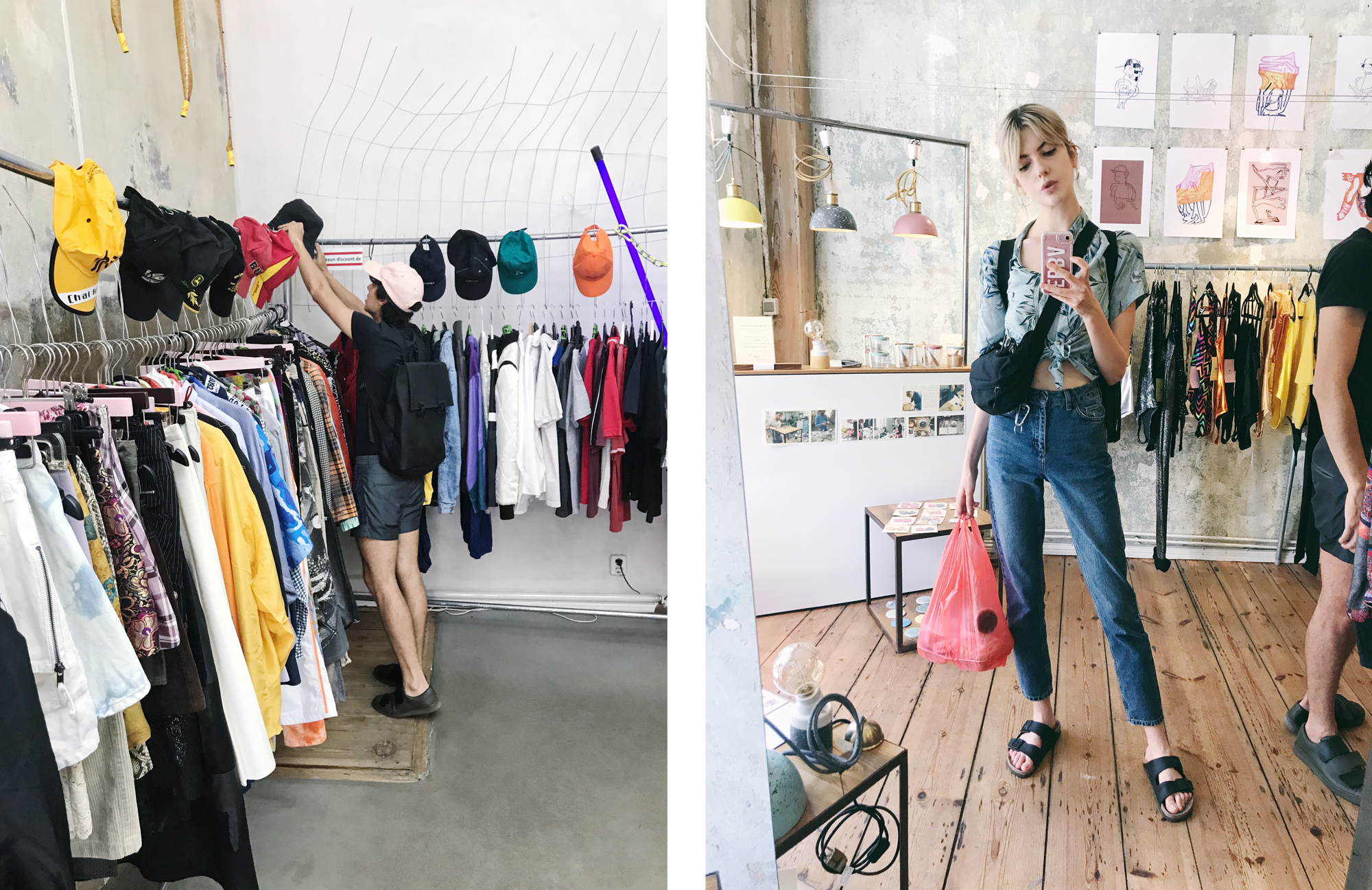 Sista dagen strosade vi bara runt i våra hoods en hel dag, besökte massor av små koncept-butiker och second hands. Det är så roligt att det ständigt dyker upp nya små ställen att besöka här.
The last day, we just walked around in our hoods for a whole day, visiting a lot of small concept stores and second hands.
Veckans film: Vi såg på The Disaster Artist på Netflix. ÄLSKADE den. Vill inte avslöja för mycket, så jag lämnar er med denna gif och en stark rekommendation.
This Week's Movie: We watched The Disaster Artist on Netflix. I LOVED it. Do not want to reveal too much, so I'll leave you with this GIF and a strong recommendation.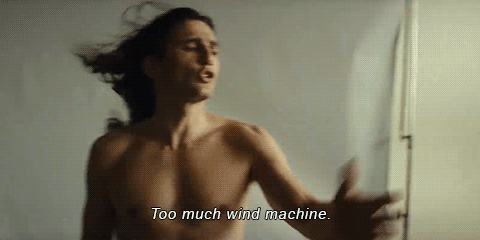 Veckans planer: Har.Inga.Planer! För första gången på länge är kalendern (i princip) tom, känns så befriande.
The week's plans: For the first time in a long time, my calendar is (pretty much) empty. It feels so liberating.