Den klassiska måndagskänslan, "ny vecka, nya tag", uteblev helt och hållet idag. Jag är hemma och repar mig efter att ha jobbat på Bread&Butter-mässan hela helgen, försöker knyta ihop alla trådar och göra bort sånt jag ligger efter med.
The classic Monday feeling, "New Week, New Possibilities", didn't occur today. I'm at home recovering after working at the Bread & Butter trade show all weekend.
Veckans tillstånd: Jag är gräsänka i veckan! Sean ska till Slovenien för att göra musik till ett teaterperformance. Är så pepp för hans skull! Men samtidigt lite depp, vi har inte varit ifrån varandra så länge sedan vi flyttade ihop i April. Det kommer vara så otroligt tomt här hemma.
Condition of the week: I am grass widow this week! Sean is going to Slovenia to make music for a theater performance. I'm so excited for him but at the same time a little sad, we haven't been apart for this long since I moved in with him in April. It'll be so incredibly empty here.
Veckans to-do: Jag har tänkt börja jobba med mina foton i Lightroom, så jag ska lägga någon dag på att lära mig programmet ordentligt. Har tänkt göra det så länge, men har av gammal vana fortsatt sortera bilderna i iPhoto och redigera i PS.
This week's to-do: I want to start working with my photos in Lightroom, so I'll take a day to learn the program properly. I've been thinking about doing that for a long time, instead of using iPhoto and Photoshop, and now I'm finally motivated enough.
Veckans inköp: Cykelhjälm. Skäms så mycket över att jag fortfarande rullar omkring i en så stökig stad som Berlin utan något på huvudet.
This week's purchase: A bicycle helmet. I'm so embarrassed that I'm still biking around in such a messy city as Berlin without protection on my head.
Förra veckan: Last week:
…Inleddes starkt med massor av tjej-häng (åkej några killer också). Hann både spendera en kväll i en park och en hel dag på stranden. Vädergudarna bjöd på 30 grader och sol.
… Started out in a great way with my girlfriends (okay, some dudes too). We both spent an evening in a park and a full day at the beach. The weather gods gave us 30 degrees and sunshine.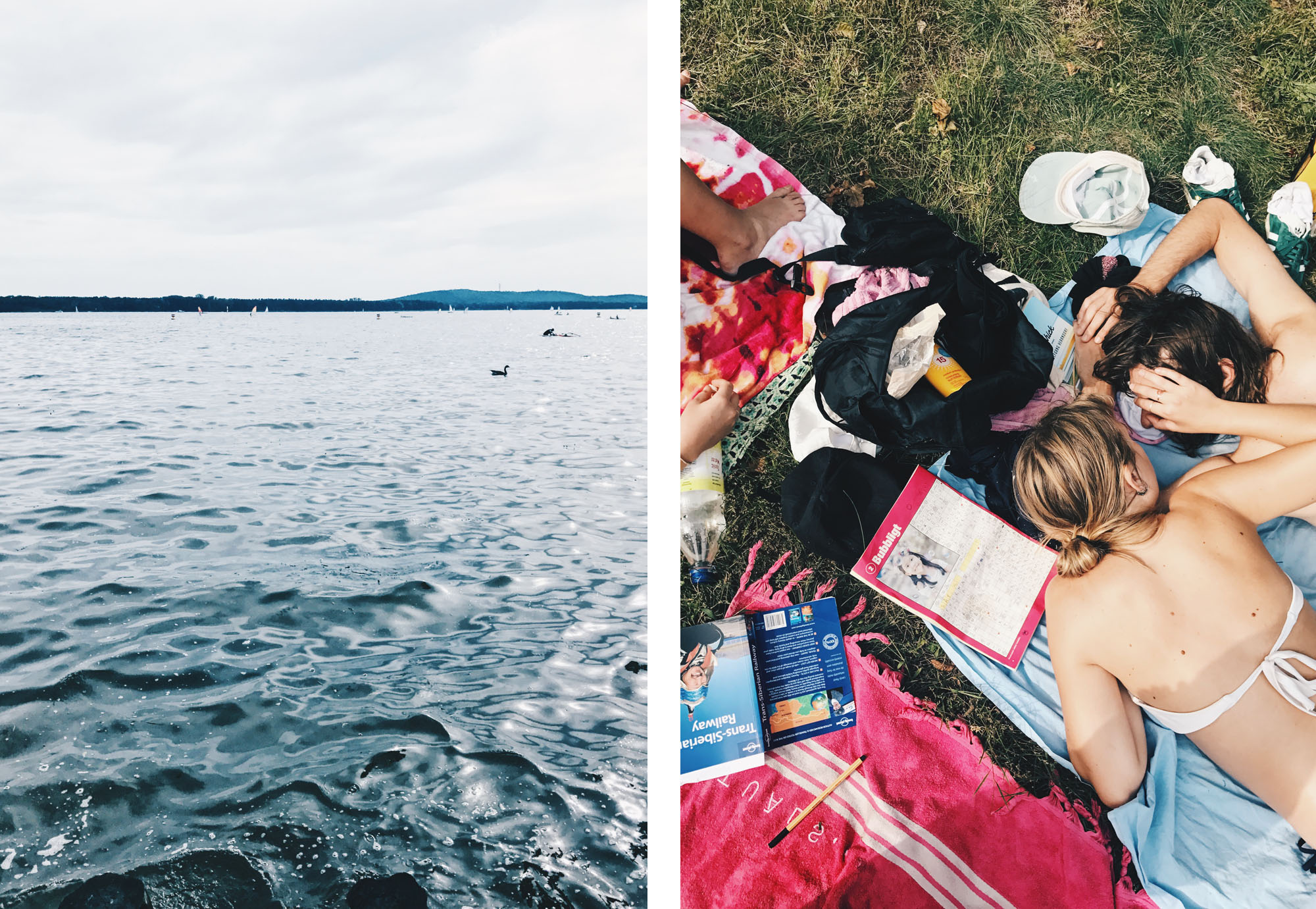 Vi har insett hur kul det är att "trendspana", ägnade flera timmar åt att rabbla ändlösa ute- och inne-listor. "INNE- att plugga, snälla killar, Instagram stories" och "UTE- raw food, att flytta till Berlin, contouring" (ni vet var ni läste det först). Mår så bra i mina tjejkompisars sällskap.

We have realized how fun it is to spot trends. We spent several hours making endless "hot and not"- lists. "HOT: studying, kind boys, Instagram stories" and "NOT- raw food, moving to Berlin, contouring" (remember where you red it first). I feel sooo good when I'm together with my girlfriends.
Efter detta vek jag resten av veckan åt jobb och vardags-sysslor, till exempel att springa (löpning är ute) och laga svingod kantarellpasta med kantareller från marknaden (kantareller är inne).

After that, I spent the rest of the week with work and normal everyday activities, such as running and cooking pasta with canterelles from the Turkish market.
I fredags och lördags var det dags för Bread and Butter. Jobb-mässigt gick det väldigt bra, jag var där för att promota Fossil och Napapijri som båda var nöjda med mina prestationer. Personligen tyckte jag att det var extremt påfrestande, atmosfären på mässor är verkligen ingenting för mig. Att mingla och vara professionell i sådan hög ljudnivå med människor ö-ver-allt dränerade mig på all social energi.

On Fridays and Saturday it was time for Bread and Butter. Job-wise, it went very well, I was there to support Fossil and Napapijri, both seemed very happy with me. Personally, I thought it was extremely exhausting, the atmosphere at fairs is really nothing my area. Mingling and being professional at a place filled with noise and people, drains all of my social energy.
Var så himla tacksam över att ha denna vid min sida. Han agerade fotograf, sällskap och mental coach i mina svaga stunder (imponeras verkligen gång på gång av hur klok han är).
I felt so blessed having this person by my side. He was my a photographer, company and mental coach in my weak moments (I get impressed over and over again by how wise he is).
På lördag natt hade tidigare nämnda person label night med sitt skivbolag, han spelade live med sin dj-partner Snorre. Kraschade i sängen på morgonkvisten.
On Saturday night, the above mentioned person had label night with his record label, he played live with his dj partner Snorre. I passed out in my bed in the morning.
Behövde verkligen repa mig igår, spenderade större delen av dagen i sängen. På kvällen tog jag mig ut för att fira Dans födelsedag i en prototyp av ett tält han byggt upp i sin studio. Om denna prototyp blir verklighet kommer jag vara den första att införskaffa ett eget exemplar, lovar.

Needed to recover yesterday, so I spent most of the day in bed. In the evening I went out to celebrate Dan's birthday in a prototype of a tent he built in his studio. If this prototype becomes reality, I'll be the first one to get myself one, I promise.

Veckans inlägg: Inte kommit så långt i min planering än, hehe. Tänker kanske visa er kontoret jag brukar sitta på, berätta lite om hur jag strukturerar mitt jobb eller snacka lite om mitt introverta psyke eftersom det blev så påtagligt i helgen. Och visa någon outfit såklart. vi får se vad som dyker upp helt enkelt!

The week's posts: I haven't come that far in my planning yet, hehe. Maybe I'll show you the office I usually sit on, tell you a bit about how I structure my work or talk about my introvered psyche since it became so noticeable this weekend. And show you an outfit, of course