Hej på er! Blev ingen veckans update i måndags av obvious reasons, så här kommer en liten lägesuppdatering med vad jag har haft för mig på sistone, bättre sent än aldrig:

Hey there! Didn't have time to make a weekly update this Monday for obvious reasons, so here's a little update of what I've done lately, better late than never: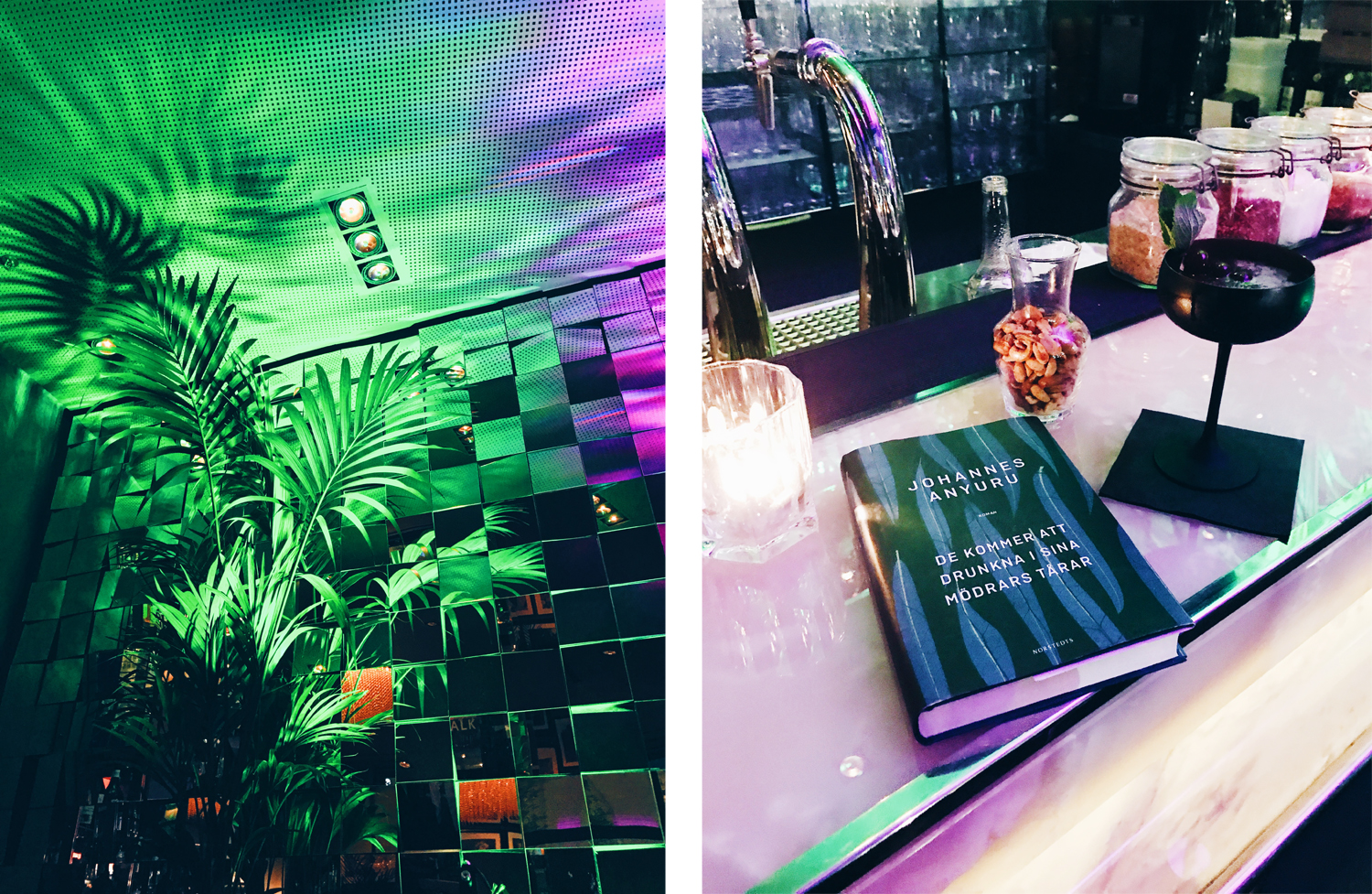 I fredags, efter att ha slutat jobbet, ensam-hängde jag på hotell bar medan Sean spelade. Tycker att det är fett skönt och bara chilla "själv" och underhålla sig med böcker, sociala medier, servett-origami (haha) eller bara att betrakta alla turister som hänger där. (I ärlighetens namn gjorde jag en liten avstickare till mina kompisar på en gallery weekend-fest ett tag också innan giget var slut, haha).
On Friday, after finishing the work, I was hanging at a hotel bar while Sean was playing. Feels fun to just chill alone and entertain myself with books, social media, napkin-origami (haha) or just watching all the tourists hanging out there. (Okay to be honest I went off to my friends at a gallery weekend party for a little while during the gig too, hehe).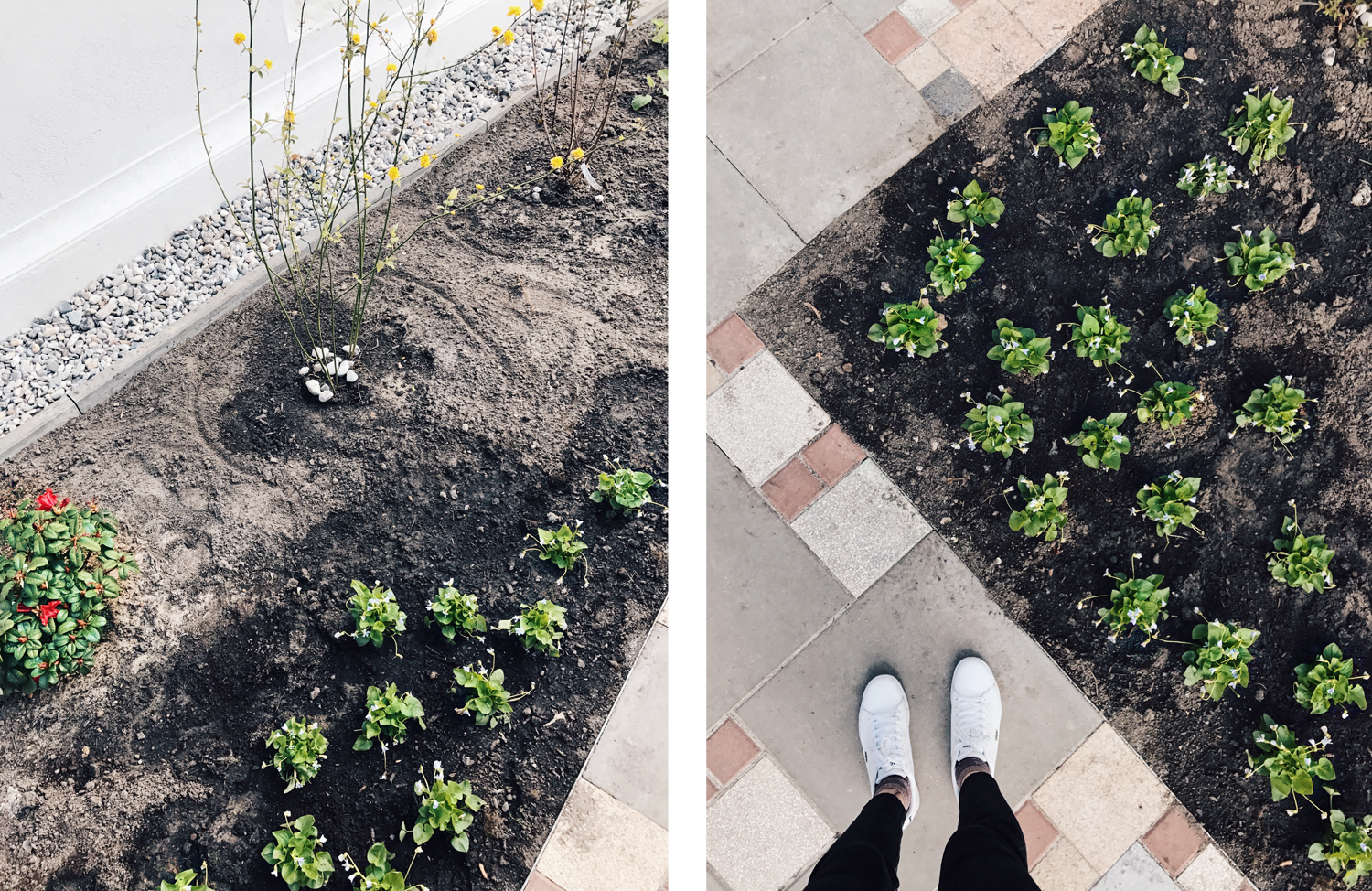 Dagen därpå steg vi upp i tid för att vara goda grannar och hjälpa till att plantera växter på den gemensamma utegården. Det var astrevligt att gräva lite i rabatten och chit-chatta med personerna man annars bara passerar i trapphuset, för en gångs skull verkar jag hamnat i ett tyskt bostadshus med enbart supergulliga grannar (efter att ha stått ut med den ena märkligare/aggressivare grannen efter den andra).
The next day we got up on time to be good neighbors and help to plant plants in the common yard. It was really nice to do some gardening and chit chat with the people who we otherwise just pass by in the stairwell, for once, I'm living in a German residential building with only super nice neighbors (after having to handle one more strange or aggressive neighbor after the other during my Berlin years).

Vi har också suttit inne och tittat på möbler till lägenheten. Allt har gått så fort på sistone; från liten studentetta ensam i Gbg till att titta på soffor och garderobslösningar till den här stora lägenheten i Kreuzberg tillsammans med honom. Allt känns väldigt rätt och självklart, men jag kan inte låta bli att reflektera över hur snabbt allt blivit så seriöst. Vi har också ätit den dagliga falafeln (blir falafel-lunch på kontoret var och varannan dag eftersom jag är en mästare på att glömma lunchlåda, och för att det är gött och prisvärt såklart). Sist men inte minst tog jag en selfie på vår ryska favvo-restaurang som har toaletter där vägarna är klädda i superfint turkost kakel.
We have also been inside looking at furniture for the apartment. Everything has gone so fast lately; from a small student room alone in Gbg to picking out sofas and wardrobe solutions to this large apartment in Kreuzberg together with him. Everything feels 100% right, but I can't help but thinking about how fast everything has become so serious.
We have also eaten the daily falafel (haha I have falafel lunch at the office each and every other day since I'm a master of forgetting to bring my lunch box, and because it's good and affordable of course).
Last but not least I took a selfie at our fav Russian restaurant which has toilets where the walls are dressed in these super nice turquoise tiles.

Tiden som inte spenderats med trädgårdsarbete, mat eller inredningsinköp har spenderats i horisontellt läge i våra fina nya linne-sängkläder. Verkligen värt att investera i nice sängkläder, det är ju trots allt där man spenderar största delen av sin tid i hemmet.
Jag fotade faktiskt inte en enda bild på första maj, men hade en superkul dag med brunch och open air-dans. Nu är jag tillbaka på kontoret och räknar ner timmarna tills det är dags att stänga av datorn och hoppa på cykeln- vi är nämligen hund-passare igen så lilla Trisha väntar där hemma.
The time not spent with gardening, food or interior purchases has been spent in horizontal position in our nice new linen bedding. It's SO worth it investing in nice bedding, after all, that's where you spend most of your time in the home.
I didn't actually take a single picture during the first of May, but had a nice day with brunch and open air dance. Now I'm back in the office and counting down the hours until it's time to shut down the computer and jump on the bike – we're dog-sitting again so lil Trisha is waiting at home.