Nu kör vi igång höstens första weekly update! Har ju saknat att göra dessa inlägg, och jag har förstått det som att ni också gillar dem, right? Det blir alltid en så mysigt personlig stämning när man kan tillåta sig att prata om tankar och planer utan höga kvalitetskrav. Låt oss börja med att gå igenom vad jag gjort på sistone!
Time for this autumn's first weekly update! Have you missed these posts, and if I got you guys right you've been missing them too, right? I like the personal atmosphere that appears when I can allow myself to write freely about thoughts and plans without high quality requirements. Let's start by looking at what I've been up to lately!
Förra veckan började ju på Öland. Var sådär careless som man bara blir efter en månads semester.
Last week started, as you know, at Öland. I reached a point where my mind was totally careless- a point you only reach after a month's vacation.
I torsdags var vi tillbaka i Berlin, och välkomnades hem av superfin middag och båt-tur med vattenmärket Vöslauer. De firade sin nya kollektion med illustratören Jean Jullien (big like!). Jag hade på mig klänning från 5preview, dojjor från G-star och väska från vagabond.
Last Thursday we were finally back in Berlin, and were welcomed home by a super nice dinner and boat trip with the water brand Vöslauer. They celebrated their new collection with illustrator Jean Jullien (BIG like). I wore a dress from 5preview, boots by G-star and bag from Vagabond.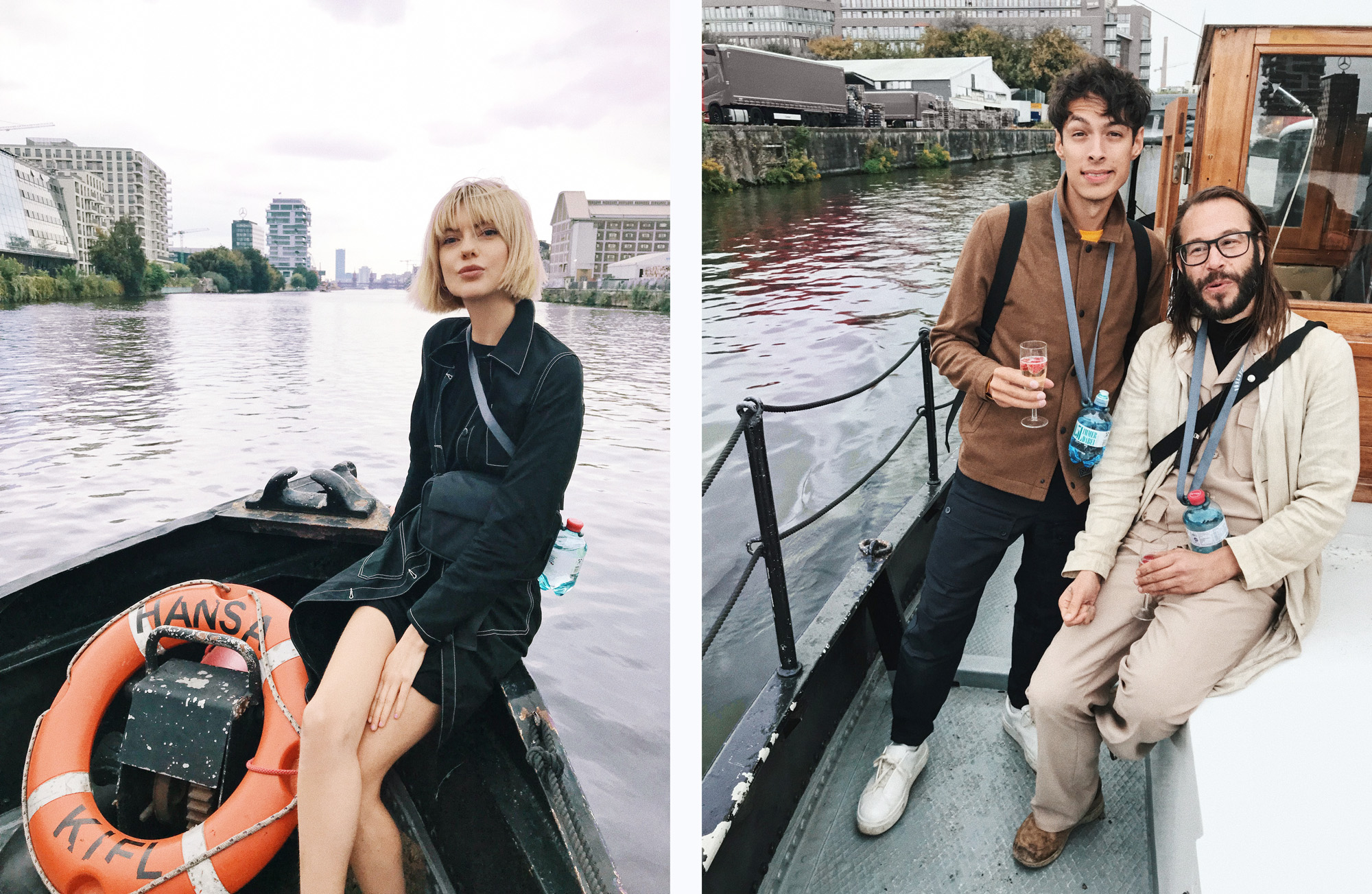 Med mig hade jag dessa stollar. Tony är liksom en person som man får på köpet när man är ihop med Sean, och jag är så glad för den bonusen. Vi har det så himla kul.
I brought my boys with me. When you're together with Sean, Tony is a close friend who kind of comes in the package for free. I'm so happy for that bonus, we have so much fun together.
När helgen kom så var det dags för Bread & Butter! I år var jag där med G-star som en av deras ambassadörer.
Then the weekend, and Bread & Butter came! This year I attended as one of G-stars ambassadors.
Därmed vad jag såklart klädd från topp till tå i G-star. Titta vad fin jumpsuit!
…so I was dressed from head to toes in G-star. Look what a nice jumpsuit!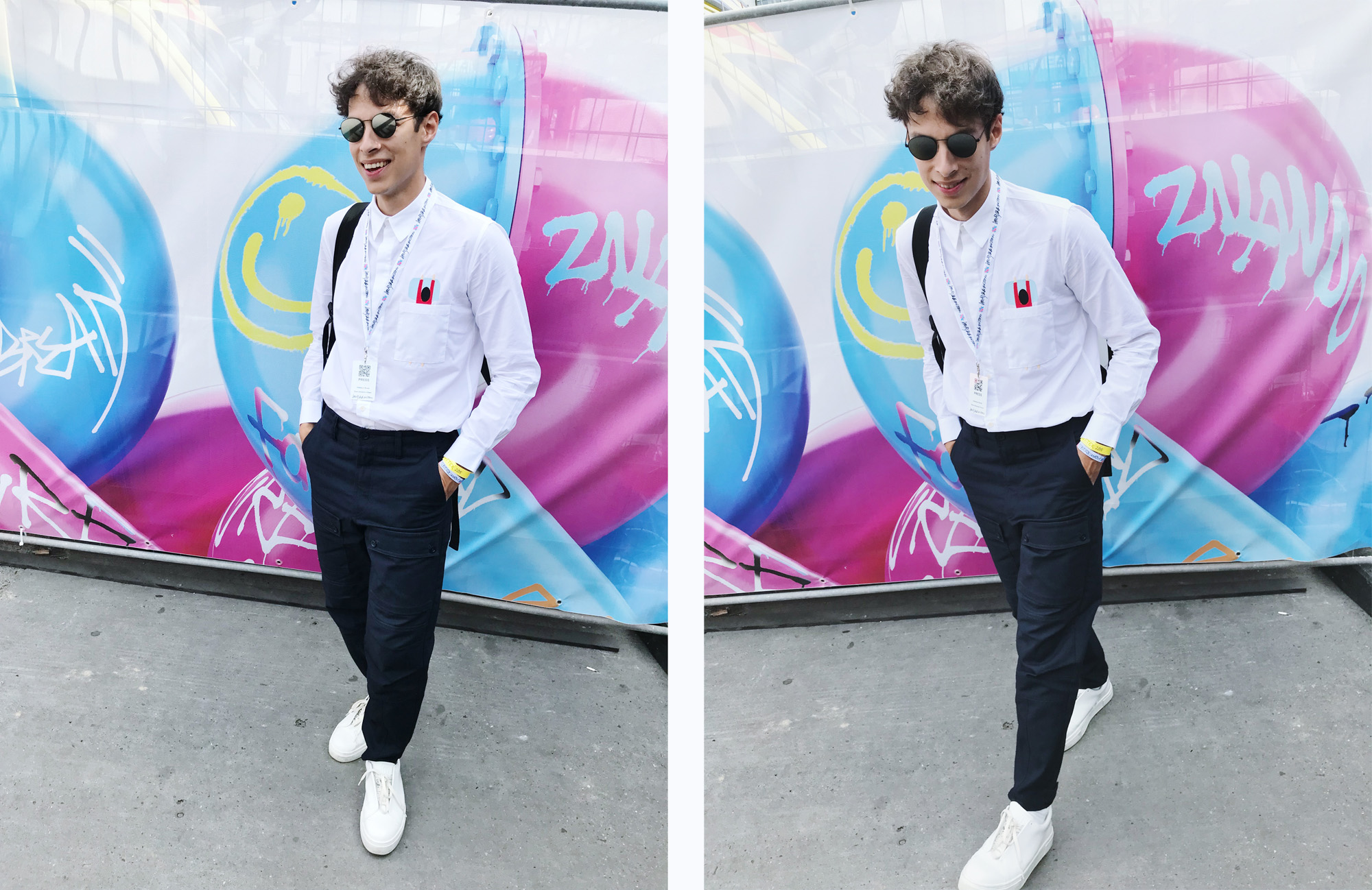 Sean gick omkring och såg ut som ett riktigt mäss-proffs i sina badges, brillor och skjorta. Bejb.
Sean looked like a real fair-pro with all the badges around his neck. Total babe.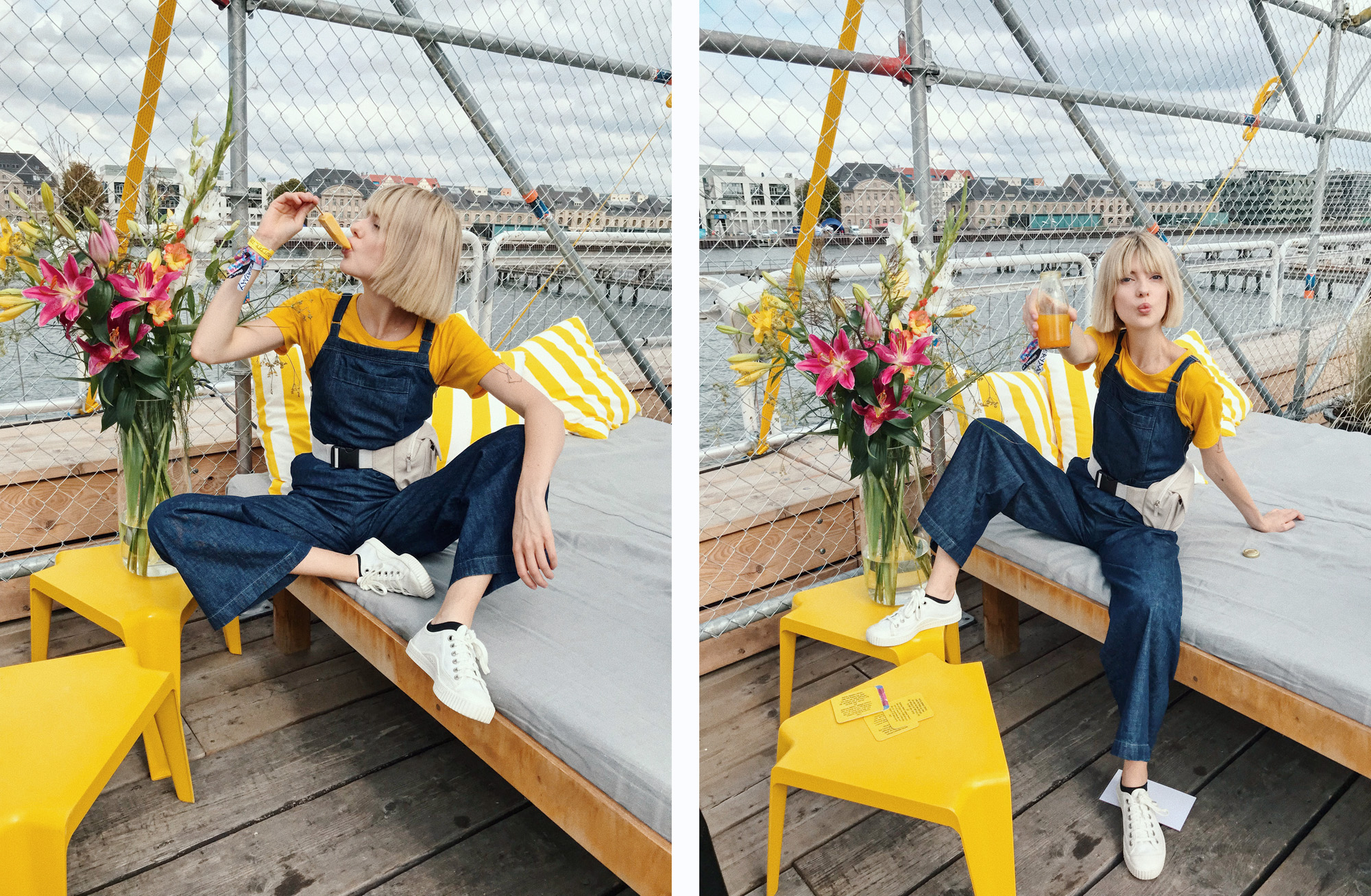 Ja, som jag berättade igår så gick det superbra! Lyckades bra med att kombinera jobb, nöje och intag av diverse gula livsmedel som matchade min outfit.
And as I told you yesterday, it went great! I managed to combine work, pleasure and intake of various yellow foods that matched my outfit.
Det hela avslutades med fest och konsert, som vi lämnade tidigt till förmån för tv-soffan. Ett helt rimligt val när man inte fått njuta av sin alldeles egna soffa på över en månad ändå.
It all ended with a party and concert, which we left early in favor of the couch at home. A very reasonable choice when you haven't gotten to enjoy your own sofa in over a month.
Veckans viktiga: Jag förtidsröstade här i Berlin igår, och innan denna vecka är över kommer alla ni som läser detta också ha röstat (*spänner ögonen i var och en av er*).
Jag har verkligen saknat den diskussionsvänliga atmosfären vi 95:or befann oss i när vi fick rösta för första gången- gymnasieskolans korridorer alltså. Nu är det svårare att hitta diskussionspartners, även om jag gjort mitt bästa för att terrorisera Sean, vänner och familjemedlemmar. Vill ni sista minuten-plugga lite inför söndag tycker jag att Kvartal's valpoddar har varit tankeväckande och ovinklade. Av valkompasserna som finns att tillgå tyckte jag att DN erbjöd den bästa, då man inte kunde se partiernas olika stänningstagande och därmed inte heller blev undermedvetet påverkad av dessa.
The most important thing of the week: It's election in Sweden on Sunday, so I voted in advance yesterday. This election was really hard, and to be honest I'm not very happy with the political situation we're in now (well, honestly I think extremely few swedes are), but in times like these it's still really really important to use your right to vote.
Veckans planz: Imorgon flyger jag till Malmö för att hälsa på mina malmötjejer, och sedan åker jag till Köpenhamn på en konferens. Kommer hem lagom till valresultatet söndag kväll.

My plans for the week: I'm flying to Malmö tomorrow to hang out with my best girlfriends there! Then I'm off to Copenhagen to attend a conference, before coming back to Berlin on Sunday.