Låt mig presentera veckans utgåva av weekly update! Här har ni den!
I give you: Biceps, role models and flowers! It's this week's weekly update!
Veckans känsla: Vårpirr!! Temperaturerna ska ligga stadigt runt 20-strecket hela veckan. Häggblommor och små liljor har slagit ut i parkerna, och träden är täckta av knoppar. Den här årstiden gör att hela mörka vintern känns värt mödan.
Feeling of the week: Spring feelings!! The temperature will stay around 20 degrees throughout the week. Flower- and leave buds are finally everywhere in the parks. This season make me feel that the long clod winter was worth the effort.
Förra veckan: Last week:
Veckan började med avsked. Vi spenderade en sista eftermiddag med Siri med glass och uteservering innan vi kramades hejdå tidigt morgonen därpå.
The week began with a farewell. We spent our a last afternoon with Siri having ice cream and hanging out in the sun, then I gave her a long hug before she took off to the airport.
Mitten av veckan hade vi lägeheten för oss själva i några dagar, innan mamma och pappa skulle komma att rulla in. Dessa dagar spenderades med jobb, städning och träning- sådant som tenderar att prioriteras bort när man har besök.
Ser ni förresten del lilla bulan som dykt up på min överarm? Den fanns INTE där när jag skaffade gymkort för några månader sedan kan jag lova er.
By mid-week, Sean and I had our apartment for ourselves for a few days before mom and dad would come. These days were spent on work, cleaning and working out – stuff that tend to be put on ice when you have visitors to entertain.
By the way, can you see the little bump on my arm? I can assure you that that didn't exist when I got my gym card a few months ago.
Vi har ätit en massa goda grejer på uteserveringar. Med så stillasittande inomhus-jobb som både jag och Sean har är det en blessing att få komma ut och spendera lunchpausen i det fria.

We've been eating a lot of good stuff at outdoor servings lately. Having stationary indoor-jobs like me and Sean, it's so nice to come out and spend the lunch break in the fresh air.
Mot slutet av veckan kom päronen och hundarna till stan.
Then my parents and the dogs arrived.
Även denna gång övertalade vi våra gäster att följa med på ett klättringspass, och imponerades av hur duktiga de var. Jag kanske har klättringen i blodet ändå.
Once again, we persuaded our guests to come climbing with us, and I got really impressed by how good they were. Who would have thought?
Veckans jobb: Första delen av TNF-kampanjen jag och Siri gjorde släpptes i onsdags! Kort och gott handlar #wemovemountains om att lyfta fram starka, självständiga kvinnliga förebilder, eftersom det är epitet som ofta används för att beskriva män i medier. Här är vårt Hero portrait! Resten av allt content vi skapat kommer publiceras senare i April.
Campaign of the week: The first part of the TNF campaign Siri and I did was released on Wednesday! In short, #wemovemountains is about highlighting strong, independent female role models, since that is words commonly used to describe men in media. Here is our Hero portrait! The rest of all content we created will be published later in April.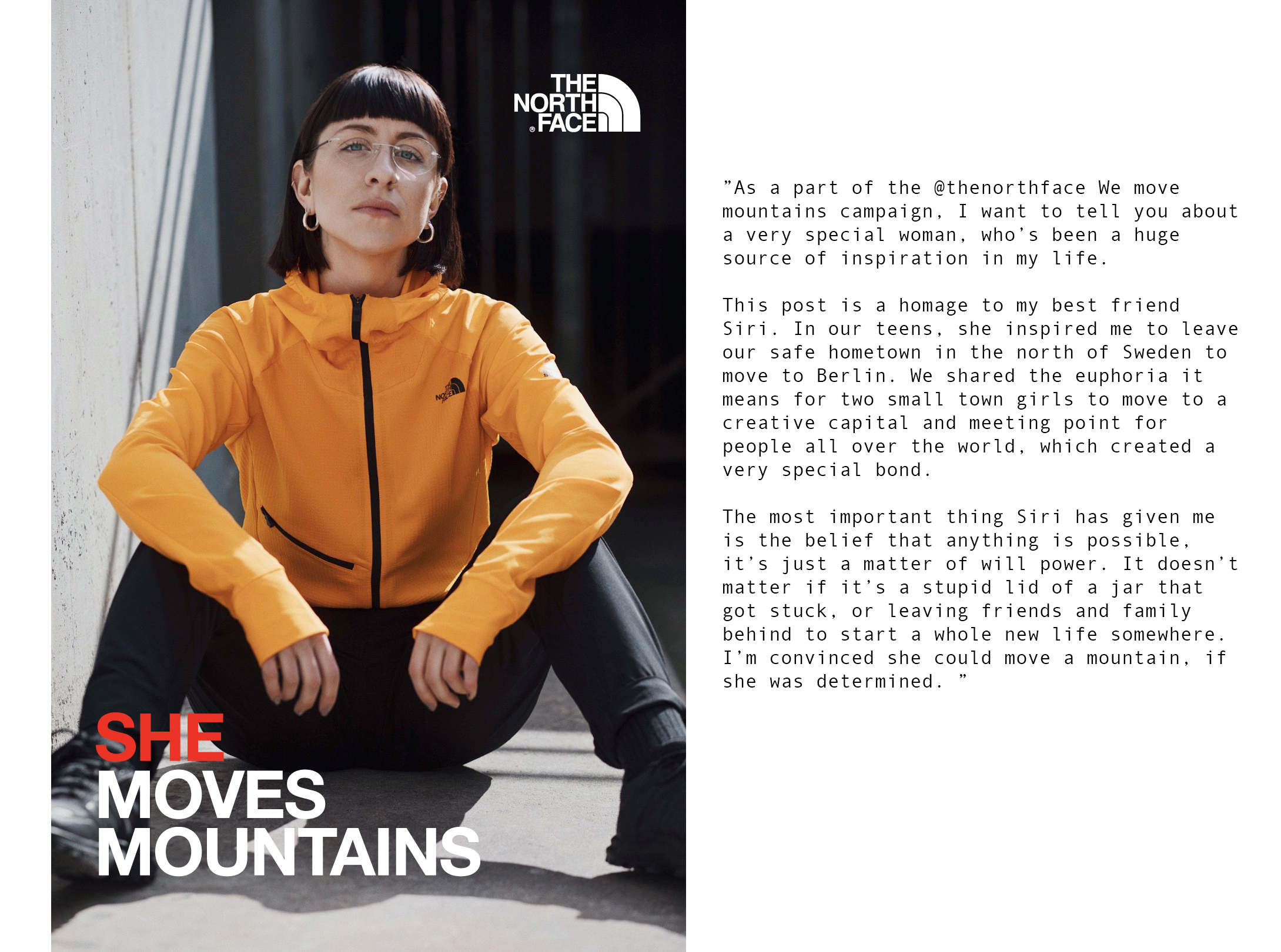 Photo by Jessica.
Veckans inlägg: Åh, som jag redan sagt har jag massor av roliga grejer att visa er. Vad sägs om ett recept på fantastisk sötpotatis-gnocchi, lite beauty-favoriter och en outfit?
Posts of the week: Oh, like I said yesterday, I have lots of fun stuff to show you. How about a recipe of an amazing sweet potato gnocchi, some beauty favorites and an outfit?