Slutligen har har vi kommit till den sista dagen i min lilla Islandsdagbok tillsammans med MyBestBrands. Detta var vår enda lediga dag och allt vi fått veta av arrangörerna var att vi skulle få åka på äventyr med Activity Iceland. Pirriga samlades vi i hotellbaren på morgonen.
Finally, we come to the last day in my little series Iceland Diary posts together with Mybestbrands. This was our only day off and all we knew about the schedule for the day was that we were going on adventures with Activity Iceland Tours. All of us were pretty excited when we gathered in the hotel bar in the morning.

EOS Lipbalms- Douglas
Förutom regnjacka och kamera packade jag självklart mina favvo-läppbalsam från EOS. De består av 100% naturliga, veganska ingredienser som till 95% är ekologiska (huvudingredienserna är jojobaolja och sheasmör). Dessa två, blueberry acai och vanilla är mina bästa lukter. Som en erfaren norrlänning vet jag hur viktigt det kan vara med en fet kräm på läppar och hud för att skydda ansiktet mot kylan.
Besides from my rain jacket and camera, I packed my favs lip balm from EOS. They consists of 100% natural, vegan ingredients of which 95% are certified organic (main ingredients are jojoba oil and shea butter). These two, acai blueberry and vanilla are my fav flavors. As an experienced swede, I know how important it is to have a fat balm on the lips and skin to protect the face from the cold in these climates so I'll always have one of these in my pocket this winter.
Utanför brummade denna enorma jeep. Man ser inte riktigt hur stor den är på bilden, men det var en riktig monsterbil. När väskorna var packade klättrade hela gänget in tillsammans med två isländska guider!

This gigantic jeep waited for us outside the hotel, so we climbed in together with our two guides and took off!
Efter någon timmes bilfärd gjorde vår chaufför en tvärsväng ner från vägen och rakt ut på den Isländska glaciären. På grund av storm kunde vi inte köra så långt ut, jag har aldrig känt mig så nära att lätta från marken och flyga iväg som när jag klev ut ur bilen.
After about an hour's drive, our driver did a sharp turn off the road and straight out on the Icelandic glacier. Because of the storm, we couldn't drive so far. I've never felt so close to takeoff from the ground and fly away as when I stepped out of the car, the wind was craaay.
Tur jag hadde min snygga regnjacka från Brixtol.
It was raining too- Luckily I had my rain coat.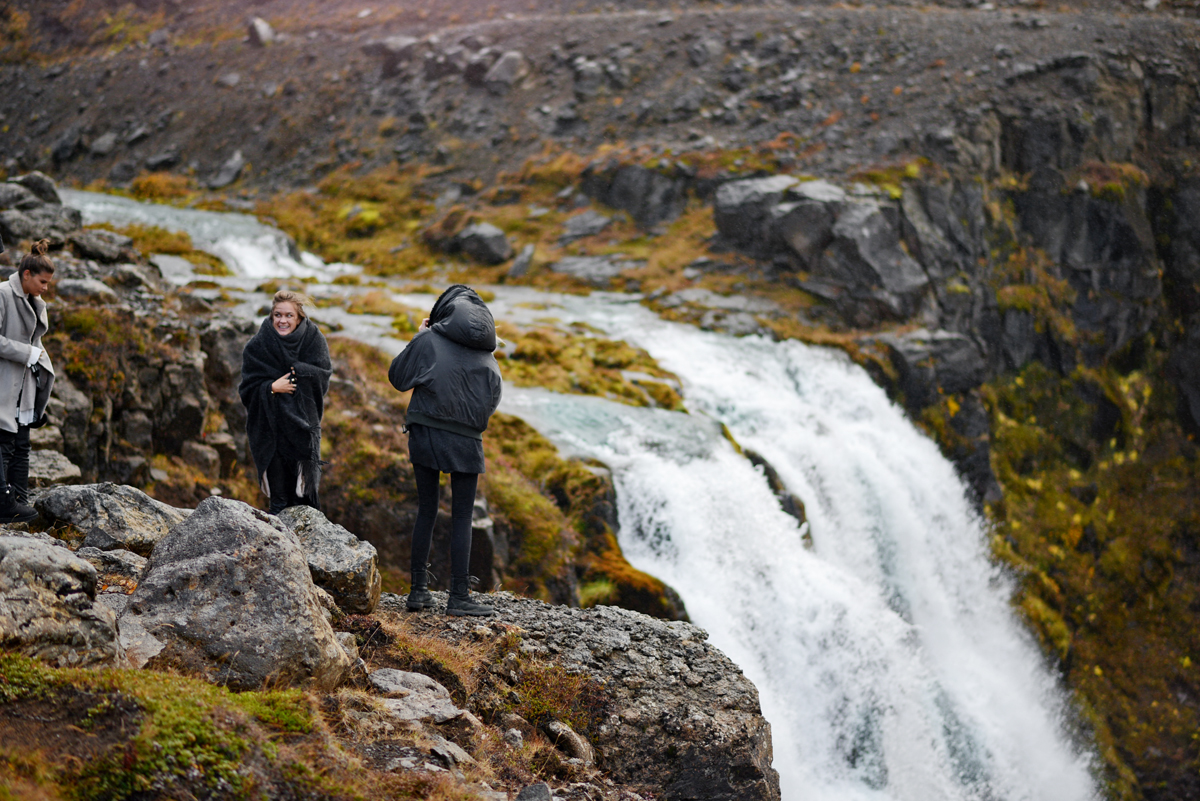 Nästa stopp var ännu ett brutalt vackert vattenfall.
The next stop was another breathtaking waterfall.
ALLTSÅ!
WOAH!
I brist på vägar körde vi stundvis genom helt sjuka terränger. Till exempel färdades vi en sträcka mitt i den brusande floden på bilden ovan.
We drove some parts of the way off road- for example when we drove in the middle of this river!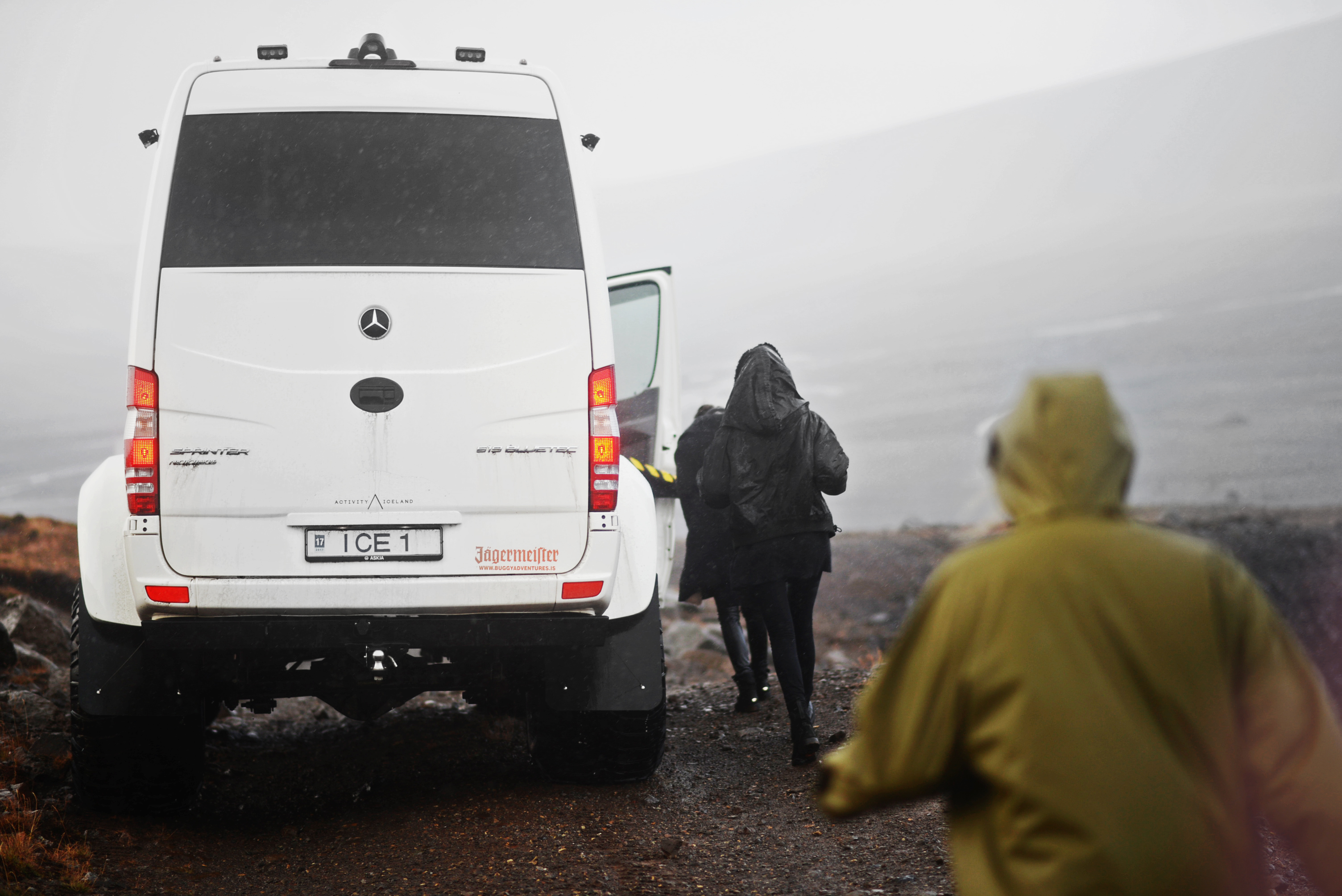 Vi stannade flera gånger vid vackra locations, men varje stopp blev kortare och kortare i takt med att stormen tog till.
We made many stops on the way at beautiful places, but only quick ones since the storm was so intense.
Någon gång på eftermiddagen sprack himlen äntligen upp lite precis när vi svängde in på en parkering med dessa små buggy-bilar. Vi fick ta på oss overaller och köra varsin buggy i det otroligt leriga landskapet mitt mellan betande islandshästar och höga berg.
Sometime in the afternoon, the clouds finally lightened up a bit just when we stopped at a parking lot where these little buggies waited. We got to put on overalls and then we drove the buggys through the incredibly muddy landscape in between grazing Icelandic horses and high mountains.
Haha! Här är alla sjöblöta och lyckliga. Efter detta åkte vi vidare in till Reykjavik för att äta en Isländsk middag innan vi vemodiga åkte hem igen. Ville verkligen inte lämna Island dagen därpå, hade gladeligen stannat några dagar (veckor) till!
Haha! We got soooo wet, but happy. After this we went to Reykjavik to have a really good Islandic dinner before we went to the hotel to sleep our last night there before we had to go home. I felt so sad having to leave, I didn't want the trip to end.
Post in collaboration with EOS