Hej på er! Idag har jag tänkt att berätta hur jag brukar organisera mitt jobb som frilansande influencer, modell och mångsysslare. Jag har alltid flera bollar i luften, deadlines att hålla reda på och ekonomiska frågor att ta hand om. Som grädde på moset är jag en väldigt rörig person, så utan dessa program skulle min vardag falla samman i kaos på några minuter. Dessa är mina life-savers:

Hi there! Today I'm going to tell you how I usually organize my work as a freelance influencer, model, and multi-tasker. I always have several assignments going on, deadlines to keep track of and financial issues to take care of. On top of that, I'm a very messy person, so without these programs my everyday life would collapse in a few minutes. These are my life savers:
Planering: /Planning: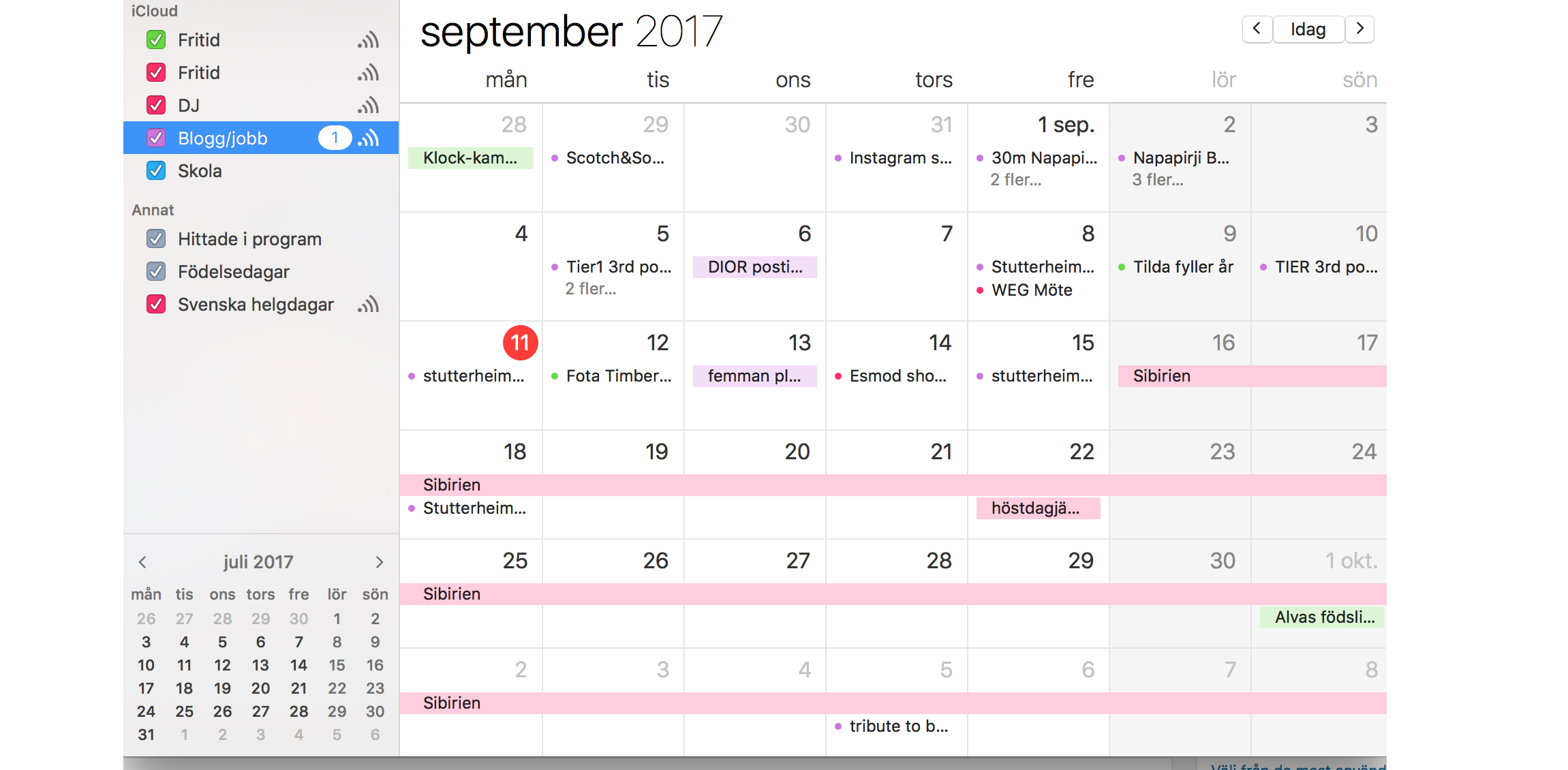 Såhär kan en vanlig månad i min kalender se ut. Jag använder apples egna kalender-app och har tre kategorier; jobb, skola och fritid. Jag och Sean delar vissa av våra kalendrar, exempelvis har han min jobb-kalender så han vet vilka uppdrag jag har på G, och jag har hans DJ-kalender så att jag vet när han gigar. Kalendern synkas mellan mobilen och datorn så om någonting kommer upp när jag är ute på vift är det bara att lägga till det i telefonen.
This is how a regular month in my calendar may look. I use Apple's own calendar app and have three categories; work, school and free time. Me and Sean share some of our calendars, for example, he has my job calendar so he knows what assignments I have coming up, and I have his DJ calendar so I know when he's playing. The calendar is synced between the phone and the computer so if something comes up when I'm on the go, I just add it in the phone.
Ekonomi: /Economy:
När det kommer till Ekonomi är det två saker som gäller för mig. Först och främst är det Billogram, den tjänst jag skickar mina fakturor genom. Det är en gratis site som är otroligt användarvänlig och lätt att förstå sig på, även för någon som tycker att bokföring är krångligt. Själva kassaboken skriver jag i programmet Bollbok, ett gammalt och simpelt, men väldigt bra och välfungerande bokföringsprogram. Eftersom Sean råkar vara en frilansande revisor har han fått ta över mycket av min bokföring nu.
When it comes to Economy, I use two tools: Billogram, the service I send my invoices through. It's a free site that's incredibly user-friendly and easy to understand, even for someone who thinks accounting is difficult. I write my own bookkeeping in a program called Bollbok, an old and simple, but very good and well-functioning accounting program. Since Sean happens to be a freelance accountant, he has taken over much of my accounting now.
Organisering:
För att hålla koll på alla uppdrag, vars deadlines ofta sträcker sig över flera månader, använder jag google kalkylark. Där har jag ett sheet där jag antecknar uppdragsgivare, deadline, ersättning, uppdrag, etc. Sedan använder jag olika färger för att markera om materialet är producerat, på värt eller postat, och om fakturan är skickad eller betald. Detta ark ger mig en så bra överblick över pågående samarbeten, och gör så att jag kan vara säker på att jag levererar vad som förväntas av mig, och att jag får den överenskomna ersättningen.
Jag har också en mapp på dropbox där jag sparar ner alla kontrakt jag får, för att de ska vara lättåtkomliga från alla enheter om några frågetecken uppstår under ett uppdrag.
To keep track of all missions, whose deadlines often extend over several months, I use google spreadsheets. There I have a sheet where I note the company, deadline, salary, assignment, etc. Then I use different colors to mark whether the material is produced or posted, and if the invoice is sent or paid. This sheet gives me such a good overview of ongoing collaborations, so I can be sure that I deliver what is expected of me and that I get the agreed compensation.
I also have a folder on dropbox where I save all the contracts I get, so that they are easily accessible from all devices if any questions comes up during an assignment.
That's it! Utöver detta har jag såklart en triljard anteckningar på diverse papper och i iphonens digitala anteckningsblock, och ännu fler mentala notes i min konstant snurrande hjärna, haha (men där lyser organisationen med sin frånvaro). Har ni några bra tips för att göra frilansar-livet lättare?
That's it! Besides this, I have (of course) a trillion notes on different papers and in the iPhone's digital notebook, and even more mental notes in my constant spinning brain, haha ​​(but there, the organization shines with it's absence). Do you have any tips to make life as a freelancer easier?