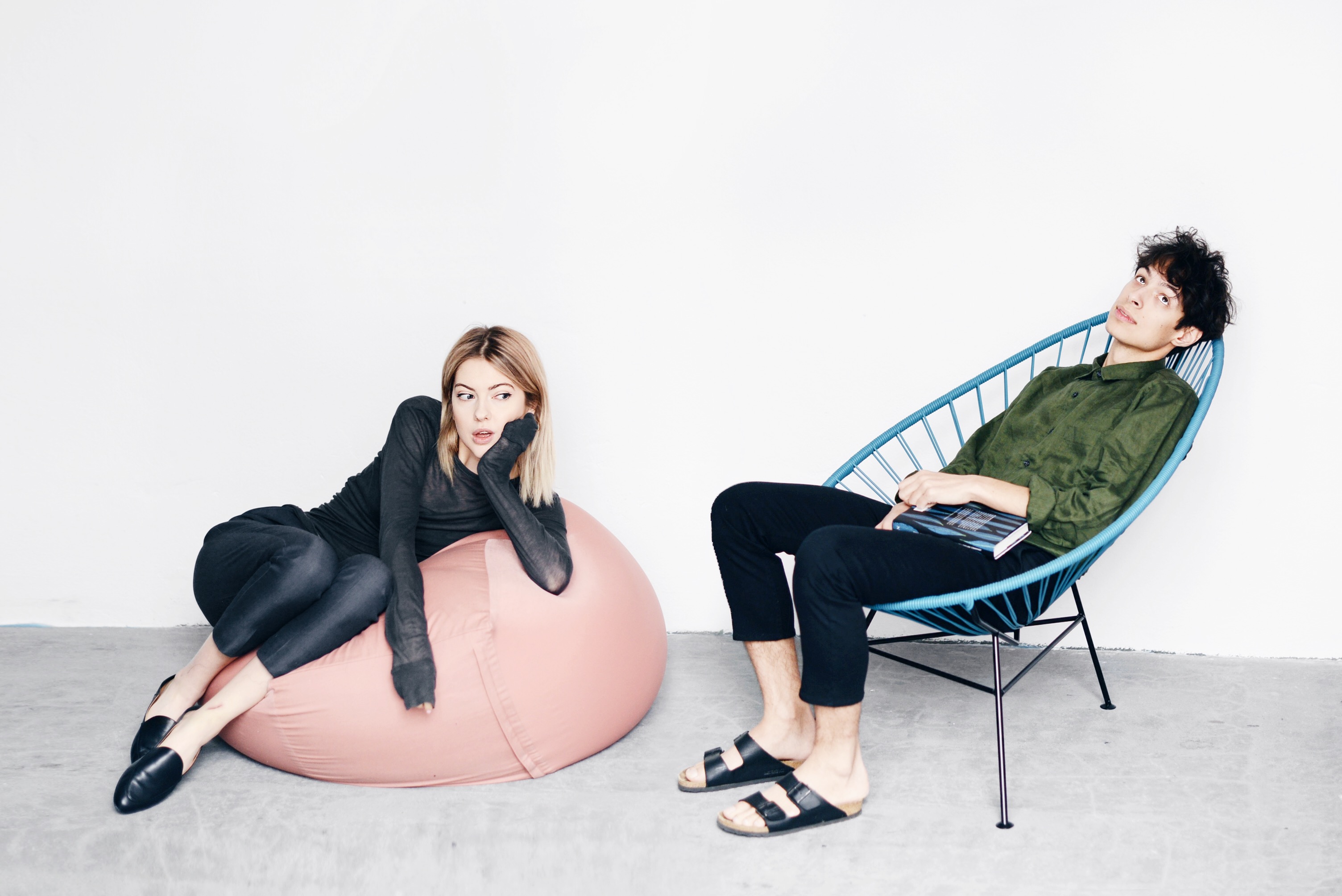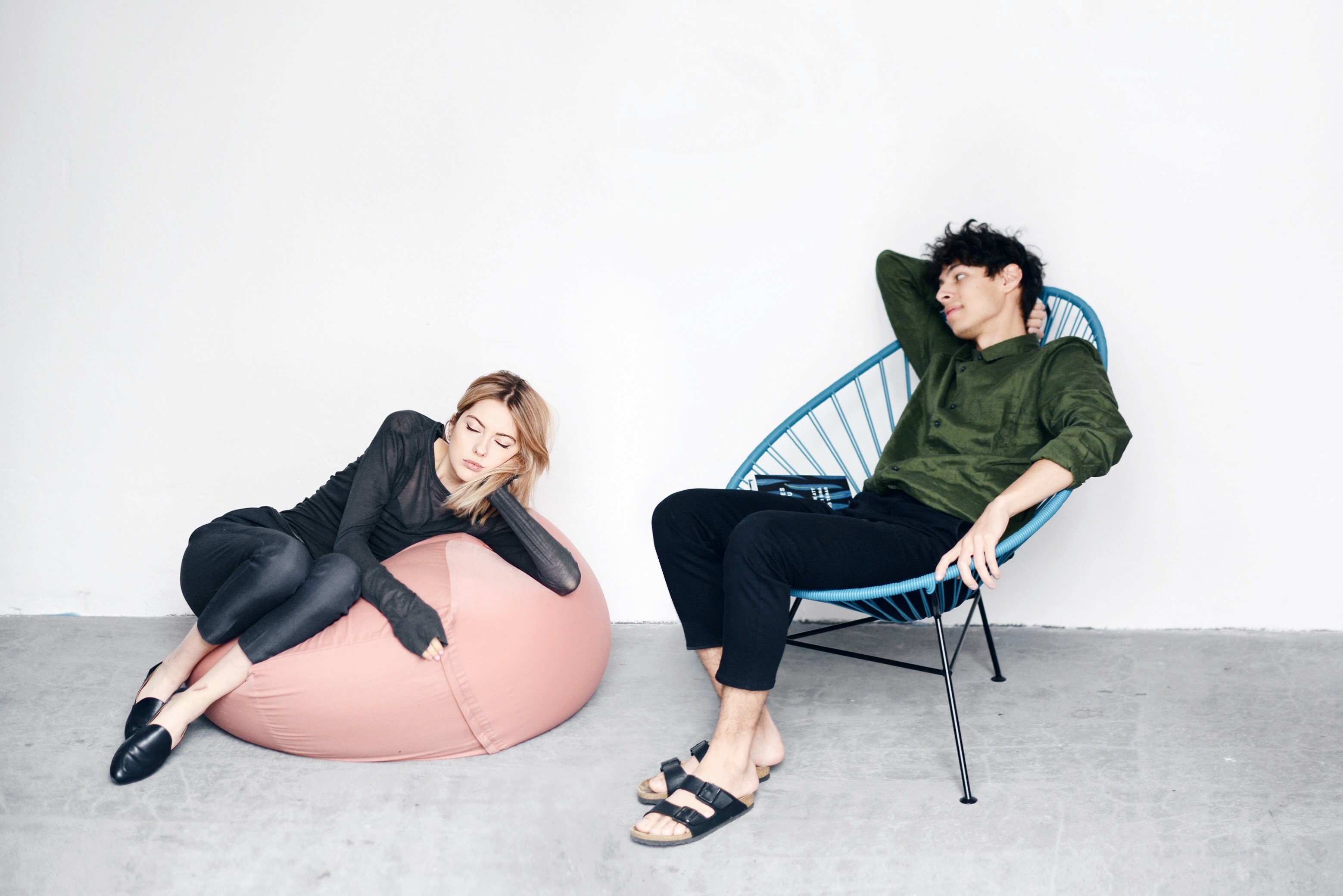 Chair- OK Design, Cushion- MUJI "body fit cushion", shoes- Flattered, shirt (Sean)- Uniqlo
Förutom att förbruka en karta halstabletter och en rulle snorpapper i timmen har vi fullt upp med att rodda med inredningen här hemma just nu. När jag träffade Sean var hans lägenhet en dryga 100 kvadratmeter stor knappt beboelig byggarbetsplats, utan kök och med alla ytor täckta av ett lager byggdamm. Han har liksom gjort allting själv här- väggarna, taken, golven, kaklet på toaletterna, till och med rören och ledningarna.
Idag är alla nödvändiga faciliteter på plats, det enda som behövs är att fylla denna yta med fina möbler. Tack och lov är vi väldigt lika i smak när det kommer till inredning, så vi har redan lyckats få iväg några mycket välkomponerade beställningar. Denna stol från OK design och sittpuffen från MUJI var två av de första produkterna att anlända. Ser så himla mycket fram emot att få visa er vad vi åstadkommit så fort det börjar bli klart, än så länge får denna mycket minimalistiska sneakpeek duga.
För övrigt känns det verkligen som att leka vuxen när man sitter med sin partner och budar på rejäla retro-soffor på auktions-siter och skissar upp vardagsrum och uteplats för att planera placeringen av olika plantor. Ett ganska stort hopp från min situation för bara ett halvår sedan- att ensam kånka hem billiga möbler från Ikea till en liten student-etta där ett bord räcker för att totalt förvandla (och ta upp större delen av) boytan. Haha. Nä, nu ska jag bli frisk så att jag kan gå till jobbet imorgon. Puss på er.
In addition to consuming a box of strepsils and a package of napkins an hour, we're (as you already know) busty with the interior here at the moment. When I met Sean, his apartment was an about 100 square meters, barely habitable, construction site without a kitchen and with all surfaces covered by a layer of building dust. He has really done everything himself in here- the walls, the ceiling, the floors, the tiles in the bathrooms and even the pipes.
Today all necessary facilities are in place, all that's needed now is to fill this area with nice furniture. Thankfully, we he have almost the same taste when it comes to decor, so we've already managed to make some very well-composed orders. This chair from OK design and cushion from MUJI were two of the first products to arrive. I look forward to show you what we've accomplished as soon as it's getting a bit more ready, but so far this very minimalistic sneakpeek will have to do.
It really feels like we're playing adults when we're sitting together bidding on big retro sofas at auction sites and drawing sketches of the living room and patio to plan the location of different plants. A pretty big difference from just half a year ago- carrying home some cheap furniture from Ikea alone to my tiny student apartment where a table is enough to completely transform (and take up most of) the living space. Haha. Well, now I'll make sure to get well so I can go to work tomorrow. xx