Yo måndag! Jag är redo för dig! Nu kör vi!
Yo, Monday! I'm ready for ya!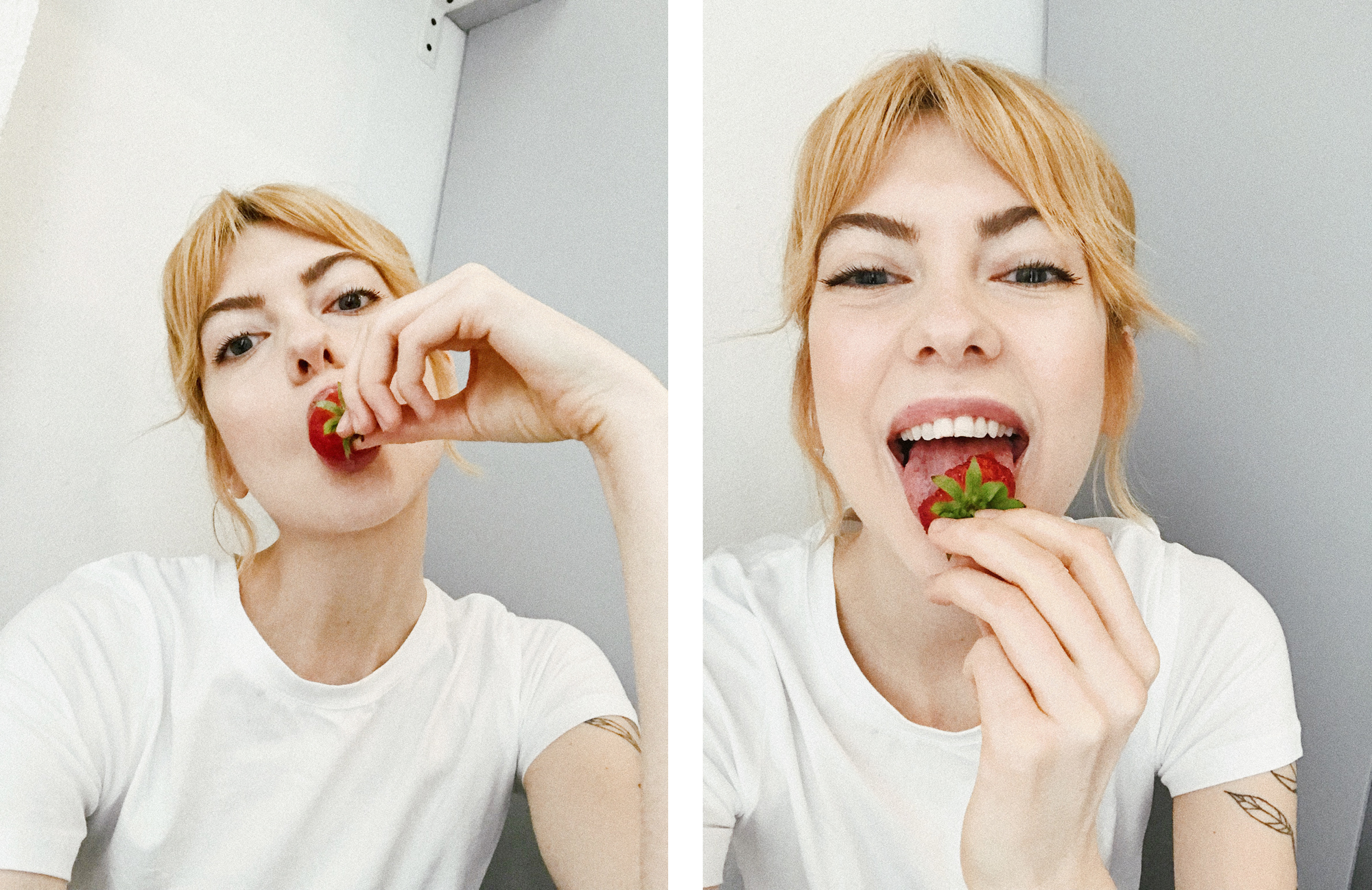 Veckans pepp: Skulle ju vilja skriva "vädret" här, men det börjar bli ganska tröttsamt med alla sol-emojis hit och snapchats med temperatur-stickers dit (inte minst från mig). Hehe. Låt oss säga att veckans pepp är det faktum att jag känner mig mer inspirerad och jobb-sugen än vanligt, ska bli så kul att leverera bra content i kommande uppdrag.
Excitement of the week: I would like to write "the weather" here, but I guess all of us are pretty tired of all the sun emojis and snapchats with temperature stickers. Hehe. Let's say that the most exciting thing this week is the fact that I feel more focused and inspired to work than usual, it will be so fun to deliver good content in all my assignments.
Veckans projekt: Vi har börjat vårstäda vår lilla uteplats, igår rensade vi rabatterna och planterade nytt gräs på marken och senare i veckan kommer en leverans med blommor och träd som ska göra de befintliga växterna sällskap. Varje gång jag pysslar med vår lilla gård blir jag helt överväldigad av hur tillfredställande och helande det känns på något vis.
Project of the week: We've started with a little summer make over of our little garden, yesterday we cleaned the flowerbeds and planted new grass on the ground and later in the week we'll get a delivery of new flowers and trees that will make the existing plants company. Every time I'm taking care of our little garden, I'm totally overwhelmed by how satisfying and healing gardening work feels.
Förra veckan: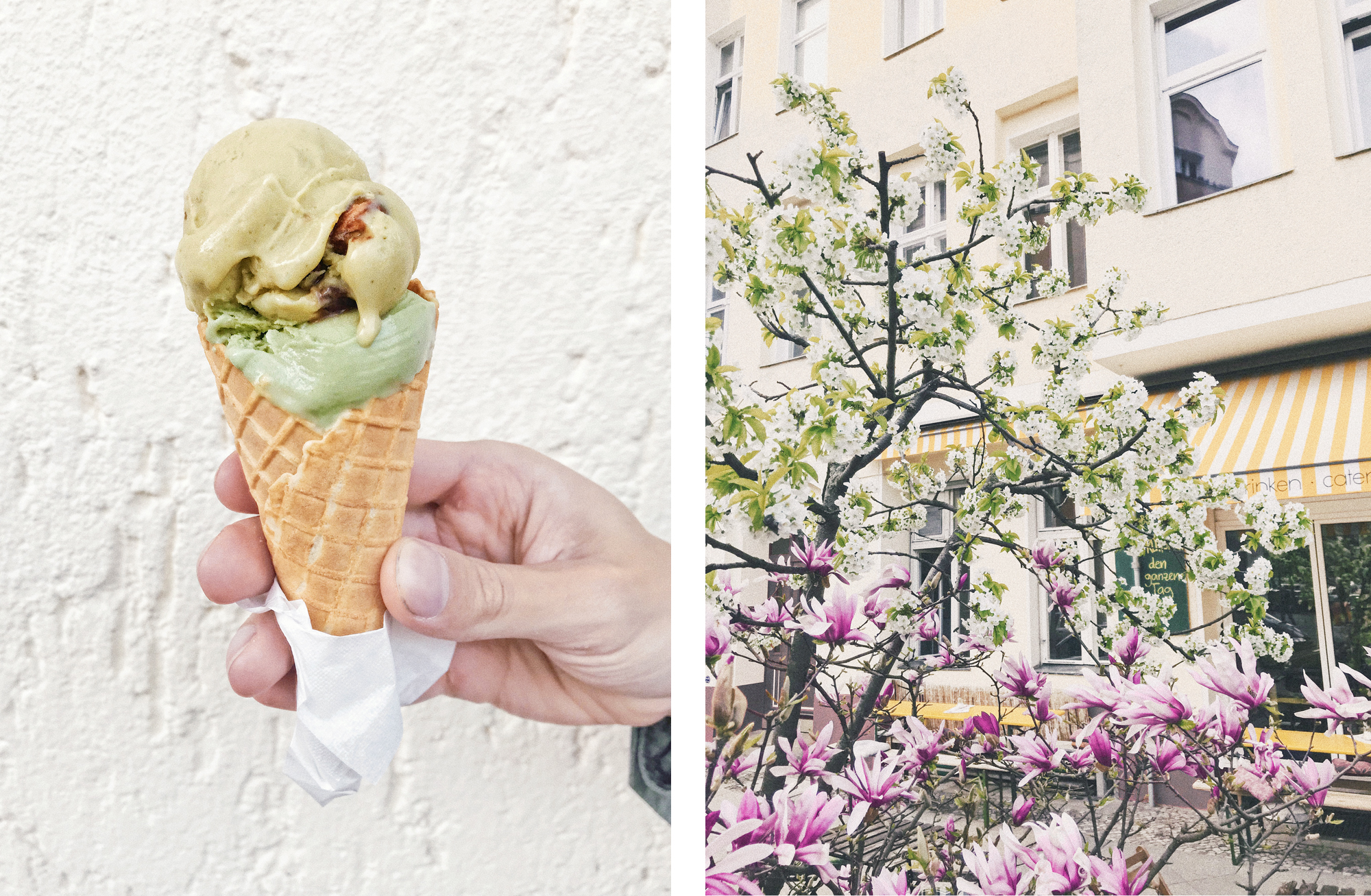 Två extremt bra grejer med att bo i Berlin just nu:
1. det finns en glasskiosk eller gelateria i mer eller mindre varje kvarter (har aldrig stött på ett så glass-dyrkande folk som Berlinborna!). Försöker att prova igenom alla roliga glass-smaker jag stöter på, men jag vet ju innerst inne att pistage för alltid kommer vara min favvo-smak. Finns inget bättre.
2. alla träd bestämde sig kollektivt för att låta sina knoppar brista ut i full blom förra veckan, det är så fint här nu.
Two extremely good things about living in Berlin right now:
1. There's pretty much a ice cream cafe or gelateria in every corner here. I'm trying to taste all the new ice-cream flavors I encounter, but deep inside I know that pistachio always will be my favorite.
2. All trees collectively burst out in full bloom last week, the streets are so pretty here now.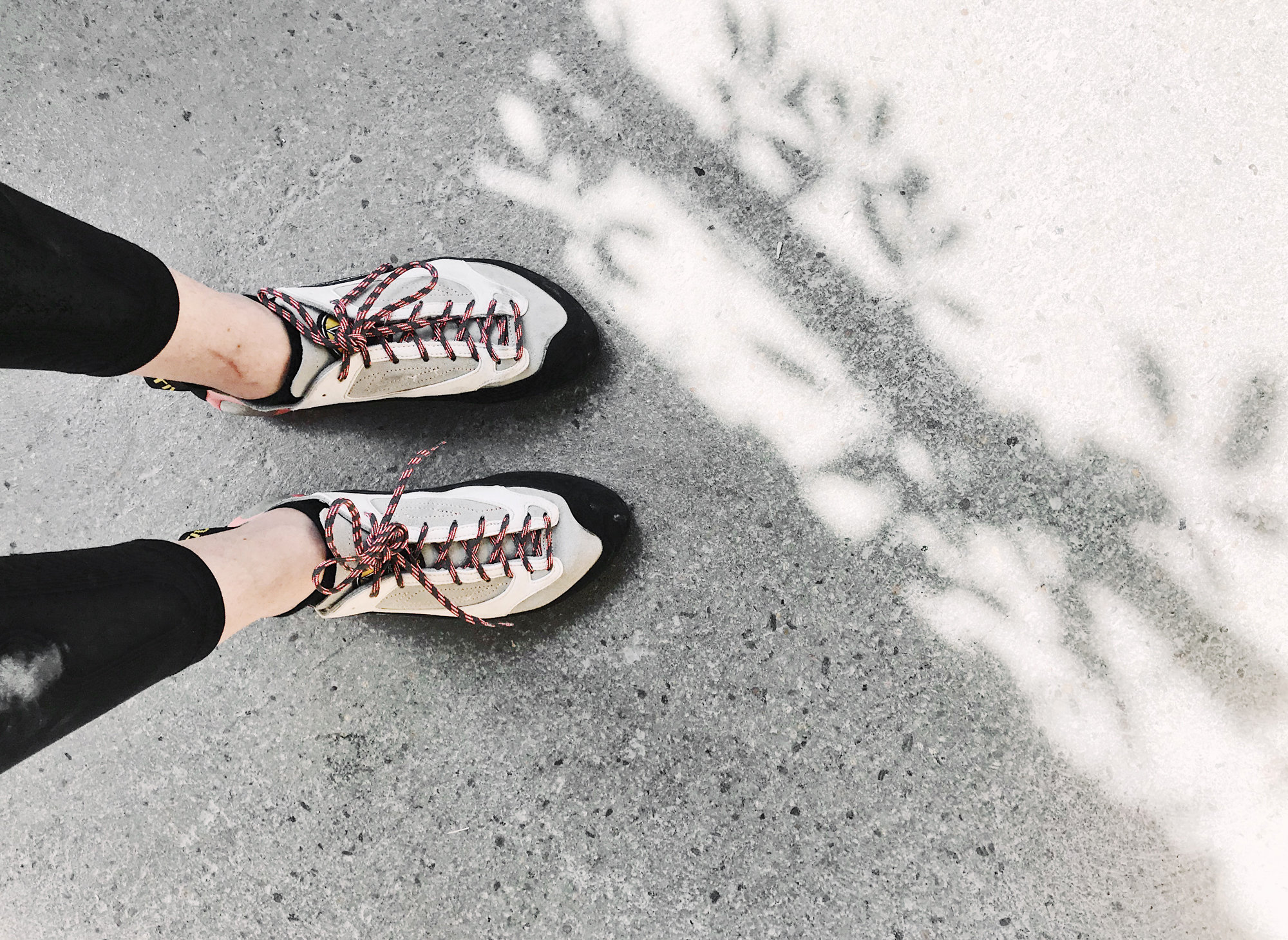 Jag har äntligen investerat i ett par klätterskor! De är supersmå och gulliga, men allt annat än bekväma. Klätterskor ska generellt vara så små att tårna böjs en aning för att hjälpa dig att få bättre grepp och att lägga vikten rätt. Känner mig så mycket bättre sedan jag började använda dessa.
I've finally bought a pair of climbing shoes! They are super tiny and cute, but anything but comfortable. Climbing shoes are generally be so small that the toes bend slightly to help you get better grip and to divide your weight correctly. I've actually gotten so much better since I started using these.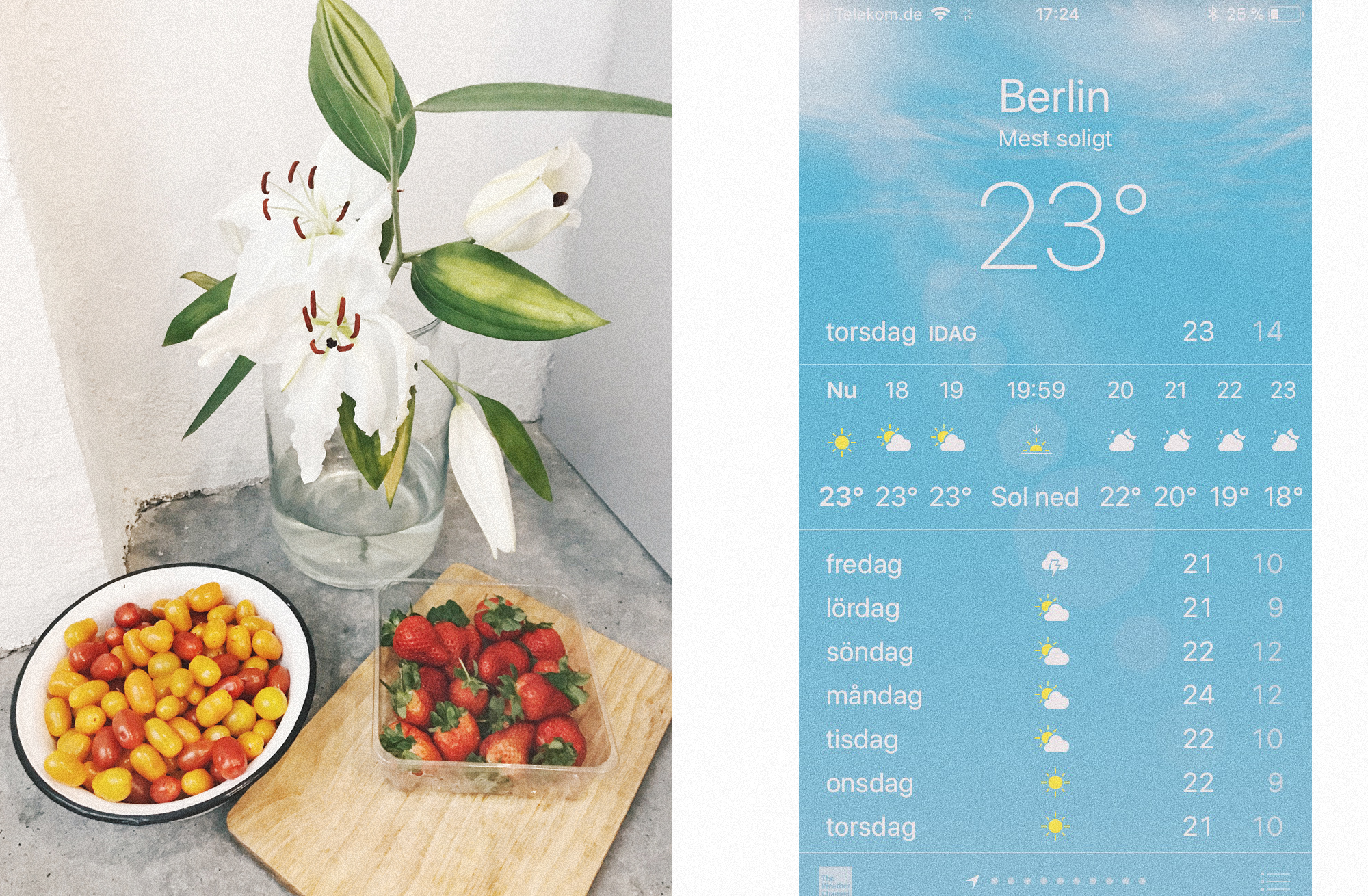 Vi har gjort oss så många ärenden ut i solen som möjligt- lunchat på uteserveringar, "pantat" (mest för att få en promenad), och strosat på marknaden. Älskar att gå på marknaden såhär års, alla frukter och grönsaker är så himla himla smakrika och söta nu.
I love living next to the market this time of the year, all fruits and vegetables are so heavenly tasty and sweet now.
Jag berättade ju att jag var bjuden på en spirituell breathwork-workshop med the o2 awakening i helgen. Jag måste verkligen säga WOW, vilken speciell upplevelse! Jag har nog aldrig befunnit mig i ett så intensivt trans-artat tillstånd förut. Hur och om jag ska ta in detta i mitt vardagliga liv återstår att se, men det är onekligen häftigt när metoder som denna faktiskt har effekt på en skeptiker som mig.
Like I told you earlier, I was invited to a spiritual breathwork workshop with O2 Awakening this weekend. I really have to say WOW, what a special experience! I've probably never found myself in such a trance-like state before. I'm not sure how and if I will include this in my everyday life, but it's undeniably cool when methods like this actually have an affect on a skeptic like me.
Vi har ägnat mycket tid åt att välja rätt nyans att måla dörrar, sängram och andra detaljer här hemma i. Jag hade inte den blekaste om att det finns SÅ många olika nyanser av ljusgrått, och hur varje nyans i sin tur förändrar sig beroende på vilket ljus den utsätts för och vilken bakgrund den ligger på. Färgval är verkligen en djungel! (på tal om färger- hur fint är inte detta rosa träd som går ton i ton med det rosa huset på min gata?)
We've devoted a lot of time to choosing the right shade to paint doors, bed frames and other details here at home. I didn't have a clue that there are SO many shades of light gray, and how each shade changes depending on which light it is exposed to and the background it lies on. It's a jungle! (talking about colors- how nice isn't this pink tree matching the pink house on my street?)
Veckans låt: DENNA gamla godingen.
Week's song: THIS oldie but goldie.
Veckans favvo-bilder: /This week's fav pictures:


(jag är inne i ett Pinterest-skov igen! Mina boards svämmar över av fina bilder, tänkte lägga ut ett inlägg med mina favoriter någon gång framöver)
Ha en härlig vecka nu, hörni. Puss på er!
Have an amazing week now guys! Hugs!