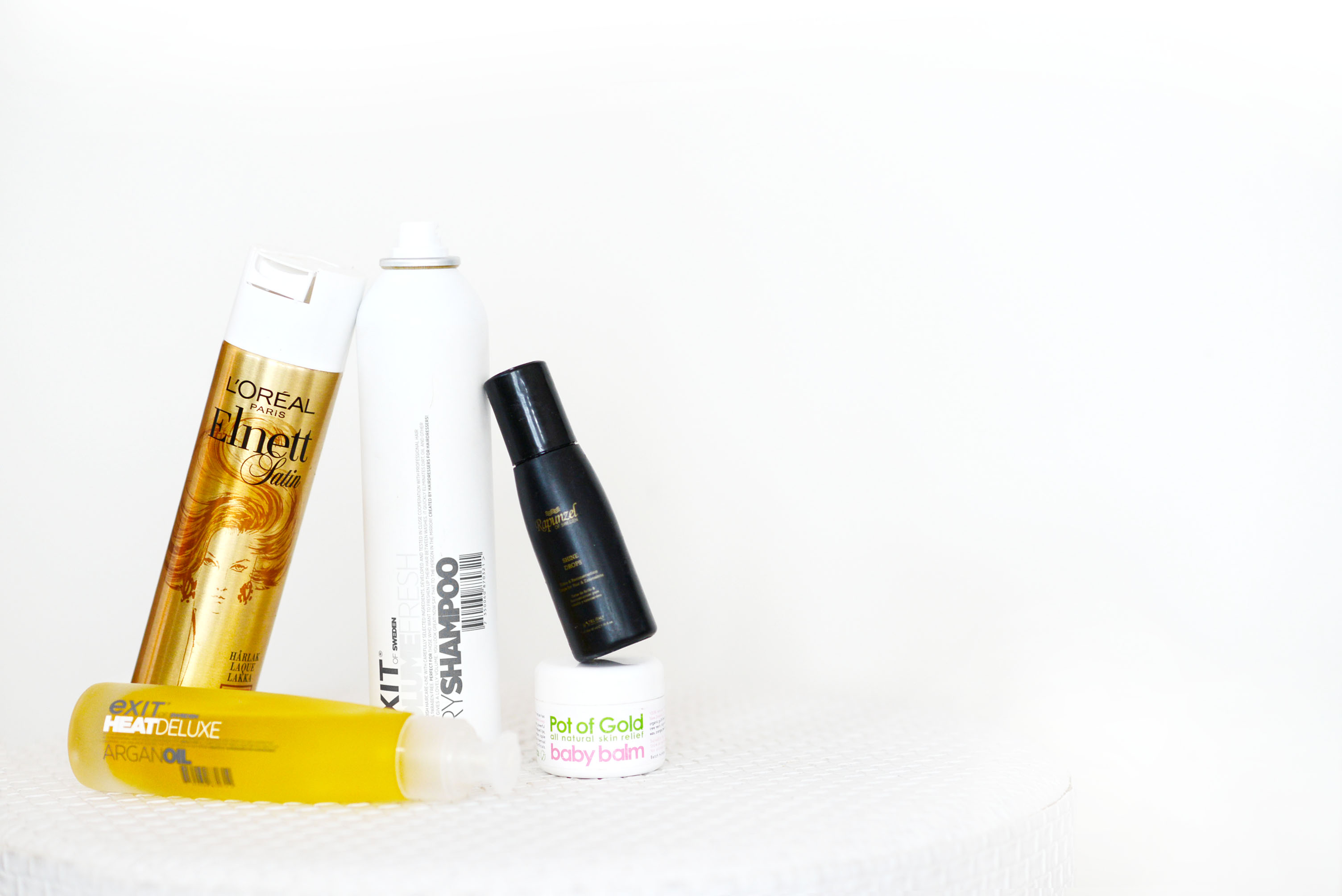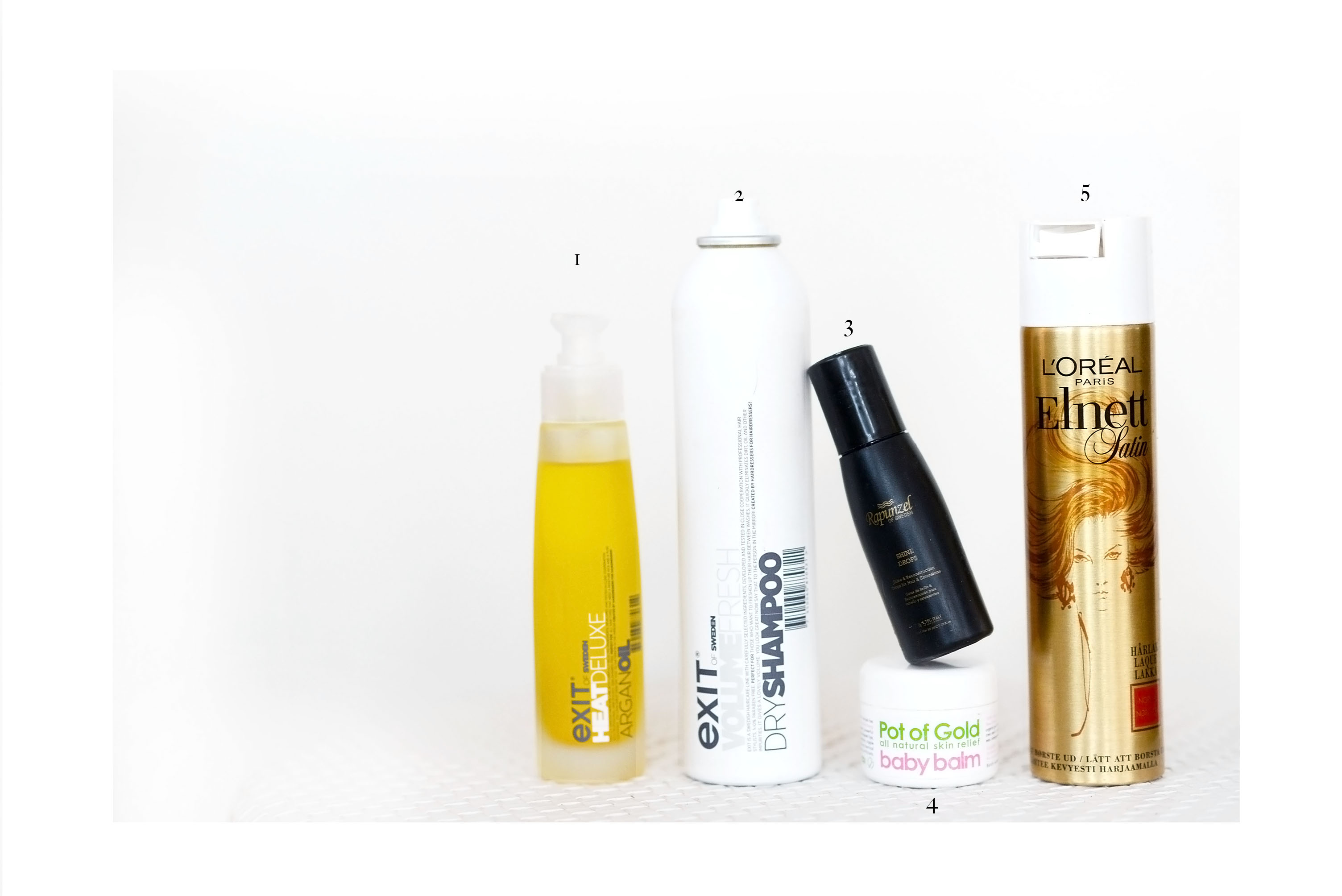 EXIT Heat Deluxe, (coming soon), http://exitstore.se/
EXIT DRY Shampoo, 199 SEK, http://exitstore.se/
Rapunzel of Sweden shine drops, 83 SEK, http://www.rapunzelofsweden.se/
Pot of Gold Baby Balm, 26,90 EUR, https://www.potofgold-skincare.com/
Elnett hair spray, 69 SEK, http://www.kicks.se/
Som ni kanske märkt har jag experimenterat mycket med olika frisyrer på sistone, antagligen mest för att leka med min nya lugg och upptäcka de möjligheter den ger. Dessa är i princip de enda hår-produkterna jag använder just nu (om man räknar bort hårvaxet jag dränkte mina ögonbryn i på nyårsafton, haha). Det senaste årets hår-äventyr har (inte helt oväntat) slitit en hel del på mitt stackars hår, så att styla med oljor har blivit vardag för mig. Både Rapunzel- och Exit-oljan tål värme, vilket jag älskar då jag föredrar att applicera oljan innan styling. Torrschampo har blivit en ny bekantskap det senaste året, då jag försöker att inte duscha håret för ofta (för att inte slita på det mer än nödvändigt) men ändå gärna fräschar upp det ibland (har även upptäckt att det är ren magi på stripiga luggar). Jag har redan bloggat om Pot Of Gold, men vill slå ett slag för det ännu en gång. Det är i grund och botten till för huden men funkar till allt, jag har en stark känsla av att denna lilla burk kommer hänga med mig överallt 2016. Ni känner antagligen redan till Elnett-sprayen, men det är den hårspray jag använt de senaste 5 åren. Det är helt enkelt den mest prisvärda och bästa hårsprayen som finns att få tag på just nu. Punkt.
As you may have noticed I've been experimenting a lot with different hairstyles lately, probably mostly because I want to play with my new bangs and discover the possibilities it gives. These are basically the only hair products I use right now (not counting the wax I covered my eyebrows with at New Year's, haha). The past year's hair-adventure has (not surprisingly) damaged my hair a little, so to style with oils have become an everyday habit for me. Both the Rapunzel- and Exit oil are heat protecting, which I love because I prefer to apply oil before styling, not after. Dry Shampoo has become a new product for me the past year, since I try to not shower my hair too often (to damage it as little as possible) but I still like to freshen it up sometimes (I've also discovered that it's pure magic on a tired fringe) . I know I blogged about the Pot of Gold pretty recently, but it deserves to be mentioned again. It's made for skin but I use it for everything, I have a strong feeling that this little jar will get to come with me everywhere 2016. You probably already know the Elnett-spray, but it is pretty much the only hairspray I've used the last  5 years. It's simply the most affordable good quality hair sprays available right now. What are your favorite haircare products?