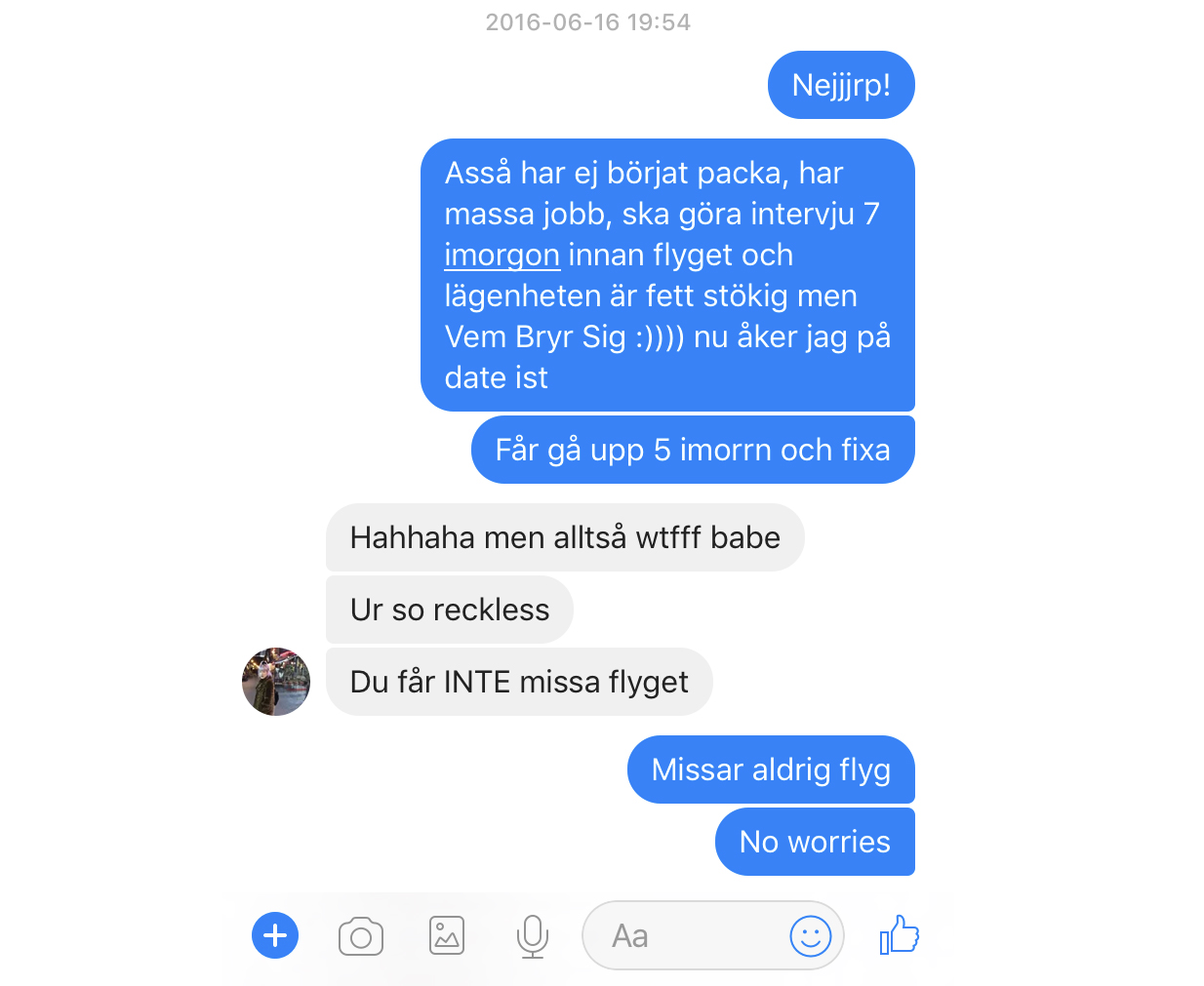 För exakt ett år sedan satt jag på en obäddad säng och skickade iväg dessa meddelanden. Tidigt morgonen därpå skulle jag sätta mig på flyget till Köpenhamn för att träffa Sara. Trots detta bestämde mig för att strunta i packning, jobb och städning och möta upp en snubbe jag chattat lite med på en bar några hållplatser bort.
Jag var nästan en timme sen (vilket jag även skulle komma att bli alla våra följande dejter) och han hade redan suttit och smuttat på sin öl där på uteserveringen länge när jag anlände med andan i halsen. Jag tyckte att han hade en lugn aura, men i efterhand har han berättat om hur nervös han var ("det var tur att det fanns öl"). Vi pratade i någon timme, om livet musik Berlin böcker samhället (av någon anledning kom vi att diskutera övervakningssamhället en lång stund). Sedan var jag tvungen att skynda hem för att ta tag i allt det där jag skjutit upp. Kanske den kortaste dejten jag varit på.
Tänk om jag inte gett vika för mitt plötsliga infall att åka till den där baren, och istället ägnat kvällen åt att packa och jobba. Tänk om han inte orkat vänta på mig utan gått därifrån när jag inte dök upp. Tanken får det att suga till i magen. Var hade jag i så fall befunnit mig just nu? Inte i vårt gemensamma kontor i lägenheten i Kreuzberg i alla fall. Ibland är något så dumt som att strunta i jobb, städning och packning för att istället ta en öl det bästa valet man gjort.
Exactly one year ago, I sat on my unmade bed, sending these messages. Early the morning after, I would go to Copenhagen to meet Sara. In spite of this, I decided to ignore the packing, work and cleaning that still had to be done before I left and meet a guy I had been chatting a bit with on a bar a few subway stops away.
I was almost an hour late (which I also would end up being almost all or coming dates that summer) and he had already sipped on his beer there on the outdoor seating for a long while when I came power-walking from the station. I thought he had a calm aura, but afterwards he told me about how nervous he was ("I was happy there was beer"). We talked for some hours, about life, music, Berlin, books, society (for some odd reason we discussed the surveillance community for a long time). Then I had to hurry home to get that packing and cleaning done. Perhaps the shortest date I've been on.
Imagine if I didn't give in to my sudden impulse to go to that bar, and instead had spent the evening packing and working. Imagine if he hadn't had the patience to wait for me but left when I didn't show up. That thought gives me chills. Where would I be right now in that case? Not in our joint office in the apartment in Kreuzberg, that's for sure. Sometimes something so stupid as ignoring work, cleaning and packing to have a beer instead turns out to be the best choice you've made.